June 2018 (1), May 2018 (3), April 2018 (2), March 2018 (1), February 2018 (1), January 2018 (2), December 2017 (5), November 2017 (3), October 2017 (1), September 2017 (2), August 2017 (2), July 2017 (1), June 2017 (2), May 2017 (2), April 2017 (3), March 2017 (2), February 2017 (2), January 2017 (3), December 2016 (5), November 2016 (2), October 2016 (1), September 2016 (1), August 2016 (2), July 2016 (2), June 2016 (2), May 2016 (3), April 2016 (1), March 2016 (4), February 2016 (3), January 2016 (3), December 2015 (6), November 2015 (2), October 2015 (5), September 2015 (4), August 2015 (2), July 2015 (1), June 2015 (4), May 2015 (2), March 2015 (1), February 2015 (2), November 2014 (1), October 2014 (2), September 2014 (1), August 2014 (3), July 2014 (1), June 2014 (2), May 2014 (5), April 2014 (7), March 2014 (2), February 2014 (3), January 2014 (3), December 2013 (1), November 2013 (6), October 2013 (5), September 2013 (9), August 2013 (4), July 2013 (7), June 2013 (4), May 2013 (10), April 2013 (3), March 2013 (7), February 2013 (4), January 2013 (5), November 2012 (1), May 2012 (1), December 2011 (1)
Aug 16, 2016 — Kentucky Libraries Unbound is a consortium of libraries across the state of Kentucky that has partnered together to provide a wide range of digital formats to library users through each of their individual public libraries as long as they have a library card. Kentucky Libraries Unbound has been around for quite some time now since the Daviess County Public Library has been participating in this consortium since at least 2008. I'm not sure of the exact time frame of when it all got started but I know we've had access to ebooks and other materials for a while now.
In any event, Kentucky Libraries Unbound, or KLU for short, provides a wide variety of digital formats including ebooks, audiobooks, children and teen items and streaming video. In order to use this database through the Daviess County Public Library all you really are required to have is a valid DCPL library card in good standing and some type of digital device which can include a computer, an eReader, a smartphone, a laptop, etc. Depending upon what type of device you have the instructions for use of this database may differ just slightly.
Overall, if you decide to use KLU on a portable device you will need to go to the store where you purchase "apps" and find the free app entitled: OverDrive Media Console. This app will allow you the ability to download items through your device. When you first download this app you will need to register it through your device by filling out a brief form including your name, library card number and an email address and password to be able to access your account later.
Once you have registered your account the first time, you shouldn't have to do it again unless you change devices or uninstall the app for some reason and have to reinstall it later. As always, if you have any questions about the use of this digital database, don't hesitate to contact the library to seek help. Additionally, if the library staff isn't able to help you with your question, there is also a help section on the KLU website that you can click on to get further assistance. There may be times where the problem a patron is having with their device may exceed our knowledge and this is when contacting the help screen on the website makes more sense.
So, once you are initially registered with KLU through OverDrive then you can get started downloading a wide variety of digital items. For each patron using KLU you may checkout up to 12 items at any one time and you may place up to 10 holds on an a digital item that is already checked out. Did I mention that ebooks are just like a regular print book-on-the-shelf?
If someone else has a regular book checked out then only one person is using it at one time and the next person wanting to read it will have to place a hold. Well, basically, it's the same thing with an ebook as well. You can place a hold on a digital item and when it becomes available the KLU/OverDrive system will notify you that the digital format item is ready to be downloaded. Also, just like our regular hold books on the shelf, you have a certain period of time to sign in to KLU and download that hold before it expires and moves on to the next person.
Okay, here are a few more basic tidbits I thought I might mention in this first primer on KLU:
Digital items are available to be downloaded via iPhone, iPad, Android, Chromebook, Windows Phone, Windows 8 & 10, and the Kindle Fire HD. If you have another type of device that doesn't run any of these systems then you won't be able to use KLU.
Lending periods for these formats: (length must be chosen before downloading digital item)
eBook: 7, 14, & 21 days
Audiobook: 7, 14 & 21 days
Streaming video: 3, 5, & 7 days
You can have a wish list of titles you would like to borrow in the future.
In any event, these are just a few of the things that you can do in KLU. My goal is to try and not make these blogs too overwhelming with information. Therefore, I will stop today on my first basic primer regarding Kentucky Libraries Unbound. The next installment will go a little further and add to what has been discussed in this blog.
So, until my next blog, go to our website at www.dcplibrary.org, go to online resources and click on Kentucky Libraries Unbound. If you are at home you will need to enter your 14-digit library barcode number just to get access to the databases. Once you are in then you can take a look at KLU just to see what it's all about before you download one item. I find it's much easier to familiarize myself with a website first on the larger screen of a computer before you go headlong into trying to view it on a much smaller device.
Good luck and best wishes on trying out KLU. As always, if you have any questions, please call us at 270-684-0211. We will do our best to try and help you out. If not, the help desk at KLU is always an option too.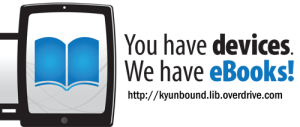 « A classic book I should have read in high school — Kentucky Libraries Unbound: Take Two »