April 2020 (2), March 2020 (2), August 2018 (2), July 2018 (3), June 2018 (1), May 2018 (3), April 2018 (2), March 2018 (1), February 2018 (1), January 2018 (2), December 2017 (5), November 2017 (3), October 2017 (1), September 2017 (2), August 2017 (2), July 2017 (1), June 2017 (2), May 2017 (2), April 2017 (3), March 2017 (2), February 2017 (2), January 2017 (3), December 2016 (5), November 2016 (2), October 2016 (1), September 2016 (1), August 2016 (2), July 2016 (2), June 2016 (2), May 2016 (3), April 2016 (1), March 2016 (3), February 2016 (3), January 2016 (3), December 2015 (6), November 2015 (1), October 2015 (5), September 2015 (4), August 2015 (2), July 2015 (1), June 2015 (3), May 2015 (2), March 2015 (1), February 2015 (2), November 2014 (1), October 2014 (2), September 2014 (1), August 2014 (3), July 2014 (1), June 2014 (2), May 2014 (5), April 2014 (7), March 2014 (1), February 2014 (3), January 2014 (3), December 2013 (1), November 2013 (6), October 2013 (5), September 2013 (9), August 2013 (4), July 2013 (7), June 2013 (4), May 2013 (10), April 2013 (3), March 2013 (7), February 2013 (4), January 2013 (5), November 2012 (1), May 2012 (1)
Aug 29, 2013 — by Wesley Johnson
Life, as momma used to say, is like a box of chocolates: diabetes makes enjoying it more complicated.
I was diagnosed with diabetes at the tender age of 11 or 12 (my aspartame-ridden memory cannot recall the exact age). Before the diagnosis, my mother noticed that I was sleeping, drinking and using the bathroom much more than usual; she recognized all those things as potential signs of the disease. A trip to the doctor revealed that she was correct. That was the year I kissed donuts goodbye. Confession: donuts and I would meet up shortly after this time for a passionate affair. You may read about that in my forthcoming erotic novel, 50 Shades of Glaze.
So, there I was… a preteen nerd unable to indulge my sweet tooth. I already had a great deal of trouble fitting in due to the whole nerd thing; since I'd no longer be able to go trick-or-treating or have birthday cake, I feared things would get worse. I dropped weight at this time and attempted to take care of myself, but I eventually returned to my first loves – burritos, candy and donuts. The weight I lost quickly came back and stuck around until the early 2000s. My doctor attempted to teach me with stale educational material that I had no intention of reading. Did ANYONE really read pamphlets at that age? Had I been given something informative about my disease that I found interesting – e.g., a video game or sweet rap song – coping with the disease might've been a little easier. It's too bad companies like "edutainment" game publisher Raya Systems weren't around in those days.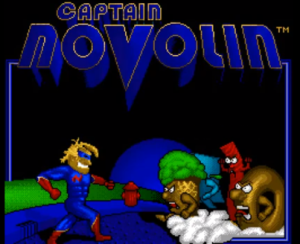 My obsession with video games (sidebar: DCPL now checks out games!) developed long before my diabetes. In 1992, the aforementioned Raya Systems brought both those things together with Captain Novolin (Gameplay Video) for the SNES. In it, you play as the titular Captain, a diabetic superhero with the power to jump a little bit, on a quest to rescue the town's mayor (also a diabetic) from Blubberman and his pack of junk food aliens. You were on a time table as the mayor only had 48 hours of testing supplies on him. Gameplay highlights: insulin injections (tell it what you took in real life), a ketones mini-game featuring interactive urine strips, eating healthy meals during specific times, a water level which required you to equip diabetic shoes and lots of trivia.
If you happen to possess a working SNES and wish to check out the game, it will cost you. Copies of it are available on eBay for prices ranging from $45 (un-boxed) to $539 (sealed & graded).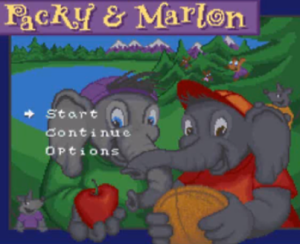 Raya released another diabetes-related SNES game three years later called Packy & Marlon (Gameplay Video). It followed two diabetic elephants as they attempted to recover testing supplies stolen from their summer camp by rats. Both it and Captain Novolin were noble efforts; however, neither of them earned much of a following. I find them incredibly endearing, despite their cheesiness.
Copies of Packy and Marlon also are available via eBay. Prices range from $32 (un-boxed) to an astounding $1,500 (sealed & graded).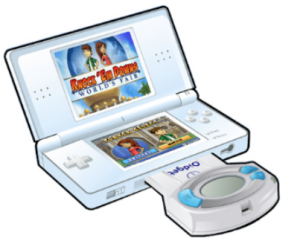 The lackluster success of Raya Systems didn't deter Bayer from attempting to merge diabetes and video games. In 2010, they made a slightly bigger splash with their Nintendo DS-compatible glucose monitor, DIDGET. The monitor, which was aimed at kids, awarded points to those who kept their sugar levels within an acceptable range. The points were redeemable for game levels and items at the DIDGET Online Store. The DIDGET may be tough to find at your local pharmacy, but several online retailers still keep them in stock.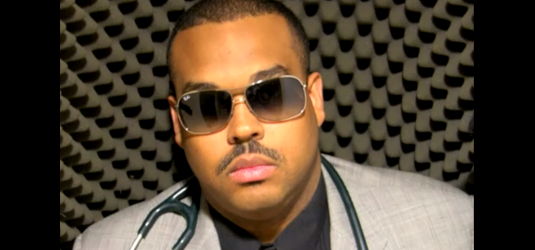 I became infatuated with rap music several years after I developed my video game obsession. Guess what? Diabetes has trickled into hip hop as well. Doctor John D. Clark (Performance Video), a physician based in New York City, has created a genre of music called "health hop." For several years now, Dr. Clark has released albums themed around ailments that boast medically accurate lyrics. Two of them deal exclusively with diabetes. Much like Raya Systems' efforts, some may find his songs cheesy; I absolutely adore them though. Check out what he has to offer at HealthHop.com.
The world needs more things like what I've described in this write-up! Children of a certain age suffering from diabetes (or another condition) would benefit from having something like a Captain Novolin or Doctor Clarke album to educate them and make them laugh a bit.