April 2020 (2), March 2020 (2), August 2018 (2), July 2018 (3), June 2018 (1), May 2018 (3), April 2018 (2), March 2018 (1), February 2018 (1), January 2018 (2), December 2017 (5), November 2017 (3), October 2017 (1), September 2017 (2), August 2017 (2), July 2017 (1), June 2017 (2), May 2017 (2), April 2017 (3), March 2017 (2), February 2017 (2), January 2017 (3), December 2016 (5), November 2016 (2), October 2016 (1), September 2016 (1), August 2016 (2), July 2016 (2), June 2016 (2), May 2016 (3), April 2016 (1), March 2016 (3), February 2016 (3), January 2016 (3), December 2015 (6), November 2015 (1), October 2015 (5), September 2015 (4), August 2015 (2), July 2015 (1), June 2015 (3), May 2015 (2), March 2015 (1), February 2015 (2), November 2014 (1), October 2014 (2), September 2014 (1), August 2014 (3), July 2014 (1), June 2014 (2), May 2014 (5), April 2014 (7), March 2014 (1), February 2014 (3), January 2014 (3), December 2013 (1), November 2013 (6), October 2013 (5), September 2013 (9), August 2013 (4), July 2013 (7), June 2013 (4), May 2013 (10), April 2013 (3), March 2013 (7), February 2013 (4), January 2013 (5), November 2012 (1), May 2012 (1)
Apr 4, 2014 — By Brian Lashbrook
Did you know that you can now download 5 songs from Freegal each week? Not only that, you can stream any music on Freegal for up to 3 hours a day.  These services are all Free with your Daviess County Public Library card.
To celebrate, I and my fellow music lovers here at the Library will share our list of 5 Freegal downloads each week.
Since it's spring monsoon season here in the Ohio Valley — swollen clouds, blustery winds, and sudden downpours — my first playlist consists of rainy day mood music and muddy puddle stompers.
"Walk on the Wild Side" — Lou Reed, Transformer
First up is this career-defining gem by the recently deceased Lou Reed. Inspired by Nelson Algren's 1956 novel of the same name, this David Bowie -produced street-wise groove reads more like Holden Caufield's diary after Catcher in the Rye, journaling a fringe culture of subversive misfits and perverts. Despite some poetically "colorful" lyrics, this 40+ year old song still sounds fresh today.
 "I'm on Fire" — Bruce Springsteen, Born in the U.S.A.
Speaking of perverts, don't let the creepy "To Catch a Predator" vibe of  lyrics like "Hey little girl is your daddy home?" fool you.  The Boss is using hippie-speak to ask "Is your boyfriend/husband at home?"  Yes, even when the Boss was riding high on the broken American dream anthems of "Born in the U.S.A.", he still had time to make a booty call.   Like "Walk on the Wild Side", the sparse production of plodding bass and guitar make it hard pin a date on this slow burner from the 1980's.  Where Lou keeps his cool, however, the Boss loses his mind in a lonesome howl of desire.
"Don't Wanna Cry" — Pete Yorn, Back & Forth
Another son of the Garden State, Pete Yorn left Jersey for Hollywood to embark on a career in scoring films.  He got his first break writing and performing songs for the film Me, Myself & Irene by gross-out comedy kings Bobby and Peter Farrelly.  His contributions to the soundtrack made me fall in love with his music, and probably not coincidentally led to a recording contract for Yorn.  On this earnest, country-tinged ballad, the passoniate fire has smoldered and Yorn's left to deal with his emotions for a love lost.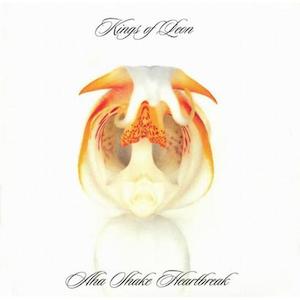 "The Bucket" — Kings of Leon, Aha Shake Heartbreak
Kings of Leon is another band to which the fabulous Farrelly Brothers introduced me, via "California Waiting" in the conjoined twin romp Stuck on You.  Before the wild-eyed southern boys blew up with "Need Somebody", they crafted rowdy roadhouse rhythms around a fragile heart.  "The Bucket" is a catchy stomper about a suicide pact between two young friends afraid of becoming washed-up adults.  Sounds fun, right?  But with lyrics like "18, balding, stoned", you realize it's a tongue-in-check jab at the insecurities of the young in a culture that values youth above all.
"Be Here Now" — Ray LaMontagne, Til the Sun Turns Black
I'll round out this week's playlist with the opening track from the gorgeous pinnacle of bummer rock Til the Sun Turns Black.  LaMontagne is best known for the Otis Redding-style song "Trouble" from his debut album of the same name.  Unfortunately, the excellent "Trouble" was overexposed by this commercial.  On his sophomore effort Black, LaMontange channeled the Beatles circa Sgt. Pepper's, using lush production with strings and tympani.   "Be Here Now" is a Zen-inspired meditation on being present in a world constantly "on" and disassociated from reality.  Personally, I think it's a good day to listen to the entire Til the Sun Turns Black album.
That's it for my Freegal Five Playlist.  Be sure to check out Freegal, especially the Apple or Android apps.  Enjoy!
 Brian Lashbrook is the Technology Manager for the Daviess County Public Library.  His favorite band is U2, although he enjoys many kinds of music.  He especially enjoys bummer rock, or as his friends would lovingly call it, "Sad Bastard" music.
« Kindness Makes the Heart Grow — Summer Activities Fair 2014 »