April 2020 (2), March 2020 (2), August 2018 (2), July 2018 (3), June 2018 (1), May 2018 (3), April 2018 (2), March 2018 (1), February 2018 (1), January 2018 (2), December 2017 (5), November 2017 (3), October 2017 (1), September 2017 (2), August 2017 (2), July 2017 (1), June 2017 (2), May 2017 (2), April 2017 (3), March 2017 (2), February 2017 (2), January 2017 (3), December 2016 (5), November 2016 (2), October 2016 (1), September 2016 (1), August 2016 (2), July 2016 (2), June 2016 (2), May 2016 (3), April 2016 (1), March 2016 (3), February 2016 (3), January 2016 (3), December 2015 (6), November 2015 (1), October 2015 (5), September 2015 (4), August 2015 (2), July 2015 (1), June 2015 (3), May 2015 (2), March 2015 (1), February 2015 (2), November 2014 (1), October 2014 (2), September 2014 (1), August 2014 (3), July 2014 (1), June 2014 (2), May 2014 (5), April 2014 (7), March 2014 (1), February 2014 (3), January 2014 (3), December 2013 (1), November 2013 (6), October 2013 (5), September 2013 (9), August 2013 (4), July 2013 (7), June 2013 (4), May 2013 (10), April 2013 (3), March 2013 (7), February 2013 (4), January 2013 (5), November 2012 (1), May 2012 (1)
May 5, 2014 — A Derringer Profile: Lieut. William P. Conway
For Echoes of Elmwood
By Leslie McCarty
The story of Lieut. William P. Conway was heard at Voices of Elmwood in 2009 and will be retold at this year's Echoes of Elmwood, along with nine other stories. Lieut. Conway's story is one of heroism and survival. But with all great stories, we need to start at the beginning.
William P. Conway was born in Owensboro on July 12, 1849 and was the son of Dr. James Conway. On October 1, 1866, he entered the Naval Academy at Annapolis, graduated four years later, and immediately went to sea. During his cruises of twenty years he visited nearly every country on the globe and acquired a vast fund of information concerning the various people of the world. On November 1, 1888 he married Susie Woodson, and they had one son.
He engaged in many thrilling expeditions, but the great event of his life was his conduct in the wreck of the U.S.S. Huron. On November 23, 1877, the Huron was put out to sea with a ship's company of about one-hundred and thirty-four souls. Everything was buoyant, happy and the entire crew from captain to cabin boy was delighted with the prospect of a speedy run to Havana and a please cruise among the West India Islands. Scarcely ten hours had elapsed before nearly all of the joyous company had passed from life to eternity, and the driving blasts of the great deep had sighed their eternal requiem.
The cause of the disaster to the Huron was evidently owing to the fact the effort of the navigator of the Huron to hug the shore and keep out of the Gulf stream. The Huron had run aground off Nags Head, North Carolina, in heavy weather, shortly after 1 a.m. The crew worked steadily to free the ship, but the ship soon healed over, carrying 98 officers and men to their deaths.
Lieut. William P. Conway was the surviving commanding officer and his work was so heroic in attempting to save his crew that his praises were sung in naval circles when the Huron was mentioned. In his delirium a few nights before he died, he lived over the awful scenes of the Huron disaster, and in broken sentences the watchers at his bedside caught the thread of the tragic story. He once exclaimed from his delirium, "we must swim for our lives!," and then, realizing his immediate condition, despairingly said, "but I'm too weak to swim."
To hear the complete story of this harrowing saga, plus nine other amazing stories, please come to Echoes of Elmwood at Elmwood Cemetery May 30 & 31, 2014 at 7 & 9 p.m. Tickets are being sold at the Owensboro Museum of Science and History . Please call 270-687-2732 for more information.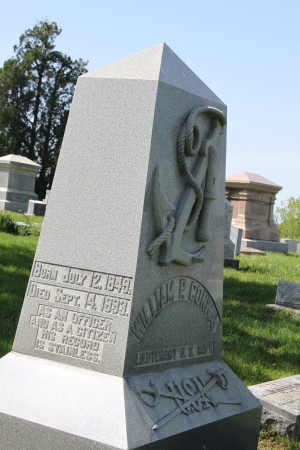 Source: The Owensboro Messenger, Friday September 15, 1893 pg. 1