April 2020 (2), March 2020 (2), August 2018 (2), July 2018 (3), June 2018 (1), May 2018 (3), April 2018 (2), March 2018 (1), February 2018 (1), January 2018 (2), December 2017 (5), November 2017 (3), October 2017 (1), September 2017 (2), August 2017 (2), July 2017 (1), June 2017 (2), May 2017 (2), April 2017 (3), March 2017 (2), February 2017 (2), January 2017 (3), December 2016 (5), November 2016 (2), October 2016 (1), September 2016 (1), August 2016 (2), July 2016 (2), June 2016 (2), May 2016 (3), April 2016 (1), March 2016 (3), February 2016 (3), January 2016 (3), December 2015 (6), November 2015 (1), October 2015 (5), September 2015 (4), August 2015 (2), July 2015 (1), June 2015 (3), May 2015 (2), March 2015 (1), February 2015 (2), November 2014 (1), October 2014 (2), September 2014 (1), August 2014 (3), July 2014 (1), June 2014 (2), May 2014 (5), April 2014 (7), March 2014 (1), February 2014 (3), January 2014 (3), December 2013 (1), November 2013 (6), October 2013 (5), September 2013 (9), August 2013 (4), July 2013 (7), June 2013 (4), May 2013 (10), April 2013 (3), March 2013 (7), February 2013 (4), January 2013 (5), November 2012 (1), May 2012 (1)
May 15, 2014 —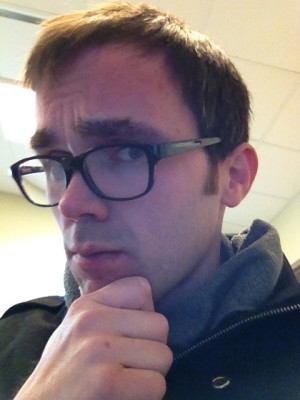 Wesley Johnson
Hello, do you know me? I'm a library IT Assistant. My name is Wesley Johnson. Perhaps you remember seeing me as "MAN IN CROWD AT BARISTA COMPETITION" in William Wallace's Monkey Mocha Fantastique or "MAN ON BENCH WHO GETS ATTACKED BY ZOMBIES" in the PJ Starks' classic, WBKR Zombie Run 2013 Commercial. No? You've at least seen me crawling under desks with Ethernet cables or toting around broken computers at DCPL, right? You'll typically find me doing that and other assorted technology-related tasks there M-F.
Outside of appearing for approximately 10 seconds in various indie films & commercials, I spend my free time engaging in the following activities: non-fiction writing, reading (no, I didn't HAVE to say that), watching plays/films/concerts, eating entirely too much Mashed Potato & Bacon pizza and attempting to be a comedian. I also like long walks on the beach, provided I have access to a powerful sunscreen. I am very pale.
Daniale Thomas
Hey, I'm Daniale, and you can hear me walking through the stacks from across the library with my jangling lanyard and clumsy steps. I work on the fun floor, the one with the children's books and fiction. I love rereading my old favorites like The Princess Bride and The Iron Fey and trying out some of the many new young adult fiction novels we own. When I am not at my fantastic job, I am in class learning how to be an engineer or studying (a.k.a. watching Netflix). I love helping patrons find new reads, so if you need anything, feel free to ask!