April 2020 (2), March 2020 (2), August 2018 (2), July 2018 (3), June 2018 (1), May 2018 (3), April 2018 (2), March 2018 (1), February 2018 (1), January 2018 (2), December 2017 (5), November 2017 (3), October 2017 (1), September 2017 (2), August 2017 (2), July 2017 (1), June 2017 (2), May 2017 (2), April 2017 (3), March 2017 (2), February 2017 (2), January 2017 (3), December 2016 (5), November 2016 (2), October 2016 (1), September 2016 (1), August 2016 (2), July 2016 (2), June 2016 (2), May 2016 (3), April 2016 (1), March 2016 (3), February 2016 (3), January 2016 (3), December 2015 (6), November 2015 (1), October 2015 (5), September 2015 (4), August 2015 (2), July 2015 (1), June 2015 (3), May 2015 (2), March 2015 (1), February 2015 (2), November 2014 (1), October 2014 (2), September 2014 (1), August 2014 (3), July 2014 (1), June 2014 (2), May 2014 (5), April 2014 (7), March 2014 (1), February 2014 (3), January 2014 (3), December 2013 (1), November 2013 (6), October 2013 (5), September 2013 (9), August 2013 (4), July 2013 (7), June 2013 (4), May 2013 (10), April 2013 (3), March 2013 (7), February 2013 (4), January 2013 (5), November 2012 (1), May 2012 (1)
Jun 18, 2014 —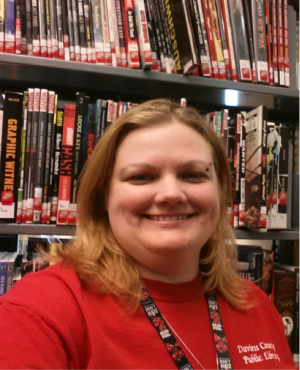 Hello! My name is Kim Mattingly. I am a Library Associate in the Public Services Department on the 2nd floor. I have worked at the DCPL for ten years. When not performing for 3-5 year-olds in our Circle Time Storytime program or helping patrons find books and movies, I stay busy planning children's programming for the library. My hobbies include spending way too much time on the internet, people watching, listening to music, watching movies (particularly action or sci-fi), and reading comic books and graphic novels.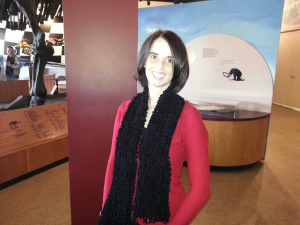 "Good Middle of the Day! (I don't do mornings or evenings.)
My name is Leslie Byrne McCarty, and I am That Girl from the newspaper. Not only do I report the news from 100 and 50 years ago, but I track down your ancestral peeps while looking for Owensboro history in our Kentucky Room. I have been manager of the room since 2012. If you have attended any cool adult programs at DCPL or watched any of the awesome videos on our YouTube channel, then I may have been somewhat responsible for those as well.
In my spare-spare time, I collect veterans, play with my three pugs–Prissy, Pumpkin and Murphy, and go on dates with my husband Jarrod. You can also catch me hanging out at Elmwood Cemetery.