April 2020 (2), March 2020 (2), August 2018 (2), July 2018 (3), June 2018 (1), May 2018 (3), April 2018 (2), March 2018 (1), February 2018 (1), January 2018 (2), December 2017 (5), November 2017 (3), October 2017 (1), September 2017 (2), August 2017 (2), July 2017 (1), June 2017 (2), May 2017 (2), April 2017 (3), March 2017 (2), February 2017 (2), January 2017 (3), December 2016 (5), November 2016 (2), October 2016 (1), September 2016 (1), August 2016 (2), July 2016 (2), June 2016 (2), May 2016 (3), April 2016 (1), March 2016 (3), February 2016 (3), January 2016 (3), December 2015 (6), November 2015 (1), October 2015 (5), September 2015 (4), August 2015 (2), July 2015 (1), June 2015 (3), May 2015 (2), March 2015 (1), February 2015 (2), November 2014 (1), October 2014 (2), September 2014 (1), August 2014 (3), July 2014 (1), June 2014 (2), May 2014 (5), April 2014 (7), March 2014 (1), February 2014 (3), January 2014 (3), December 2013 (1), November 2013 (6), October 2013 (5), September 2013 (9), August 2013 (4), July 2013 (7), June 2013 (4), May 2013 (10), April 2013 (3), March 2013 (7), February 2013 (4), January 2013 (5), November 2012 (1), May 2012 (1)
Aug 8, 2014 —
Hello, my name is Jarrod McCarty and I'm a Library Associate Specialist at the Daviess County Public Library. You'll see me sometimes coming and going from the library as I deliver books for our homebound service throughout the community. Some of the staff considers me the "music guy". If you have any questions about our music collection or Freegal music, please let me know.
I'm married (my wife Leslie works in the Kentucky Room) and we have three pugs, Prissie, Pumpkin and Murphy. We both enjoy traveling when we can find the time to do so. I love live music, especially during the summer when the bluegrass festival season begins. You can often find me at various establishments where live music occurs. I'm a diehard UK basketball fan.  I've been known, on occasion, to scream at the T.V. during the game.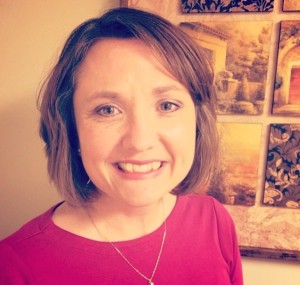 Shannon Sandefur is the fearless leader of the Public Services Department on the 2nd floor, which contains the Juvenile, Audio-Visual, Teen, and Adult Fiction collections. She oversees ordering for the children's collection, audio-books, and large print materials, and also heads the library's community outreach. As an extension of the library's outreach, Shannon works with various local and state agencies to improve the lives of children in Daviess County and is a recent graduate of Emerge Owensboro, a "program of the Greater Owensboro Chamber of Commerce and Economic Development Corporation focused on educating and engaging individuals to reach their potential and maximize their impact in the community."
In her free time, Shannon loves to read (favorite book: The Gazebo by Emily Grayson), watch tv (favorite program: Dexter), spend time with her family, and travel. Her most exotic destination was a medical mission trip to Port-au-Prince, Haiti.
« Staff Selfies: Kristen Potter and Lisa Maiden — The Derringer: Salem Holland Ford–A Profile »