April 2020 (2), March 2020 (2), August 2018 (2), July 2018 (3), June 2018 (1), May 2018 (3), April 2018 (2), March 2018 (1), February 2018 (1), January 2018 (2), December 2017 (5), November 2017 (3), October 2017 (1), September 2017 (2), August 2017 (2), July 2017 (1), June 2017 (2), May 2017 (2), April 2017 (3), March 2017 (2), February 2017 (2), January 2017 (3), December 2016 (5), November 2016 (2), October 2016 (1), September 2016 (1), August 2016 (2), July 2016 (2), June 2016 (2), May 2016 (3), April 2016 (1), March 2016 (3), February 2016 (3), January 2016 (3), December 2015 (6), November 2015 (1), October 2015 (5), September 2015 (4), August 2015 (2), July 2015 (1), June 2015 (3), May 2015 (2), March 2015 (1), February 2015 (2), November 2014 (1), October 2014 (2), September 2014 (1), August 2014 (3), July 2014 (1), June 2014 (2), May 2014 (5), April 2014 (7), March 2014 (1), February 2014 (3), January 2014 (3), December 2013 (1), November 2013 (6), October 2013 (5), September 2013 (9), August 2013 (4), July 2013 (7), June 2013 (4), May 2013 (10), April 2013 (3), March 2013 (7), February 2013 (4), January 2013 (5), November 2012 (1), May 2012 (1)
Mar 30, 2017 — By: Christy V. Temple
Ahh, spring is finally here and I am so happy! I will admit that even though our winter this year wasn't nearly as bad as they have been in the past I am still glad that it is officially over. Now, this doesn't mean we still won't probably have a few cold snaps here and there at least through the end of April or early May. It's just wonderful to know that they should be fewer and far between and at least now we have an additional hour of daylight in the evening which is fantastic.
With the coming of spring many of us start thinking about being outside more often and the upcoming growing season. So, what better way to get going than to stop by and visit the Daviess County Public Library? Why do you ask? Well, obviously we have lots of adult non-fiction books on growing plants, flowers, tomatoes, vegetables, and so much more. However, did you know that the library for the past 3 to 4 years has also been providing the public with seeds to help start that garden?
The answer to that question is "yes." The library started several years ago partnering with the local Master Gardener's program to provide the volunteers and the local extension office to help us put together the seeds and packets so that we can offer them to our library patrons. Several volunteers show up every two weeks to meet in our public lounge and put together the labels, seeds, and packets. Once they have finished putting together the packets then they put them in our old card catalog.
It's been a really cool program that many of our patrons have benefited from in our community. Our patrons come in and are allowed to check out up to 5 packets per month. We love it if they have a library card but it's not an absolute requirement. We only ask that they take what they will use and write down the name of the person and how many packets they took from the catalog. We are interested in keeping basic statistics so we know how many are taken out of the catalog in a given month.
So far, I have heard several patrons come up to me at the desk and tell me how much they appreciate having this program because they have been able to grow some amazing vegetables and flowers. One gentleman in particular told me that he grew a huge squash that took up most of his garden and was so excited about it.
The program is really wonderful because it is a great way to show the younger generation where our food comes from and that it's not just from the grocery store alone. It's also a great way of doing something productive with your kids and teaches them about agriculture and how to appreciate our land.
In any event, please stop by and check out what we have in our seed collection. While you are at it, peruse our shelves and check out a few books on how to plant the seeds and nourish the soil. Oh, and above all, have a good time in the process.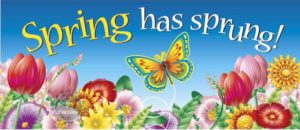 (Image courtesy of Google images)
« Fablehaven by Mull, Brandon: Book Review — Job Resources @ DCPL »