Subscribe to Books, Movies & Music
Colonel Sanders, Talking Cats, and an Oedipus Complex: a review of Kafka on the Shore
by John Beemer
"If you remember me, then I don't care if everyone else forgets."
"Beautiful" and "strange"—two words I use to describe Kafka on the Shore, by Haruki Murakami. Published in 2002 and translated from Japanese to English in 2005, it's the most memorable thing I've read in years. Few books have haunted me like this.
It's a weird, surreal book. An old man talks with cats. Eternal soldiers, who decided to step outside of time to avoid WWII, guard a forest passage to a secret, timeless village. A mysterious, other-worldly being adopts the form of Colonel Sanders, and, operating in this world as a pimp, decides to guide the main characters. Not too far into the book, we also encounter the sinister Johnnie Walker (yes, of Scotch whiskey fame), who rounds up neighborhood cats and eats their hearts to harness their souls so he can construct a magic flute capable of stealing larger human souls. It gets stranger, but none of these oddities seem hokey or forced. They are woven seamlessly into the very fabric of the tale. This is a world where weird stuff happens, where something can be both true and false simultaneously, where the consequences of actions echo a hundred miles away. Yet the characters deal with all this the best they can.
Murakami reveals his plot gradually, focusing on the two main characters in alternating chapters. First we have Kafka, a resourceful 15-year-old who hunkers down in a library, fleeing not only his hometown but also an Oedipal prophecy. He meets some interesting characters: Oshima, a transgender librarian who becomes Kafka's closest friend, and Miss Saeki, an ethereal, one-hit wonder pop singer resigned to spending the rest of her days lamenting lost love and managing the library. Kafka may—or may not—have killed his father. He may—or may not—have slept with his sister and his mother. We don't know, and I'm not sure if Kafka knows, either.
Nakata is our other main character. He's an older man, left mentally impaired by some sort of flashing-light-in-the-sky during his childhood in the midst of WWII. This strange occurrence also gave him the ability to communicate with cats around his neighborhood. He lives a peaceful existence as a professional finder of lost cats, eventually leading him far from home. Nakata is fascinating. His humility hides great inner strength. Supremely kind and gentle, he is also capable of supernatural powers he doesn't seem to understand (e.g., he has a habit of making fish fall from the sky like rain). Trusting some sort of intuitive force, he leaves home to fulfill a mission, along the way befriending a rough young truck driver and forming an unlikely but endearing friendship.
At first, I wondered how on earth these characters and their story arcs would converge. Honestly, even on the last page, I wasn't sure how everything managed to come together, but I certainly enjoyed the ride. Kafka on the Shore isn't a hard read. It's a love story. It's a bildungsroman. But it is also an enigma; complete understanding of the novel seems to drift just out of reach. Most questions here don't have answers—most mysteries remain unsolved. No two readers will have the same interpretations. It can be confusing, even mind-bending. Yet Murakami's style is so effortless and simple that it belies his underlying riddles. If you want someone to spell it out, plain and logical—if you're uncomfortable with drawing your own conclusions, making sense of untied plot threads, or accepting magical realism, this probably won't be an enjoyable book for you. But if you enjoy that sort of thing, I'm sure this story and these characters will stick with you for a long, long time.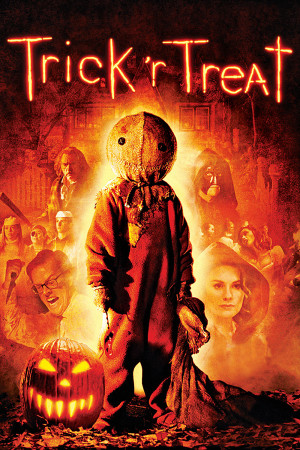 Closed Off Circle 5: Halloween
–Corey Wagner
Horror movies aren't really my thing. It's not that I'm opposed to the genre; I just think a lot of them are poorly made. Despite being lukewarm on the genre, leading up to Halloween I have been watching several movies that are, at the very least, on the fringe of the horror genre. Oddly enough, it was reading Scott Snyder's Wytches that set me on this path. Originally, I tried out some horror audio books. What I discovered after about 20 minutes, however, is that I (still) don't care for audiobooks. I then decided to just go the movie route.
One of the first movies I decided to watch was Trick 'r Treat. Directed by Michael Dougherty (also director of the upcoming film Krampus) and released direct to DVD in 2009, Trick 'r Treat is an anthology horror film that follows four stories that take place on Halloween in a smaller town. What works with this movie is what most horror movies fail at. The acting throughout is actually solid, featuring the likes of Brian Cox, Anna Paquin, and Dylan Baker. The movie is also very fun and doesn't take itself too serious (not exactly Evil Dead 2 levels, but still). Just as important, the movie doesn't focus on just gore or jump scares as the basis for the horror. Highly recommended.
The next 3 movies all came out just last year: The Babadook, It Follows, and Starry Eyes. For my tastes, all three were fine, but I would consider them all to be very much above average horror films. Starry Eyes and It Follows stand out for having exceptional scores. Of the three I enjoyed Starry Eyes the most, but it's probably the least appealing to general audiences. I've seen multiple comparisons to David Lynch and David Cronenberg in reference to the movie and I can't say they're completely off-base. The movie came across as a combination of Rosemary's Baby, Mulholland Drive, and Suspiria. Oh, and it's gross. Very gross. Recommended! (all of them).
Speaking of Rosemary's Baby, I watched it for the first time this month. Even though it is considered a classic, I had heard that it was very dated and didn't hold up. I don't agree. Released in 1968 and set during the mid-1960s, I thought the movie seemed ahead of its time by about a decade. It is a slow movie and (arguably) not much of a horror movie by modern standards. However, I thought it was well made and I enjoyed the creepy vibe throughout. Mia Farrow puts forth an Oscar-worthy performance in my opinion (she wasn't nominated).
The last couple of years there have been some excellent vampire movies released. Some of these are hardly horror but all are very enjoyable. The New Zealand mockumentary What We Do in the Shadows might not be very scary, but it does play with several vampire tropes in an amusing way. Think of it as the vampire version of Shaun of the Dead or Zombieland. A Girl Walks Home Alone at Night is another very recent vampire movie that is interesting. It is much more about style and atmosphere than horror, however. A Girl Walks Home Alone at Night is much more artsy than scary. In many ways it reminds me of the recent Jim Jarmusch vampire film Only Lovers Left Alive. Lovers is the better film but I would also refrain from calling it a horror movie.
Eventually my interest in horror did spill over in to fiction. Inspired by my film habits, I decided to give John Ajvide Lindqvist's Let the Right One In a chance. I really enjoyed both film adaptations (Swedish version Let the Right One In, American Version Let Me In), so I was assuming/hoping that the source material would also be quality. I am only about half way through the novel, but it has me hooked more than any fiction book has in a while. I wouldn't consider myself a vampire enthusiast but, coincidentally, 'Salem's Lot is one of my favorite Stephen King novels  Some other vampire movies that I would recommend:
Nosferatu the Vampyre (1979) – I don't particularly care for silent cinema all that much. I find Werner Herzog's 1979 remake (starring Klaus Kinski) to be superior to the original. Roger Ebert included this movie in his "Great Films Collection."
Bram Stoker's Dracula (1992) – Keanu Reeves performance aside, I think this is a very good movie and really the only thing Francis Ford Coppola directed after Apocalypse Now that I find even remotely interesting
Cronos (1993) – Guillermo Del Toro's first movie. The Devil's Backbone and Pan's Labyrinth are also worth checking out. He is also the director of the new movie Crimson Peak.
The horror genre over the last few years has been growing on television. The Walking Dead is one of the highest rated cable shows ever and season six just began. Fear the Walking Dead, a spinoff, just finished a fairly well received season as well. The Walking Dead isn't the only newer series, however. Seemingly every network is trying to get in the horror genre now: Penny Dreadful (Showtime), American Horror Story (FX), Hemlock Grove (Netflix Original), Z Nation (Syfy), Bates Motel and The Returned (A & E), Salem (WGN), From Dusk Till Dawn (El Rey Network), Black Mirror (Originally a British show, future seasons are Netflix originals).
The Walking Dead, of course, is adapted from the comic of the same name. Again, it was Scott Snyder's comic Wytches that inspired my viewing and reading habits over the last month. Snyder is probably best known for writing the Batman title over the last 4+ years. His horror-tinged series The Wake took me by surprise earlier this year. American Vampire, his comic series focusing on vampirism throughout American history, has been one of my favorite comics over the last 5+ years. It's also worth mentioning that Snyder wrote probably the best run of Swamp Thing since Alan Moore. Other modern horror comics I would recommend: Bedlam (Nick Spencer), Colder (Paul Tobin), Bad Blood (Jonathan Maberry), the original Hellblazer run (various authors), and it may be a stretch to include these two, but Gaiman's Sandman series and Jeff Lemire's run on Animal Man fit tonally with the rest and, more importantly, they're both great.
I'll keep my Halloween musical recommendations to a minimum, as my musical taste can be a little out there, but Ryan Gosling's band Dead Man's Bones self-titled album from 2009 is excellent and definitely has a fall/Halloween feeling/atmosphere. Don't just take my word for it, here's a previous review from DCPL staff: http://www.dcplibrary.org/news/2585
Items featured in this post:
DVDs:
American Horror Story, The Babadook, Bates Motel, Bram Stoker's Dracula, Cronos, The Devil's Backbone, Evil Dead 2, A Girl Walks Home Alone at Night, It Follows, Let Me In, Let the Right One In, Mulholland Drive, Nosferatu (1922), Nosferatu the Vampyre (1979), Only Lovers Left Alive, Pan's Labyrinth, Penny Dreadful, Rosemary's Baby, Shaun of the Dead, Starry Eyes, Suspiria, Trick 'r Treat, The Walking Dead, What We do in the Shadows, Z Nation, Zombieland
Comics:
American Vampire, Animal Man (Jeff Lemire), Bad Blood, Batman (Scott Snyder), Bedlam, Colder, Hellblazer, Sandman (Neil Gaiman), Swamp Thing (Alan Moore), Swamp Thing (Scott Snyder), The Wake, The Walking Dead, Wytches
Books:
Let the Right One In
More from John Ajvide Lindqvist
Closed Off Circle 4: A Book Review
–Corey Wagner
It usually takes until March or April of each year for me to (mostly) catch up on all of the movies I'm interested in from the previous year. Still, I can't help but be disappointed by the theatrical releases thus far in 2015. Sure, I absolutely loved Ex Machina and Mad Max: Fury Road, but I'm not sure I could even assemble a top 5 list from the first half (and then some) of this year. Paddington? Kingsmen? It Follows? These movies were all fine, but never at any time while viewing them was I thinking that they would make my top 10 of the year list. Avengers: Age of Ultron was also okay, but I consider it one of the weaker entries in the Marvel Cinematic Universe. I have intentionally avoided the new Jurassic Park and Terminator movies. I still haven't seen Ant-Man or the trio of highly-reviewed comedies from the past couple months (Dope, Spy, and Trainwreck).
Completely changing gears: I am an unabashed Back to the Future fan. The Back to the Future films are some of the few movies from my childhood that I still enjoy today (fun fact: I wasn't actually alive when the first movie came out). 2015 marks the 30th anniversary of the original film (and, of course, the year that Marty, Doc, Jennifer travel to in Part II). With that comes a variety of releases. Later in the year the trilogy is being released on blu-ray (again!) with new bonus material, and for the first time ever the animated series from the early 90s is getting released on dvd. A BttF: The Ultimate Visual History hardcover is also coming later in the year. While I am anticipating the release of all of those (I have no memory of the animated series), in the meantime a new "making of" book was released last month.
Written by Caseen Gaines (who has also authored books on Peewee's Playhouse and A Christmas Story), We Don't Need Roads: The Making of the Back to the Future Trilogy makes for a quick read for Future fanatics. Gaines interviewed over 50 people involved with the film(s) in a variety of ways. Some of the interviewees include: Robert Zemeckis (director/co-writer), Bob Gale (co-writer), actors Christopher Lloyd (Doc Brown) and Lea Thompson (Lorraine), and many others. Michael J. Fox (Marty McFly) and Crispin Glover (George McFly) are notable (and not surprising) omissions. The book covers both well and lesser-known trivia and, thankfully, expands on many of the more well-known stories. The benefit of interviewing so many of the people involved is that multiple perspectives (and sometimes differing accounts) are given for many of the events discussed in the book.
An interesting tidbit that I was previously unaware of is that Claudia Wells (Jennifer Parker) was almost not in the film. She had originally been cast in the Jennifer role but scheduling conflicts made her drop out. The role was recast with Melora Hardin now stepping in. Once Eric Stoltz had been replaced with Michael J. Fox, Hardin was considered too tall. The recasting of Marty had caused a delay and now the slightly shorter Wells was available again. Of course, Wells would not be in the sequels and Elisabeth Shue would take over the role. The book also goes into detail about how replacing Eric Stoltz caused the movie's release to be delayed and caused the film to go over the original budget.
The book  clocks in at just over 250 pages. Most of the length is devoted to the first film, from the original idea to release. Some of the information here is less than shocking: Michael J. Fox is a really nice guy, Crispin Glover was considered difficult to work with by much of the behind the camera crew but the other actors seemed to like him. My biggest complaint is that the second and third movies are glossed over a bit. The portion of the book devoted to Part II primarily deals with the Crispin Glover lawsuit and the stuntwoman that was injured badly during filming. Part III really only has about a dozen or so pages devoted to it and more or less just says that everyone that worked on the movie had a good time.
All in all, I found We Don't Need Roads to be entertaining and I think most BttF fans would enjoy it.
Closed Off Circle V. 3: Fury Road Will Restore Your Faith in the Big-Budget Action Movie
Corey Wagner
This isn't supposed to work for several reasons. Very few people would consider George Miller a young man at this point in his life (he was in his last 60s during the filming of the movie). The last three movies he directed were Babe: Pig in the City, Happy Feet, and Happy Feet Two. Regardless of your opinion of those films, George Miller hadn't directed an action movie in 30 years (Mad Max Beyond Thunderdome –1985). The movie had been in "development hell" for over a decade, and on at least one occasion production was cancelled. Nearly a year after principal photography ended, reshoots were scheduled. I know reshoots aren't necessarily a kiss of death, but they often have negative connotations attached to them.
None of that even touches on the fact that this is the 4th film in a franchise and the first new movie in said franchise in 30 years. Again, I think that would be considered less than reassuring to many. Not to mention, this movie is now in the 2015 realm of action movies/franchises. This means that the movie needs to be made for a mass audience (make it PG-13). Relatively few children will see an R-rated movie, so it's best to play it safe and make everything PG-13 to maximize potential audience and profits.
While I don't completely believe that George Lucas destroyed popular filmmaking (like some people) I do think there have been some unsettling trends in big-budget popcorn fare since The Phantom Menace. To summarize my original slightly off-topic rant: battle scenes don't have very much gravitas when the heroes can eliminate the bad guys by the dozen(s) and not even break a sweat. Too many modern movies, especially when given big budgets, can not only become bloated by a director reveling in excessive CGI use, but they can often feel very lazy at the same time. Peter Jackson's Hobbit trilogy is a great example of this post-Phantom Menace excess.
This is all my really long-winded way of saying that George Miller has made a modern big-budget action movie that follows pretty much none of the rules. First off, the movie is rated R. Yes, a $150 million R-rated entry in to a franchise. The movie is crazy and over the top and gleefully basks in it. George Miller, who hasn't directed an action movie in my lifetime and who just turned 70 a couple of months ago, has made one of the best action movies in the last 10+ years. This is a movie where the action scenes actually progress both plot and characters. Every victory feels earned. No battle droids being cut down like butter here.
While the movie does use plenty of CGI, there are plenty of practical effects and stuntmen at work in the final product. The CGI enhances the movie; the CGI doesn't become the movie. Practical effects and CGI are mostly blended seamlessly. Things were blown up! Real vehicles were wrecked! It may not seem like much, but when the action doesn't look like a cartoon it really helps you to FEEL the destruction.
Another aspect worth mentioning is that the movie just LOOKS beautiful. The original Mad Max films are well-regarded but I don't think any of them look quite as stunning as Fury Road. Cinematographer John Seale came out of retirement to film Fury Road and the movie is all the better for it.
While there may not be a ton of explanation or backstory, the universe of the movie feels very real. I can completely get behind this. Too often movies feel the need to over-explain things, so we are stuck with a character in a movie being "introduced" to a world as other characters spout expository dialog to the uninitiated, when they are really just explaining things to the audience. While some good movies are guilty of this, I always feel that showing is much better than telling when it comes to movies.
I try to keep my expectations in check prior to seeing a movie. Forget that here. Believe the hype. Mad Max: Fury Road totally deserves the 98 it has on Rotten Tomatoes and the 89 it has on Metacritic. Star Wars didn't destroy the modern blockbuster, lazy and indifferent filmmakers attempted to.
I wish I could say I was hopeful that Mad Max: Fury Road will lead to better things in the future, but too often in the past the wrong lessons have been taken from works of greatness. One reason for optimism: George Miller does want to make (at least) 2 more Mad Max films. If all goes as planned, we will have those to look forward to.
The Kitchen Renovation Project: What you need to know before you start
"What does an average person need to know before they get started on doing a kitchen update or renovation?" Well, it just so happens that I have a few ideas in mind that I can pass along as part of my own dealings in this matter. I will tell you that I am in no way claiming to be an expert on the subject. However, I can certainly give the general public some thoughts on how the Daviess County Public Library can be a good starting point in this area.
First, the library has access to many different types of magazines in both paper and digital format. The back issues of magazines that are kept under our shelves can be checked out for a week at a time as long as they have a barcode on them. The digital magazines can be checked out and downloaded for good on a digital device as long as the patron goes online and fills out a form to get started. The digital magazines are through a platform known as Zinio through RBDigital. If you are the type of person that prefers reading on a digital device as opposed to hard-copy format, then this is what you really need to try. Once you set up an account, then any magazine you download that is part of our subscription is yours to keep on your device. According to the Zinio help page, "there is no limit. Check out as many magazines as you wish and keep them as long as you like."
Browsing magazines for ideas on kitchen remodeling is one of the first things I ever did before I started any actual purchase of products for the kitchen. If there's one thing that I truly believe in, it's doing plenty of research first before diving headlong into a project not knowing what to expect. This is why the library is a good first start since we have two different ways of accessing magazines as mentioned above. All you need is your Daviess County Public Library card in order to receive access to a wealth of material.
Secondly, the library has several hard-copy books on the subject of kitchen renovation and remodeling also. The area that these types of books are normally found in is: 643.3. There are at least 20 plus books on kitchen remodeling so there are several items to choose from. Also, as a patron, if there is ever a book that you are interested in and it's new, and the library doesn't own it, you may fill out an online form for a Suggestion for Purchase.
Third, the library has digital subscriptions to several databases that the public can access with their library cards also. Here are just some of the databases that we have that might be of help when starting that kitchen renovation project: 1) Home Improvement Reference Center and 2) Academic Search Complete under the EBSCOHost umbrella of databases. Both of these databases can provide the public with ideas on starting a remodeling project.
Finally, the library has at least 20 public access Internet computers that any current Daviess County Public Library cardholder can access on a daily basis. As long as you have your card with you, you can access the public pcs and search a plethora of information on the web about kitchen remodeling, renovations, etc. online.
As the saying goes, the world is your oyster. Now you just need to go out there and start using the tools that are in front of you at your local public library to access the pearls of wisdom awaiting you today.