Subscribe to Books, Movies & Music
Closed Off Circle 4: A Book Review
–Corey Wagner
It usually takes until March or April of each year for me to (mostly) catch up on all of the movies I'm interested in from the previous year. Still, I can't help but be disappointed by the theatrical releases thus far in 2015. Sure, I absolutely loved Ex Machina and Mad Max: Fury Road, but I'm not sure I could even assemble a top 5 list from the first half (and then some) of this year. Paddington? Kingsmen? It Follows? These movies were all fine, but never at any time while viewing them was I thinking that they would make my top 10 of the year list. Avengers: Age of Ultron was also okay, but I consider it one of the weaker entries in the Marvel Cinematic Universe. I have intentionally avoided the new Jurassic Park and Terminator movies. I still haven't seen Ant-Man or the trio of highly-reviewed comedies from the past couple months (Dope, Spy, and Trainwreck).
Completely changing gears: I am an unabashed Back to the Future fan. The Back to the Future films are some of the few movies from my childhood that I still enjoy today (fun fact: I wasn't actually alive when the first movie came out). 2015 marks the 30th anniversary of the original film (and, of course, the year that Marty, Doc, Jennifer travel to in Part II). With that comes a variety of releases. Later in the year the trilogy is being released on blu-ray (again!) with new bonus material, and for the first time ever the animated series from the early 90s is getting released on dvd. A BttF: The Ultimate Visual History hardcover is also coming later in the year. While I am anticipating the release of all of those (I have no memory of the animated series), in the meantime a new "making of" book was released last month.
Written by Caseen Gaines (who has also authored books on Peewee's Playhouse and A Christmas Story), We Don't Need Roads: The Making of the Back to the Future Trilogy makes for a quick read for Future fanatics. Gaines interviewed over 50 people involved with the film(s) in a variety of ways. Some of the interviewees include: Robert Zemeckis (director/co-writer), Bob Gale (co-writer), actors Christopher Lloyd (Doc Brown) and Lea Thompson (Lorraine), and many others. Michael J. Fox (Marty McFly) and Crispin Glover (George McFly) are notable (and not surprising) omissions. The book covers both well and lesser-known trivia and, thankfully, expands on many of the more well-known stories. The benefit of interviewing so many of the people involved is that multiple perspectives (and sometimes differing accounts) are given for many of the events discussed in the book.
An interesting tidbit that I was previously unaware of is that Claudia Wells (Jennifer Parker) was almost not in the film. She had originally been cast in the Jennifer role but scheduling conflicts made her drop out. The role was recast with Melora Hardin now stepping in. Once Eric Stoltz had been replaced with Michael J. Fox, Hardin was considered too tall. The recasting of Marty had caused a delay and now the slightly shorter Wells was available again. Of course, Wells would not be in the sequels and Elisabeth Shue would take over the role. The book also goes into detail about how replacing Eric Stoltz caused the movie's release to be delayed and caused the film to go over the original budget.
The book  clocks in at just over 250 pages. Most of the length is devoted to the first film, from the original idea to release. Some of the information here is less than shocking: Michael J. Fox is a really nice guy, Crispin Glover was considered difficult to work with by much of the behind the camera crew but the other actors seemed to like him. My biggest complaint is that the second and third movies are glossed over a bit. The portion of the book devoted to Part II primarily deals with the Crispin Glover lawsuit and the stuntwoman that was injured badly during filming. Part III really only has about a dozen or so pages devoted to it and more or less just says that everyone that worked on the movie had a good time.
All in all, I found We Don't Need Roads to be entertaining and I think most BttF fans would enjoy it.
The Kitchen Renovation Project: What you need to know before you start
"What does an average person need to know before they get started on doing a kitchen update or renovation?" Well, it just so happens that I have a few ideas in mind that I can pass along as part of my own dealings in this matter. I will tell you that I am in no way claiming to be an expert on the subject. However, I can certainly give the general public some thoughts on how the Daviess County Public Library can be a good starting point in this area.
First, the library has access to many different types of magazines in both paper and digital format. The back issues of magazines that are kept under our shelves can be checked out for a week at a time as long as they have a barcode on them. The digital magazines can be checked out and downloaded for good on a digital device as long as the patron goes online and fills out a form to get started. The digital magazines are through a platform known as Zinio through RBDigital. If you are the type of person that prefers reading on a digital device as opposed to hard-copy format, then this is what you really need to try. Once you set up an account, then any magazine you download that is part of our subscription is yours to keep on your device. According to the Zinio help page, "there is no limit. Check out as many magazines as you wish and keep them as long as you like."
Browsing magazines for ideas on kitchen remodeling is one of the first things I ever did before I started any actual purchase of products for the kitchen. If there's one thing that I truly believe in, it's doing plenty of research first before diving headlong into a project not knowing what to expect. This is why the library is a good first start since we have two different ways of accessing magazines as mentioned above. All you need is your Daviess County Public Library card in order to receive access to a wealth of material.
Secondly, the library has several hard-copy books on the subject of kitchen renovation and remodeling also. The area that these types of books are normally found in is: 643.3. There are at least 20 plus books on kitchen remodeling so there are several items to choose from. Also, as a patron, if there is ever a book that you are interested in and it's new, and the library doesn't own it, you may fill out an online form for a Suggestion for Purchase.
Third, the library has digital subscriptions to several databases that the public can access with their library cards also. Here are just some of the databases that we have that might be of help when starting that kitchen renovation project: 1) Home Improvement Reference Center and 2) Academic Search Complete under the EBSCOHost umbrella of databases. Both of these databases can provide the public with ideas on starting a remodeling project.
Finally, the library has at least 20 public access Internet computers that any current Daviess County Public Library cardholder can access on a daily basis. As long as you have your card with you, you can access the public pcs and search a plethora of information on the web about kitchen remodeling, renovations, etc. online.
As the saying goes, the world is your oyster. Now you just need to go out there and start using the tools that are in front of you at your local public library to access the pearls of wisdom awaiting you today.
Closed Off Circle Volume 2: Michel Gondry & Mood Indigo
Corey Wagner
My first exposure to director Michel Gondry was his 2004 film Eternal Sunshine of the Spotless Mind , for which he won an Academy Award (Best Original Screenplay, as one of the co-writers). The acting and Gondry's unique visual style help sell the movie's unconventional take on the romantic-comedy. After that he wrote and directed the equally surreal The Science of Sleep in 2006, another movie I am very fond of. At this point, however, the quality of his output would dip more than a little.
First there was Be Kind Rewind in 2008, an inoffensive (but not particularly interesting) comedy starring Jack Black and Mos Def. The initial premise seemed interesting but it wasn't enough to support a feature-length film. By the midpoint the film runs out steam. Gondry's style was still there but significantly toned down; the surreal had been mostly replaced with goofiness. Unfortunately, Gondry's next feature was not inoffensive.
Green Hornet is an entirely forgettable Seth Rogen Action(?)/Comedy movie. This was the first time Gondry really had a big budget to work with. Even with a budget greater than the rest of his feature films combined, Gondry couldn't deliver anything remotely interesting. Even if Be Kind Rewind was lacking, it has a few memorable moments. The Green Hornet is uninteresting (and completely forgettable) in nearly every way.
Between The Green Hornet and Mood Indigo Gondry directed a low-budget film titled The We and the I. I didn't actually know anything about this movie until recently, and since I haven't seen it, I can't really say much about it.
Mood Indigo is not only one of my favorite movies from the last couple of years, but it is also one of the films that inspired the creation of this blog. In the United States it was released in July of 2014, more than a year after it was released internationally. For whatever reason the American cut of the movie is a full 31 minutes shorter than the "International" version. The DVD release thankfully has both the 125 minute and 94 minute versions of the movie. I have only seen the full version of the movie. At some point in the future I might watch the shorter version out of morbid curiosity, similar to how I would love to see the 139 minute cut of Leone's Once Upon a Time in America, just to see how badly it has been butchered.
(Side note: I'm only familiar with the 229 minute and 251 minute versions of Once Upon a Time in America. As it is one of my favorite movies, I long for the day the 269 minute version gets some sort of release.)
I find it curious that a company that prides itself on presenting unconventional films from around the world would remove nearly 25% of a film's running time. Furthermore, I would think that foreign language films are a niche market in the United States and the people that seek them out would be more than casual film viewers. Cutting the movie doesn't seem to make sense to me. It seems that would alienate those that would be enthusiastic about the movie and I'm not sure decreasing the run time would attract those that wouldn't already have an interest in the movie.
Anyway, Mood Indigo stars French actors Romain Duris and Audrey Tautou and is based on the 1947 Boris Vian novel L'Écume des jours (Froth on the Daydream). This is actually the third film adaptation of the novel. The previous versions are 1968's Spray of the Days (also French) and a 2001 Japanese movie titled Chloe. Keen viewers may recognize actor Omar Sy. He is probably best known for The Intouchables or as one of the background mutants (Bishop) in X-Men: Days of Future Past. He's the one with dreads, red eyes, and a large future-gun.
Much like my other favorite Gondry films (Eternal Sunshine… and The Science of Sleep), Mood Indigo is a romantic comedy (of sorts), with many fantastical elements. Colin (Romain Duris) is wealthy and seemingly happy with his life until the day his best friend Chick comes over and tells him that he has met a special woman. Colin decides that without a significant other his life is incomplete. Soon thereafter Colin meets Chloe (Audrey Tautou) and they quickly fall in love and wed. During their honeymoon, however, Chloe falls ill. From this point on the film is less bright and cheerful (literally). The color palette dampens gradually during the film, and by the end it is essentially in black and white.
The opening 10 minutes of the film are probably enough to determine if this is something you can tolerate. The absurdities last throughout, but the opening scenes heavily feature stop-motion animation and other surreal visuals. While I found this enjoyable (and it reminded me heavily of The Science of Sleep) I know others found it tiresome, irritating, overwhelming, too quirky, etc. Whatever may have been held back on The Green Hornet is on display here (and then some). The bare-bones description of the plot is pretty standard but Gondry is able to turn it in to something that is uniquely his own (even if it is an adaptation). I would favorably compare Mood Indigo to The Science of Sleep (obviously) and Synecdoche, New York.
Since the previous blog I have had the pleasure of viewing Life Itself, a Steve James documentary about Roger Ebert. I grew up watching Ebert on television and later began reading his reviews and commentary. As an adult, I think that he helped me appreciate film more, and I think he had interesting things to say about movies, even when I didn't agree with him. Many times over the last couple of years after seeing a particularly good (or bad) movie, I wondered what Ebert would have written about it. Anyone with a passing interest in Roger Ebert should check out the Life Itself documentary.
One movie I would love to read Ebert's take on: Ex Machina. I was able to catch it in theaters, and it's easily the best movie of 2015 (as of the end of April). I've also had the pleasure of listening to John Carpenter's debut album Lost Themes. While I'm not exactly a fan of his movies, Lost Themes is likely to be one of my favorite albums of 2015.
Up Next: I try to keep the word count under 1,000!
All of the following are available for checkout at the Daviess County Public Library:
Be Kind Rewind DVD
Eternal Sunshine of the Spotless Mind DVD
The Green Hornet DVD
The Intouchables DVD
Life Itself DVD
Lost Themes CD
Mood Indigo DVD
Once Upon a Time in America (229 minute version) DVD
The Science of Sleep DVD
Synecdoche, New York DVD
X-Men: Days of Future Past DVD
So You Wanna Be a Librarian?
John Beemer
"Why would you want to be a librarian? Sitting around reading all day—that sounds like the most boring job. Aren't libraries dying, anyway? And don't you want a career that pays better?"
I'm sure most library workers have heard these questions dozens of times. I know I have. About midway through a master's in library science, I've almost gotten used to the quizzical looks and smirks that accompany questions like, "What on Earth do the words 'library' and 'science' have to do with each other? What exactly do you do?—learn about the best books and how to shelve them?" My usual response: "I guess that's part of it." Sometimes I'll give in and wax poetic about metadata, the different types of libraries, and our goal of bridging the gap between patron and information. Usually, this just gets me more strange looks and sometimes an unconvincing, "Oh—okay."
Not that I blame their confusion. Learning the lingo of the library world can be daunting. Everything occurring behind the scenes at even a small library can seem incomprehensible. The science of running a library as we know it is a relatively new discipline—an evolving, thriving field sure to become more important in our information-saturated world. Working in a public library has given me a chance to examine some of the things I've been learning—to test myself—to see how people look for information, day to day, and how I can help them.
Starting as a new staff member of DCPL beginning in September, I wasn't sure what to expect. I was intimidated by a new workplace with new faces and new patrons. I knew it would take time to familiarize myself with all of the unknown. At first, I felt totally inept—like I couldn't help anyone. (Halfway to my MLS and I mis-alphabetized a set of magazines. Way to go, John.) But I'm gradually falling into the groove of things, and I look forward to going to work. It doesn't hurt when I've yet to encounter an unfriendly face or unhelping hand among my coworkers.
Coming from a small academic library, the most obvious difference I've encountered is the number of people I come into contact with daily. Although foot traffic ebbs and flows, once our doors open, patrons of every demographic and background come to us for their various needs. Some people want books or movies or CD's. Some visit for a special program or for genealogy research. And some just want a comfortable place to sit and spend time. Nothing's wrong with any of those. And here's a difference between academic and public libraries I've noticed: an academic librarian usually deals only with the students, faculty, and staff of his or her institution; a public librarian should expect to interact with everyone and anyone and, in fact, has a responsibility to serve every person who comes through the door. That's one of the most attractive and powerful sentiments about the public library's role—that everyone is worthy of equal service and information access, regardless of status, education, or income (of course, actually following this aspiration is sometimes easier said than done).
Serving the entire public in the reference department comes with its own challenges. I never know what question I'll be asked or which subject I'll need to dive into. Library science is truly multidisciplinary—librarians have to be able to interact with the entirety of humanity's information. In a given day, I've been asked for information about pumpkin carving, diabetes, car repair, and crockpot recipes. I don't have to be an expert on it, but I need to know where and how to find it. This not only keeps me on my toes, but it's also the main reason I want to be a librarian: I enjoy helping people. I'm not working at a library to make money or sit around reading. I work there to help you find what you need—what you're looking for. And I think all of my coworkers would say the same.
Staff Selfies: Kristen Potter and Lisa Maiden
Hello there! My name is Kristen Potter and I am a Library Technical Assistant at the DCPL! My areas of "expertise" include YA programming and storytime (Wee Read) with 0-2 year olds (variety is the spice of life, right?). On any given day, you can find me on the second floor helping patrons find material, at my desk planning programs, or perusing the children's section for books to get little ones excited about reading. I LOVE working here – and I mean that! I get to express my creativity, act goofy, and occasionally I get to dress up in costumes and become a character from some of my most beloved children's books.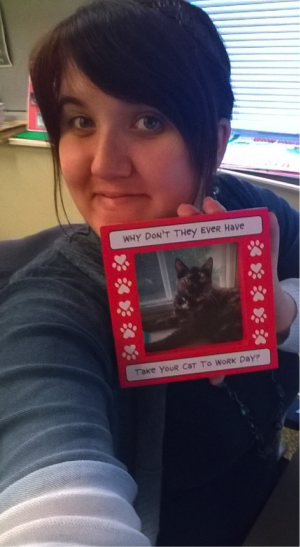 Hi there!  My name is Lisa Maiden and I work at the Reference Desk on the first floor.  I spend my days helping patrons use our computers, look up books, and find information.  I also am responsible for the majority of the displays on the first floor.  As much as I would love to make every display about cats, I realize not everyone has that special cat in their life like my Bella.  So instead, I try to make the displays center on topics that will interest you, our amazing library patrons! Some of our past displays include money smart books, gardening books, books about traveling to national parks, and how to redecorate your house.  And these change monthly so there's always something new to sort through.  So come on in and say hello.  I'd be happy to tell you more about my cat or help you in any way I can!