Subscribe to Books, Movies & Music
Handling the Holi-Daze!
By: Maggie Riney
Ah, the holidays. The holidays are a time of generosity, a time of family, and a time to avoid sitting by Aunt Bertha because "No, I'm not dating anyone," and, "Yes, I did hear that cousin Allie is engaged to a nice investment banker."
While in between sips (who am I kidding, GLASSES) of your mom's boxed wine and Uncle Kenny's heated political debate with Great-Aunt Muriel that climate change does, in fact, exist, you may want get away. You may want to hide underneath your childhood twin bed and have a good laugh. And that, my fellow conflict-avoidance friends, I can help you with.
The best way to endure the craziness one's family brings during the holidays is to find a household that is much more hectic than yours. The uproarious Running with Scissors: A Memoir by Augusten Burroughs is guaranteed to make your kin seem as calm as the untouched Brussels sprouts casserole created by next-door neighbor Nancy. Inside you'll find a dysfunctional psychiatrist, a self-taught veterinarian, and a delicious amount of mommy issues. You will only want to put this down if you are certain there is a new batch of Sister Schubert rolls coming from the oven.
                If you are looking for a film to bring a smile to your face after being forced to sit at the kid's table for the twenty-fifth consecutive year, perhaps try the movie Wild Oats. The perfect Jessica Lange and Shirley MacLaine show that desire and adventures come at every age, and perhaps that growing up is a lifelong process. (Take that Grandma Harriet for saying "When I was your age…".)
Finally, is it time for Aunt Vivian to pull out her iPhone 3G to show pictures of her annual vacation to Sheboygan? Maybe you will need a little more time in your hideout (along with two slices of pumpkin pie and whatever is left in Grandpa Carl's hip flask). For this, I suggest the amazingly witty show Shameless. You can relish in the fact that within the one hour it takes to watch your purse wasn't stolen, you didn't meet someone with a secret identity, and you didn't walk in on an affair, and that is just the first episode.
While you cannot pick the family you are born into, you can pick your downloads (and just how much "cheer" you put in your eggnog). All of the content above, as well as hundreds of books, graphic novels, audiobooks, music, movies, and television shows are available for free on the Hoopla app with your library card information. Perhaps your hiding place will become a home for hibernating all winter long, or at least during the holiday season.
Mayday, Mayday, barbecue is on the menu
By: Christy V. Temple
Okay, we're in the month of May again and right around the corner to lots of goings-on in Owensboro/Daviess County. We just finished the Kentucky Derby and Nyquist won the glory. Now we are on to graduations, summer is right around the corner with the Summer Reading program for children, and time for school to be out altogether. It's also another big time of the year coming up this weekend and we all know what that means: barbecue in a big way.
The Barbecue Festival starts this Friday the 13th and ends on Saturday, May 14th, 2016. As usual, we will probably end up getting a decent amount of rain as is typical almost every year. However, maybe we will get lucky and have at least part of the festival in the sunshine.
Barbecue in Owensboro/Daviess County is a really big deal and has been for years. We have people who attend the festival from miles across the country and even from overseas. Our barbecue is very different from most other places in the United States. We barbecue mutton around these parts and it's the best stuff in the world to me, although I am a little prejudiced having grown up in Daviess county my whole life. I know other parts of the U.S. tend to barbecue beef like they do down in Texas. In part of the South and the Carolinas they are really big on pork.
For my part though, I prefer mutton chopped and on a sandwich with pickle and onion and sometimes even a little mustard on top. I know the last part is a little strange but mustard is one of my favorite condiments and I find that it really lends a little extra flavor to the sandwich. I also usually like eating it alongside either potato-salad; my mother's being the absolute best, or coleslaw. To top it off, I want a nice dish of blackberry cobbler with vanilla ice cream on top. Mmmm, mmm. I am making myself extremely hungry right now and it's coming up on my dinner hour to eat. Decisions, decisions.
Anyway, the reason I bring up all of this delicious food is that if you want to experience the thrill and taste sensation of barbecue year-round and you would like to try to make it yourself, then you have come to the right place. The Daviess County Public Library has a plethora of books on the subject of barbecue. An adult non-fiction book search on barbecue yields some 124 results. Here are just a few of the titles that we own below.
So, the next time that you are hungry for some barbecue why don't you come down to the library instead and check out some great books and give it a try on your own? Besides, just think, at least it you try it and it doesn't turn out well there are still plenty of good barbecue restaurants here locally where you can just drop by and get it to-go.
Happy barbecuing and good luck to the festival this weekend!
Margins February meeting!
For our February 27th meeting, Margins members discussed If You Could Be Mine by Sara Farizan. In the book, a young lesbian couple (Sahar and Nasrin) struggle to deal with their secret relationship in Iran, where homosexuality is punishable by death. Nasrin's upcoming arranged marriage to a wealthy doctor becomes another pivotal conflict in the book.
Everyone seemed to agree that the book shed light on the interesting "selective morality," as Aynde called it, of the Iranian government. In Iran, people who experience same-sex attraction are encouraged to undergo sex reassignment surgeries to "fix" homosexual feelings. Sahar, the narrator of the story, debates undergoing this surgery to become male so that she can be with Nasrin with less fear of persecution.
Although there were some interesting insights gained from the book, we had some criticism, too. Sahar's obsession with being with Nasrin didn't seem very well thought out. Of course, not having lived under the theocratic oppression of the ayatollahs, it's hard to completely connect with Sahar's reasoning.
Harley mentioned contacting the author on Twitter to see if she could give any info on how to support LGBT people in Iran. Harley reported back about an organization called ORAM (Organization for Refuge, Asylum & Migration), which helps assist refugees who have fled countries due to persecution based on sexual orientation and gender identity. So, if you're interested in helping out, feel free to visit their website at www.oraminternational.org.
We also handed out our March pick, Bitter Eden by Tatamkhulu Afrika. Copies are available at the 1st-floor info desk. I'm sure we'll have another fun discussion on March 26!
PS: As a delicious addition to our meeting today, Harley brought us some great rainbow-colored cupcakes with sprinkles! Thanks, Harley! (We also came up with cool codenames, and if you come to our next meeting, we'll give you one, too!)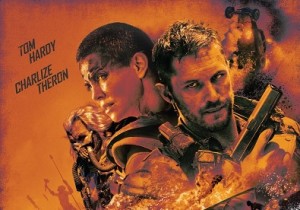 BEST OF 2015: Corey Wagner, Public Services
Our "Best Of 2015" series will be a bit different than most. Rather than having the staff write about things released this year, we've elected to allow anything they've listened to/played/read/watched this year that they've enjoyed. Our second installment comes to us from Corey Wagner, a Library Associate in the Public Services department.

While coming up with a "Best of 2015" list a couple of things became clear to me:
I didn't read nearly enough books last year.
What little I did read wasn't very memorable.
Since I failed to read much of anything (except comic books) this year I've decided to make my best of list more media heavy.
Music
My "mainstream" music picks of the year are:
Faith No More – Sol Invictus
It's rare for a comeback album to be good. When bands get back together after 10, 15, or more years after separating the new music tends to be safe and tread similar ground. Honestly, I can't think of a single instance of a band reforming after a significant hiatus and releasing a good album. Faith No More's Sol Invictus didn't just exceed my admittedly low expectations, it's nearly as good as anything they have ever released. Angel Dust (1992) is a masterpiece, and I'm partial to King for a Day… Fool for a Lifetime (1995). Sol Invictus almost reaches those heights. "Matador" is one of the best songs they've ever written and "Sunny Side Up" is one of the catchiest. I should know better from a Mike Patton-related project. He never mails it in.
Check out the CD in the library catalog.
Ghost – Meliora
The third album from the Swedish rockers is arguably their best and their popularity continues to skyrocket. Their single "Cirice" has been nominated for a Grammy and earlier this year they appeared on Late Show with Stephen Colbert. This album somehow manages to be Ghosts's heaviest album while still being very melodic. "Absolution" and "Deus In Absentia" is the best 1-2 punch to close an album I've heard in a long time.
Check it out on hoopla.
Movies & TV
Ex Machina – Oscar Isaac has turned in to an actor I pay attention to over the last few years. Domhnall Gleeson has also been showing up in a lot of movies I've watched over the last couple of years. When I learned the two of them were together in a small sci-fi movie about artificial intelligence I was immediately sold on the film. It lived up to my expectations (and the hype of the overwhelmingly positive reviews). Also, the CG in the film is so well done that I would have believed the budget to be 3 or 4 times as big as it was. These two actors will also be in another small sci-fi film in a few days.
Mad Max: Fury Road – I don't know what else I could possibly say about this. It's great. I saw it in theaters approximately 8,000 times.
Sicario – Director Denis Villeneuve's previous two movies (Prisoners, Enemy) had a lot to like but ultimately didn't really connect with me. If nothing else, those two movies did have some fantastic performances. Sicario also has some great performances from Emily Blunt, Benecio Del Toro, and Josh Brolin. Unlike his previous two films, however, Sicario held my attention. The score really helped build suspense and dread. I expect this will receive some attention from the Oscars.
Better Call Saul Season 1 – It took 3 episodes but my reservations about a Breaking Bad spinoff completely disappeared after that. I've been a big fan of Bob Odenkirk for a long time and it's nice to see him in a more dramatic role. For those unaware, Better Call Saul is a prequel to Breaking Bad that follows Bob Odenkirk's character Saul Goodman (or James McGill) prior to the events of Breaking Bad. Odenkirk has been nominated for a Golden Globe for his performance in season 1. Jonathan Banks also reprises his role as Mike Ehrmantraut.
Mad Men Season 7 Part 2 – The final episodes to one of the best television series of all time. Jon Hamm finally won an Emmy for his performance!
Comics
Ms. Marvel by G. Willow Wilson (Volumes 2, 3, & 4 released in 2015) – Kamala Khan is one of the best new characters in superhero comics in recent memory.
Hawkeye by Matt Fraction (Volume 4 released in 2015) – The final issues of one of my favorite comic runs in recent history!
Thor: Goddess of Thunder by Jason Aaron (Volumes 1 & 2 released in 2015) – The continuation of Jason Aaron's Thor: God of Thunder finds a new person wielding Mjolnir and the title of Thor.
Moon Knight by Cullen Bunn and Brian Wood (Volumes 2 & 3 released in 2015) – This series serves as a good introduction to the character. Unfortunately, after 17 issues (the last 11 issues are in these two collections) the title has been cancelled and I'm not entirely sure what the plans for the title/character are in the future.
Wytches Volume 1 by Scott Snyder & Jock – Scott Snyder is one of my favorite current comic writers. Artist Jock and colorist Matt Hollingsworth are also worth mentioning, since the artwork is memorable and beautiful (and, at times, disgusting).
–Corey Wagner
BEST OF 2015: Christina Clary, Kentucky Room
Our "Best Of 2015" series will be a bit different than most. Rather than having the staff write about things released this year, we've elected to allow anything they've listened to/played/read/watched this year that they've enjoyed. Our first installment comes to us from Christina Clary, a Kentucky Room clerk and historical fiction aficionado.
It's December, which means everything from this past year must be put into lists. This is not optional, people. Rank everything that you read ate, watched, listened to, casually noticed on your way to work. In this spirit, I'd like to share with my "Top 5 Books of 2015 That You Might Have Missed." These are the books that didn't have the same publicity as say, Harper Lee's new book My Caretaker is Taking Advantage of My Writing, or The Girl on the Train, which I did not like at all. I will not apologize for that either. So here's my list in no particular order. I hope you check out some of these titles from your local public library.
• The Anchoress, by Robyn Cadwallader – A beautiful, quiet, and moving tale of grieving seventeen year old Sarah, who chooses to spend the rest of her life in a tiny cell as a religious figure for her community. Despite Sarah's intentions to lock out the world, she forms a bond with the two women who serve as her caretakers, and the priests who give her spiritual advice. Also, the ending isn't quite what one expects. I loved this book so much. I cannot recommend it enough.
• The Train to Crystal City: FDR's Secret Prisoner Exchange Program and America's Only Family Internment Camp During World War II, by Jan Jarboe Russell – By now, most people are familiar with the Japanese internment camps during WWII. German-Americans and Latin Americans, however, were also forced into camps simply because of their heritage. This book follows the only camp that was for these families at Crystal City, Texas. Russell poignantly shares what life was like for these innocent families as they struggled to maintain a normal life in an extraordinary situation. This should serve as a cautionary tale for modern day, as we face a very similar situation that I can't go into because it's not polite to discuss politics on a public blog.
• Saint Maizie, by Jami Attenberg – Do you like sassy women and the Jazz Age? (For the record I don't really like calling women sassy, it seems deeming to me, but sometimes it is only way to describe someone.) Great, meet Maizie, a bottle blonde broad with a love of life and everyone in it. An amusing and occasionally heart breaking story of a real woman who offered help and shelters to homeless men during the Great Depression. Written as Maizie's diary, we get to see the world through her compassionate and cheeky eyes. While it has its sad moments, this book is also a lot of fun.
• Madam Ambassador: Three Years of Diplomacy, Dinner Parties, and Democracy in Budapest, by Eleni Kounalakis – This book starts out with a boar hunt in the forests of Hungary in the name of feminism. That is an awesome sentence. Following Kounalakis' time in Hungary, the book reveals what exactly it takes to become an ambassador (being massively wealthy and BFF's with Hillary Clinton), and what the duties entail, which consists mostly of being frustrated that no one will listen you when you're right. If you've ever wondered why Hungary is so belligerent in keeping out refugees, this book will explain that. Hint: it's because of Neo-Nazis!
• The Distant Marvels, by Chantel Acevedo – Look, I really like historical fiction, okay? This one takes place in Cuba 1963, where a group of elderly women are corralled together to ride out the devastating Hurricane Flora. In order to pass the time, Marie Sirena tells the tragic story of her life, starting as a young child of the bloody Cuban revolutionaries in the 1890s, and ending with an absolutely heartbreaking revelation. Chances are very high that you will cry a little while reading this book. It's worth it though.
Bonus Book!
• The Miniaturist, by Jessie Burton – What's that you say, this was published in 2014, not 2015? Too bad. I read this in January of 2015, and it is my favorite book of the year, so those who are stickler for the rules can just stop reading. Amsterdam, 1686. A young girl named Nella arrives to start a new life as the wife of a rich trader. Familial intrigue ensues the moment she walks into her new home and meets her sister-in-law. As her new life slowly spins out of control, she finds that nothing is as it seems, and everyone has their own secrets. Amidst this, a miniaturist who was commissioned to build a house as a wedding gift sends new additions that eerily reveal the truth about the people in Nella's life. Plus, the conservative Puritans are out making sure that no one is having any sort of fun and condemning them all. I love the depiction of life in Puritan Amsterdam, the multilayered and complex characters, all of the twists and reveals, the creepiness of the miniaturist, the cover. Read it. You won't regret it.