Subscribe to Books, Movies & Music
My Freegal Five Playlist
By Brian Lashbrook
Did you know that you can now download 5 songs from Freegal each week? Not only that, you can stream any music on Freegal for up to 3 hours a day.  These services are all Free with your Daviess County Public Library card.
To celebrate, I and my fellow music lovers here at the Library will share our list of 5 Freegal downloads each week.
Since it's spring monsoon season here in the Ohio Valley — swollen clouds, blustery winds, and sudden downpours — my first playlist consists of rainy day mood music and muddy puddle stompers.
"Walk on the Wild Side" — Lou Reed, Transformer
First up is this career-defining gem by the recently deceased Lou Reed. Inspired by Nelson Algren's 1956 novel of the same name, this David Bowie -produced street-wise groove reads more like Holden Caufield's diary after Catcher in the Rye, journaling a fringe culture of subversive misfits and perverts. Despite some poetically "colorful" lyrics, this 40+ year old song still sounds fresh today.
 "I'm on Fire" — Bruce Springsteen, Born in the U.S.A.
Speaking of perverts, don't let the creepy "To Catch a Predator" vibe of  lyrics like "Hey little girl is your daddy home?" fool you.  The Boss is using hippie-speak to ask "Is your boyfriend/husband at home?"  Yes, even when the Boss was riding high on the broken American dream anthems of "Born in the U.S.A.", he still had time to make a booty call.   Like "Walk on the Wild Side", the sparse production of plodding bass and guitar make it hard pin a date on this slow burner from the 1980′s.  Where Lou keeps his cool, however, the Boss loses his mind in a lonesome howl of desire.
"Don't Wanna Cry" — Pete Yorn, Back & Forth
Another son of the Garden State, Pete Yorn left Jersey for Hollywood to embark on a career in scoring films.  He got his first break writing and performing songs for the film Me, Myself & Irene by gross-out comedy kings Bobby and Peter Farrelly.  His contributions to the soundtrack made me fall in love with his music, and probably not coincidentally led to a recording contract for Yorn.  On this earnest, country-tinged ballad, the passoniate fire has smoldered and Yorn's left to deal with his emotions for a love lost.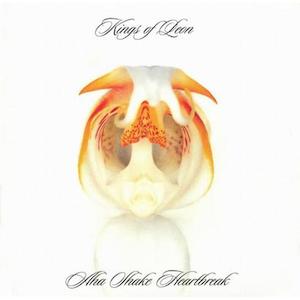 "The Bucket" — Kings of Leon, Aha Shake Heartbreak
Kings of Leon is another band to which the fabulous Farrelly Brothers introduced me, via "California Waiting" in the conjoined twin romp Stuck on You.  Before the wild-eyed southern boys blew up with "Need Somebody", they crafted rowdy roadhouse rhythms around a fragile heart.  "The Bucket" is a catchy stomper about a suicide pact between two young friends afraid of becoming washed-up adults.  Sounds fun, right?  But with lyrics like "18, balding, stoned", you realize it's a tongue-in-check jab at the insecurities of the young in a culture that values youth above all.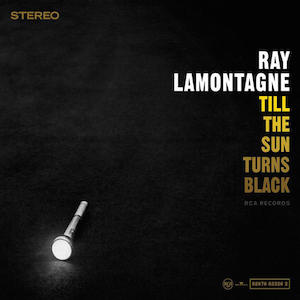 "Be Here Now" — Ray LaMontagne, Til the Sun Turns Black
I'll round out this week's playlist with the opening track from the gorgeous pinnacle of bummer rock Til the Sun Turns Black.  LaMontagne is best known for the Otis Redding-style song "Trouble" from his debut album of the same name.  Unfortunately, the excellent "Trouble" was overexposed by this commercial.  On his sophomore effort Black, LaMontange channeled the Beatles circa Sgt. Pepper's, using lush production with strings and tympani.   "Be Here Now" is a Zen-inspired meditation on being present in a world constantly "on" and disassociated from reality.  Personally, I think it's a good day to listen to the entire Til the Sun Turns Black album.
That's it for my Freegal Five Playlist.  Be sure to check out Freegal, especially the Apple or Android apps.  Enjoy!
 Brian Lashbrook is the Technology Manager for the Daviess County Public Library.  His favorite band is U2, although he enjoys many kinds of music.  He especially enjoys bummer rock, or as his friends would lovingly call it, "Sad Bastard" music.
Nebraska: A Movie Review
By: Kara Schroader
Woody Grant is no spring chicken. He may be old, drunken, and deranged, but he isn't interested in slowing down anytime soon.
In Nebraska, directed by Alexander Payne (About Schmidt, The Descendants), accomplished actor Bruce Dern portrays 80-something Woody. Suffering from dementia, Woody has fallen into the bad habit of wandering off along the local interstate. His wife, Kate (June Squibb), is fed up with his antics.
However, Woody is on a mission. He's just received a magazine sweepstakes coupon in the mail as the recipient of a one -million dollar prize. Since Woody no longer has a driver's license, he intends to walk from his home in Billings, Montana, to Lincoln, Nebraska (more than 800 miles) in order to claim his prize.
Woody's son David, played by comedic actor Will Forte, tries explaining to his father the sweepstakes coupon is the oldest scam in the book.  Woody, being the stubborn man he is, ignores his son's logic. He strongly feels the million-dollar prize is his last chance to win something in life. David sees his dad's ill-fated quest as a chance for quality father-and-son time and agrees to drive him to Lincoln, defying the objections of mom and brother, Ross (Bob Odenkirk).
So begins this terrific road-trip movie. Shot in stark black-and-white, Nebraska is both grim and funny.  It's a potent mix, with everything rooted deeply in the culture of the mid-west. Dern won the Best Actor award at the Cannes Film Festival for this career-crowning performance.
Nebraska moves at a comfortable pace across the plains of Middle America. You can't predict where the two unlikely protagonists will end up next. They seem simple men at first, but Payne doesn't leave them simple for long; past troubles and missed opportunities reveal themselves, but never too sadly. The plotting is sparse, focusing mostly on the characters—the illogical and determined father, the logical yet loving son, and the cantankerous, fed-up mother.
Like Woody's son and wife, we know he's being duped, but it's hard not to hold out some sort of hope for the guy—that maybe some good will come of the trip. In the end, both father and son experience a brief triumph not to be missed.
Read It Before You Watch It
Kim Mattingly
Buzzfeed.com recently released an article "14 Books to Read Before they Hit the Big Screen" that has been making the rounds through the popular social networking sites Facebook and Pinterest. As many libraries struggle to remain relevant, anything that reminds people to read is a good thing. The popularity of book-based movies and the quantity being released in the near future is astounding, and could have a positive impact on libraries by encouraging the non-reader to pick up a book.
Books being made into films is not a new phenomenon. Many popular film classics such as To Kill a Mockingbird, East of Eden, and Gone With the Wind were books first. What makes the trend unique this time around is that many of the films are based on book series. I suppose the trend started with the popularity of the Harry Potter films, continued with the Twilight films, and is still going strong with the Hunger Games films. Everyone wants to jump on the book series to film series bandwagon.
The question is, which series is going to be the next Harry Potter? Will it be Divergent by Veronica Roth, the dystopian story about a teen being called the next Hunger Games? Will it be The Maze Runner by James Dashner, a dystopian story about teens in a deadly maze? Will it be The Giver by Lois Lowry, yet another dystopian story about a teen? I think you should check all of the books out at the Daviess County Public Library and read them before you make a decision!
Social Networks Have Gone to the Books Part 2
Kim Mattingly
In the last installment, I discussed the popularity of social networking, and featured two popular reading/book social networks: GoodReads and Shelfari. Riffle and Fictfact are two other book networking sites that are less popular.
Riffle (Rifflebooks.com)
Riffle, an alternative to GoodReads, launched in May 2013. I became aware of the site about a month ago, when a co-worker mentioned it to me. She described it as "Pinterest for books." Of course, I had to check it out! I promptly created an account. I was directed to insert my three favorite books, and asked for my favorite genres of books so the site could create a list of people for me to "follow." Riffle shows you lists and books recommended by the people you follow, giving you the opportunity to mark the books as something you would like to read.
I'll be honest and say that I'm not a fan of Riffle. I just don't get it. I don't like the set-up, and it took me way too long to figure out what I was supposed to be doing on the site. I like the concept of the site, but I do not like the execution. Despite my dislike of the site, there are a few things I like about it. I like that you can become an "expert" in a category, and fans of that category can see your book recommendations. I also like that you can create lists of books to share on Facebook and Twitter.
Riffle is a free site, and you may sign up through Facebook or Twitter, or create an account using an email address. I have not been on the site long, and have not added very much content, but you may follow me at: https://read.rifflebooks.com/profiles/139304.
FictFact (Fictfact.com)
I registered for, and previewed, Fictfact shortly before writing this review and I am already a fan. The site was founded in 2009 by Christine Kirsten, a series lover frustrated with trying to keep up with everything that she wanted to read. Fictfact is an easy way of tracking all of your favorite series in one location. When you find the series you are reading, you can mark all of the books that you have read as "read" and it will tell you the next book in the series. If you have read all of the books in the series, Fictfact will inform you will the next book in the series is due to be released. It is a handy tool for someone who reads a lot of series.
Fictfact is not without flaws. I'm not sure about the "social" aspect of the site. I guess it could be used as a tool to find new series by "following" others that like the same series. Fictfact will be moving to a new site soon. The new site, which I previewed, will add a discussion feature which will allow users to talk about books and series, and will add another social layer to the mix.  If you sign up now, you may enter for a chance to win a free Kindle from the site.
Fictfact is a free site, and you may sign up using your email address.  You may follow my profile at: http://www.fictfact.com/user/evergleam2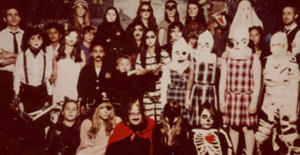 Ryan Gosling's Haunted Songs
 Kara Schroader
                  Ryan Gosling and Zach Shields met in 2005. Gosling was dating his Notebook costar Rachel McAdams, and Shields was dating her sister Kayleen.  After discussing their mutual obsession with the Haunted Mansion ride at Disneyland, the two realized they shared a fascination with the supernatural.  During childhood, Shield's preoccupation with ghosts lead to his parents' putting him in therapy, and Gosling once moved from a house believing it to be haunted. Their shared interest in ghosts, monsters, graveyards, and zombies sparked the idea of a theatrical ghost love story for the stage. Since a theatrical work is not complete without a soundtrack, the duo began songwriting and learning to play various instruments.  Putting aside the scriptwriting aspect of the project, the two became more interested in creating the music. The two named themselves Dead Man's Bones and soon thereafter released their first eponymous album.
                Although the album débuted in 2009, I first heard it only a few weeks ago. Honestly, it wouldn't have appealed to me nearly as much had half the band not been the incredibly dreamy Ryan Gosling. To me—and to most other women—his voice possesses a distinct allure, and this carries through to his vocals on the album. Mr. Gosling isn't just a pretty face with a charming smile; this isn't just a celebrity pet-project. After I checked out Dead Man's Bones, I quickly became obsessed with the haunting lyrics and sometimes-spooky melodies.
                Perhaps the most surprising aspect of the entire album is collaboration with the Silverlake Conservatory Children's Choir, started by Red Hot Chili Peppers bassist "Flea." Over the mellow wavering of Gosling's voice, the children's choir rises and falls in eerie innocence befitting an album whose songs were adapted from ghost stories.
                This album, along with hundreds more, is available for check-out at the Daviess County Public Library.