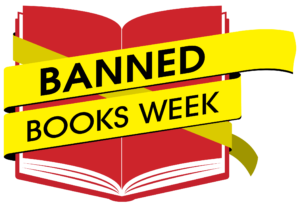 Banned Books Week: Books Unite Us, Censorship Divides Us
"If librarianship is the connecting of people to ideas—and I believe that is the truest definition of what we do—it is crucial to remember that we must keep and make available, not just good ideas and noble ideas, but bad ideas, silly ideas, and yes, even dangerous or wicked ideas."

GraceAnne A. DeCandido, librarian, publisher

Banned Books Week…what is it?
Every year, libraries face challenges to their material. Despite the world of information available at the tap of a key or a swipe of the touchscreen, there are still attempts to censor or limit access to books, movies, programs, and more.
To bring attention to ongoing censorship attempts, a coalition of librarians, publishers, and booksellers have recognized Banned Books Week every year since 1982. This year, it runs September 26 – October 2, and the chosen slogan is Books Unite Us, Censorship Divides Us. During this week, we celebrate our freedom to access information and entertainment, while also recognizing this freedom is continually under attack from multiple angles.
Why is it important?
Most documented challenges occur in public libraries, with concerned parents initiating most of the challenges. In just the past few years, we've seen uproar over racially insensitive Dr. Seuss books, as well as protests and death threats targeting drag queen storytimes in Nebraska and West Virginia.
But censorship isn't always so obvious, and sometimes even staff and administrations play the role of censor. Little everyday actions can limit people's access: removing controversial items from displays, failure to host events from fear of pushback, placing age restrictions on certain material, and so on. These attempts sometimes try to frame libraries as apolitical or neutral. But by taking such actions, we are choosing a side, making a political choice, breaking that pretense of neutrality.

Librarians as a profession continue to uphold the freedom to read, to watch, and to listen. By raising awareness of censorship, we help make sure challenges don't become outright bans.

"The real heroes are the librarians and teachers who at no small risk to themselves refuse to lie down and play dead for censors."

Bruce Coville, author of young adult fiction
Top 10 most-challenged books of 2020
George by Alex Gino
A 4th-grade transgender girl struggles with her identity. George, also titled Melissa's Story, has been one of the most-frequently challenged and banned books in recent years, appearing on this list every year since 2016.
Reason for ban/challenge: LGBT content, religious conflict

Stamped: Racism, Antiracism, and You by Ibram X. Kendi and Jason Reynolds
This edition of Kendi's award-winning book Stamped from the Beginning is designed to be more accessible for younger readers—12 and up. It discusses the development of racism in America and its effects today.
Reason for ban/challenge: author's public statements, limited viewpoint

All American Boys by Jason Reynolds and Brendan Kiely
A young adult fiction book that examines racial injustice from both black and white viewpoints.
Reason for ban/challenge: profanity, drugs/alcohol, antipolice, divisive themes

Speak by Laurie Halse Anderson
A young adult fiction book that looks at the challenges of high school, mental health, and abuse.
Reason for ban/challenge: political bias, anti-male bias, features rape and profanity

The Absolutely True Diary of a Part-Time Indian by Sherman Alexie
This young adult fiction book looks at a young aspiring cartoonist growing up on a Native American reservation and the challenges of attending a mostly-white high school.
Reason for ban/challenge: profanity, sex, sexual misconduct allegations against author

Something Happened in Our Town: A Child's Story about Racial Injustice by Marianne Celano, Marietta Collins, and Ann Hazzard, illustrated by Jennifer Zivoin
This children's picture book observes how a police shooting of a black man affects white and black families differently.
Reason for ban/challenge: Antipolice messages, divisive themes

To Kill a Mockingbird by Harper Lee
This classic novel from 1960 is no stranger to ban lists. It tells the story of a young girl in Alabama and her observations of racism and inequality in the Deep South.
Reason for ban/challenge: racial slurs, "white savior" character

Of Mice and Men by John Steinbeck
Published in 1937, this novella follows migrant workers during the Great Depression, trying to find employment. It has been challenged over 50 times since its publication.
Reason for ban/challenge: racial slurs/stereotypes, profanity, vulgarity

The Bluest Eye by Toni Morrison
Morrison's first novel follows a black girl's childhood during the Great Depression, feelings of inferiority related to her blackness, and lasting trauma of these experiences.
Reason for ban/challenge: child sexual abuse, racism, incest

The Hate U Give by Angie Thomas
This young adult novel follows a black high school girl and her struggle for accountability after her best friend is shot and killed by police.
Reason for ban/challenge: profanity, vulgarity, antipolice messages
Most of the preceding are available for checkout at Daviess County Public Library!
Teen Book Reviews
STAFF
Preet P.'s Review of "Naruto Volume 2":
Naruto Volume 2 is the second book in the series written and illustrated by Masashi Kishimoto. This book is packed with humorous quotes, mind-blowing drama, and suspenseful action. I rate this book 5 stars. The main protagonist, Naruto Uzumaki, who is a knucklehead ninja, strives to be his land's hokage, the most honorable position in the military. Sasuke, Naruto's rival, is bloodthirsty for revenge on a mysterious family member. Sakura, the only female ninja in Team 7, has a crush on Sasuke, while he ignores her but picks on Naruto who likes her. Last but not least, Kakashi is Team 7's instructor. He is known as the "Copycat Ninja" for stealing and manipulating over 1000 Jutsus with his special Sharingan Eye. All four characters have been assigned a mission to escort Tazuna, a bridge builder building a bridge that will stop all seaport trade/travel. Gato, an infamous billionaire, has made all his money from seaport trade/travel and has assigned "The Demon of the Mist" to exterminate Tazuna and anyone with him!
Preet P.'s review of "Naruto Volume 7":
This is the 7th volume of the manga series "Naruto," art and story by Masashi Kishimoto. We pick up where we left off in the 6th volume, at the second trial of the Chunin Exams. Team 7, alongside Team 10 (Ino, Choji, and Shikamaru) are fighting ninjas from the Sound Village. Orochimaru, a dangerous man from the Sound Village, has put a curse on Sasuke and if Sasuke survives the curse he will be granted immense power. The ninja from the Sound Village have been to look over Sasuke, but the sound ninja disobey Orichimaru and try to kill Sasuke but Sasuke kills them with his immense power. Later on in the book, we figure out that a mysterious boy, Gaara, with an even more mysterious past has set a record of 97 minutes on the Chunin exam without a scratch on him. Rating: 5 stars.
Preyas P.'s review of "Naruto Volume 63":
This volume is the 63rd book in the series about a young, inspiring ninja, written by Masashi Kishimoto. In my opinion, this book is definitely worth 5 stars, because this comedy/action series is jam-packed with action and quotes. This book was mainly about unmasking Tobi to see who he was, which was none other than Obito Uchiha! This book was also about Obito's childhood and what caused him to start the war (Kakashi killing Rin, whom Obito loves). Other than that, this book was just Naruto, Kakashi, Guy, and Killer Bee fighting Obito and the reanimated Madara Uchiha. Rating: 5 stars.
Preyas P.'s review of "Naruto Volume 67":
I, for one, loved this book because it was full of action and fighting. If I were to rate this book, I'd give it 5 stars at the max. The parts I loved were when Naruto and Sasuke both gang up on Obito, and also when Naruto figures out he can use sage mode in Kurama mode. But I didn't like when Obito was talking smack about Minato and how he couldn't save his wife and junk, which made Naruto activate sage mode and rasengan that fool to where they found out sage senjutso attacks damage him. Rating: 5 stars.
Nathan T.'s review of "Small Steps":
A book that many people don't know about is Small Steps, the sequel to the award-winning book, Holes. One summer afternoon, Armpit was working on landscaping for someone when his friend whom he had met at Camp Green Lake, X-Ray, addressed him with a crafty plan to earn money selling concert tickets at a higher value than what they had originally been marketed for. Armpit reluctantly chose to go along even though he was trying to hold a steady life. Their first "mission" was at the concert of the overwhelmingly famous Kaira Deleon. Instead of selling the tickets, he decided to take his neighbor, Ginny, a little girl with cerebral palsy, to the concert when a girl he admired declined his offer. Halfway in, Armpit looked down and noticed that Ginny was having a seizure. After taking her to the doctor, he met Kaira who was there to check on Ginny. The next day, Kaira called Armpit and asked him to have breakfast with her. Armpit was absolutely flabbergasted. It's not every day that you have breakfast with a popstar. When Armpit comes home, he hears a knock on the door. A policeman approaches him because the tickets he used were supposedly counterfeit. How is Armpit going to turn his life around now that he might have to go through a legal battle over counterfeit tickets?
If you liked Holes and need a book that picks up the story from where it left off, Small Steps is the way to do it. The book is targeted toward people 5th-8th grade. There's minor cursing, but it shouldn't get in the way of reading such a good book. I hope you enjoy Small Steps just as much as I did.
Resources for Parents: It's Back to School Time!
By: Christy V. Temple
Okay, it's that time of year and ready or not it's back to the classrooms. I know for some it's an exciting time getting back into the swing of things. For others, perhaps they are lamenting the fact that Summer goes by way too fast. I am in that latter group but whether or not I like it, the fact is that school is back in session so we might as well make the best of it.
This can be a very stressful time for kids but also for parents too as they are juggling work and the pressures of making sure that everything goes well at school. Sometimes we like to think that we can do it all but most of the time that's just not possible. The whole idea of being able to do many things at once is really a misnomer. It just doesn't work very well.
Many people claim to have the ability to multitask but I personally have found that it really isn't possible. Somewhere along the way one or all of the tasks tends to suffer as you need to really focus on one thing at a time. Believe me, I've tried doing it myself and the older you get the harder it is to do this. Therefore, it's better to just take it slow and easy and do one thing at a time. Easier said than done in this fast-paced world but necessary nonetheless.
Sometimes one of the reasons why we try to multitask stems from the fact that we don't always have the right resources at our fingertips to help us out with the questions that need to be answered regarding the rearing and raising of our children. Not everyone has access to the best information and that's one of the reasons why public libraries are so necessary so that we can offer those services to the public.
Therefore, since it is back to school time and parents do have a lot on their plates to juggle, let me provide some resources that I believe would be valuable to them in this new school year.
Here are some books that I believe will be useful at the Daviess County Public Library:
Fed Up with Frenzy: Slow Parenting in a Fast-Moving World by: Susan Sachs Lipman
Screen-Smart Parenting: How to Find Balance and Benefit in Your Child's use of Social Media, Apps, and Digital Devices by: Jodi Gold
The Working Parent's Guide to Homeschooling by: Robyn Dolan
Planet Middle School: Helping your child through the Peer Pressure, Awkward moments, & Emotional Drama by: Kevin Leman
Tech Generation: Raising Balanced Kids in a Hyper-Connected World
Speak Up and Get Along: Learn the Mighty Might, Thought Chop, and More Tools to Make Friends, Stop Teasing, and Feel Good about Yourself by: Scott Cooper (juvenile nonfiction)
Finding Quality Early Child Care: A Step-by-Step Guide for Parents About What Matters Most by: Sarah Taylor Vanover
Child Decoded: Unlocking Complex Issues in your Child's Learning, Behavior or Attention
The Organized Child: An Effective Program to Maximize your Kid's Potential—in School and in Life by: Richard Gallagher
The Everything Parents Guide to Children with Autism: Expert, Reassuring Advice to Help Your Child at Home, at School, and at Play by: Adelle Jameson Tilton
Additionally, here are some Internet resources that should be helpful as well:
The ALL-NEW Freegal Music
If you've had trouble with Daviess County Public Library's Freegal app in the past, it's time to give it another try!
Freegal Music has an all-new clean and modern interface that makes it easier to find the music you love.  Download and/or stream music on any compatible device. Browse through our vast collection of over 15+ million songs from over 200+ genres.   Enjoy our curated playlists that were designed to suit any mood, activity, or special occasion.
Check out our newly featured Audiobooks!
Visit https://dcplibrary.freegalmusic.com or download the app from the Apple App Store or Google Play Store today!
You must have your library card number and PIN to log in.  If you do not know your PIN, contact or visit the library.