Subscribe to Books, Movies & Music
Happy Cat Month
September is Happy Cat Month! Celebrate your furry feline friends with these books and movies, all about cats!
Fiction
If Cats Disappeared from the World. Genki Kawamura.
"The young postman's days are numbered. Estranged from his family and living alone with only his cat, Cabbage, to keep him company, he was unprepared for the doctor's diagnosis that he has only months to live. But before he can tackle his bucket list, the devil shows up to make him an offer: In exchange for making one thing in the world disappear, the postman will be granted one extra day of life. And so begins a very strange week that brings the young postman and his beloved cat to the brink of existence. With each object that disappears, the postman reflects on the life he's lived, his joys and regrets, and the people he's loved and lost."
The Cat Who Saved Books. Sosuke Natsukawa.
"Bookish high school student Rintaro Natsuki is about to close the secondhand bookstore he has inherited from his beloved bookworm grandfather. However, one day, a talking cat named Tiger appears and asks Rintaro to save books with him. Of course, 'ask' is putting it politely — Tiger is demanding Rintaro's help. The world is full of lonely books, left unread and unloved, and only Tiger and Rintaro can liberate them from their neglectful owners."
Penny. Karl Stevens.
"Told through a collection of stories, Penny: A Graphic Memoir wanders through her colorful imagination as she recalls her humble beginnings on the streets of New York and waxes poetic about the realities of her sheltered life living in an apartment with her owners. Filled with ennui, angst, and vivid dreams, Penny proves that being a cat is more profound than we once thought."
Non-fiction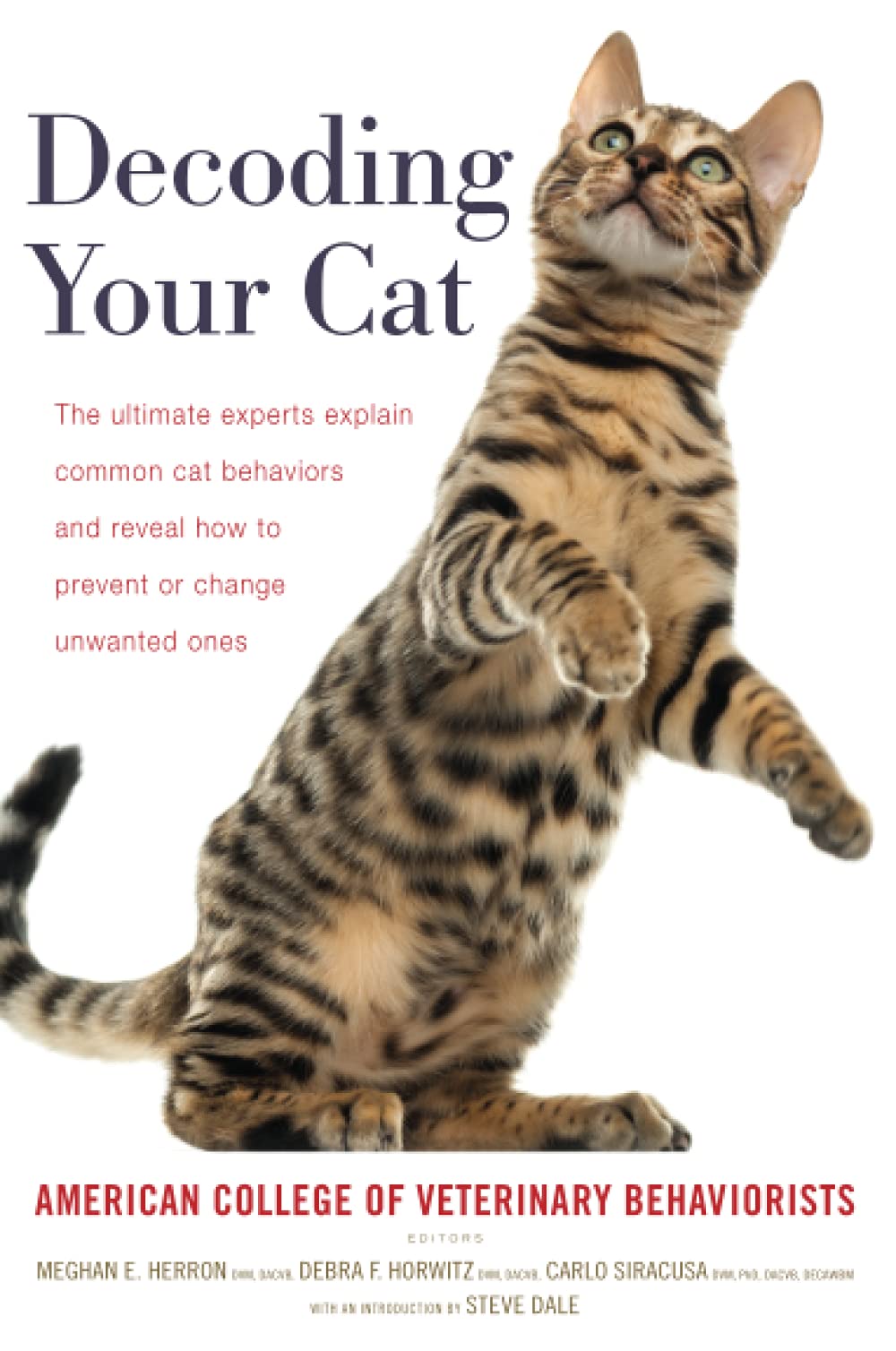 Decoding Your Cat. American College of Veterinary Behaviorists.
"Written by the leading experts in cat behavior from the American College of Veterinary Behaviorists, with an introduction by animal expert Steve Dale, this book conveys the newest and best information on cat behavioral science in a fun, interesting, and understandable way."
The Inner Life of Cats. Thomas McNamee.
"Our feline companions are much-loved but often mysterious. In The Inner Life of Cats, Thomas McNamee blends scientific reportage with engaging, illustrative anecdotes about his own beloved cat, Augusta, to explore and illuminate the secrets and enigmas of her kind."
Purr: the Science of Making Your Cat Happy. Zazie Todd.
"Based on the latest science, an animal behavior expert addresses every stage of your cat's life and offers surprising and effective advice for even the most experience cat owner."
Movies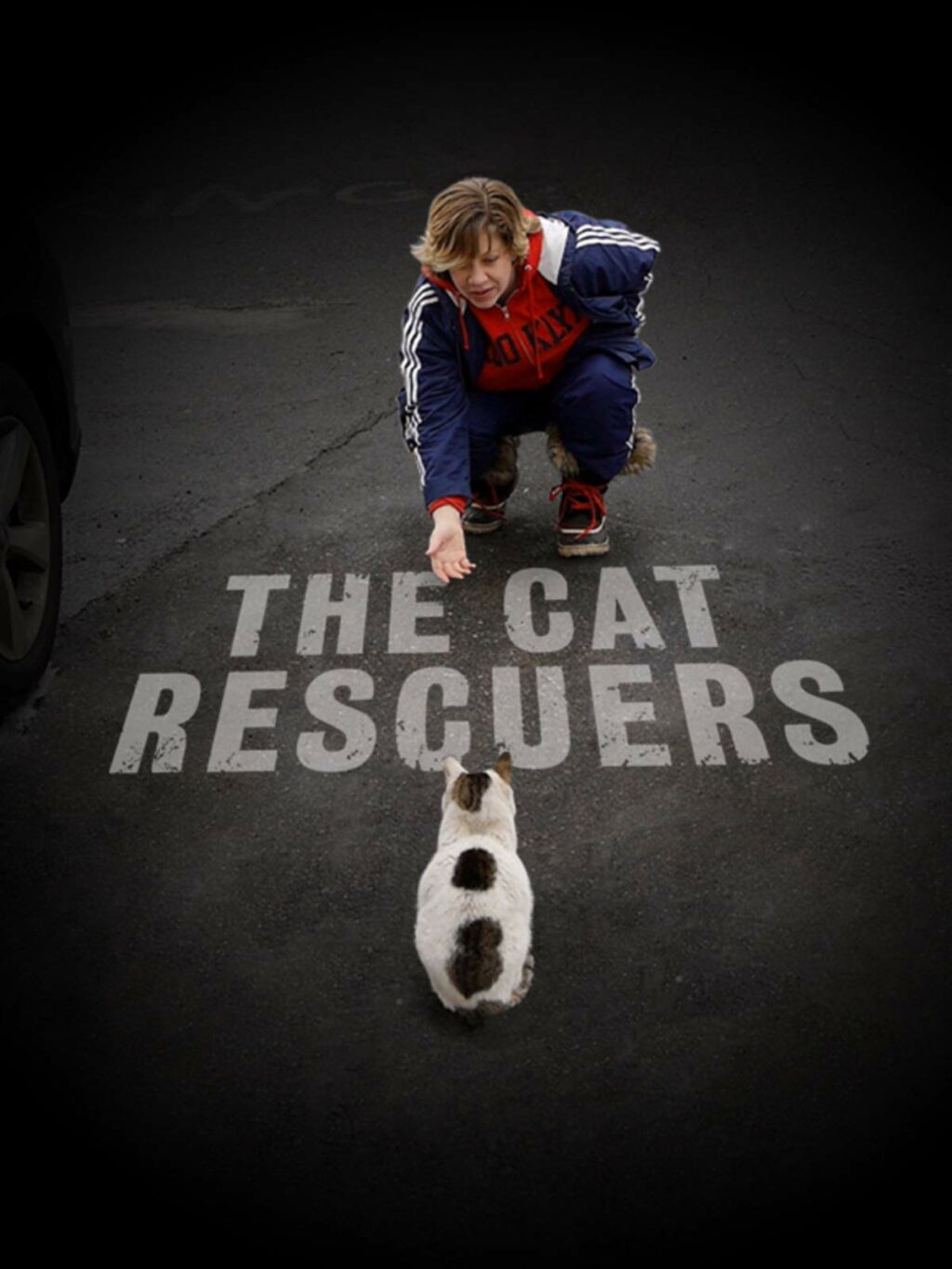 The Cat Rescuers.
"A dedicated group of people in Brooklyn devote their days and nights to rescuing abandoned or otherwise homeless kittens and cats. Of course, the animals are adorable, but the people are equally inspiring. Their love and commitment to actually making a difference to the lives of these animals and to affecting social change concerning the environment, local laws, and public policy is remarkable."
Kedi.
"Hundreds of thousands of cats roam the metropolis of Istanbul freely. For thousands of years they've wandered in and out of people's lives, becoming an essential part of the communities that make the city so rich. Claiming no owners, these animals live between two worlds, neither wild nor tame, and they bring joy and purpose to those people they choose to adopt. In Istanbul, cats are the mirrors to the people, allowing them to reflect on their lives in ways nothing else could."
The Story of Cats.
"Traces the evolution of cats from their beginnings on the Asian continent to their introduction into the Americas, taking an in-depth look at what makes the family of felines unique and the evolutionary tricks and adaptions that truly make a cat, a cat."
Summaries taken from the library catalog and publisher websites.
Book Lovers Day
August 9 is Book Lovers Day. Celebrate with these books and movies about books and book lovers!
Fiction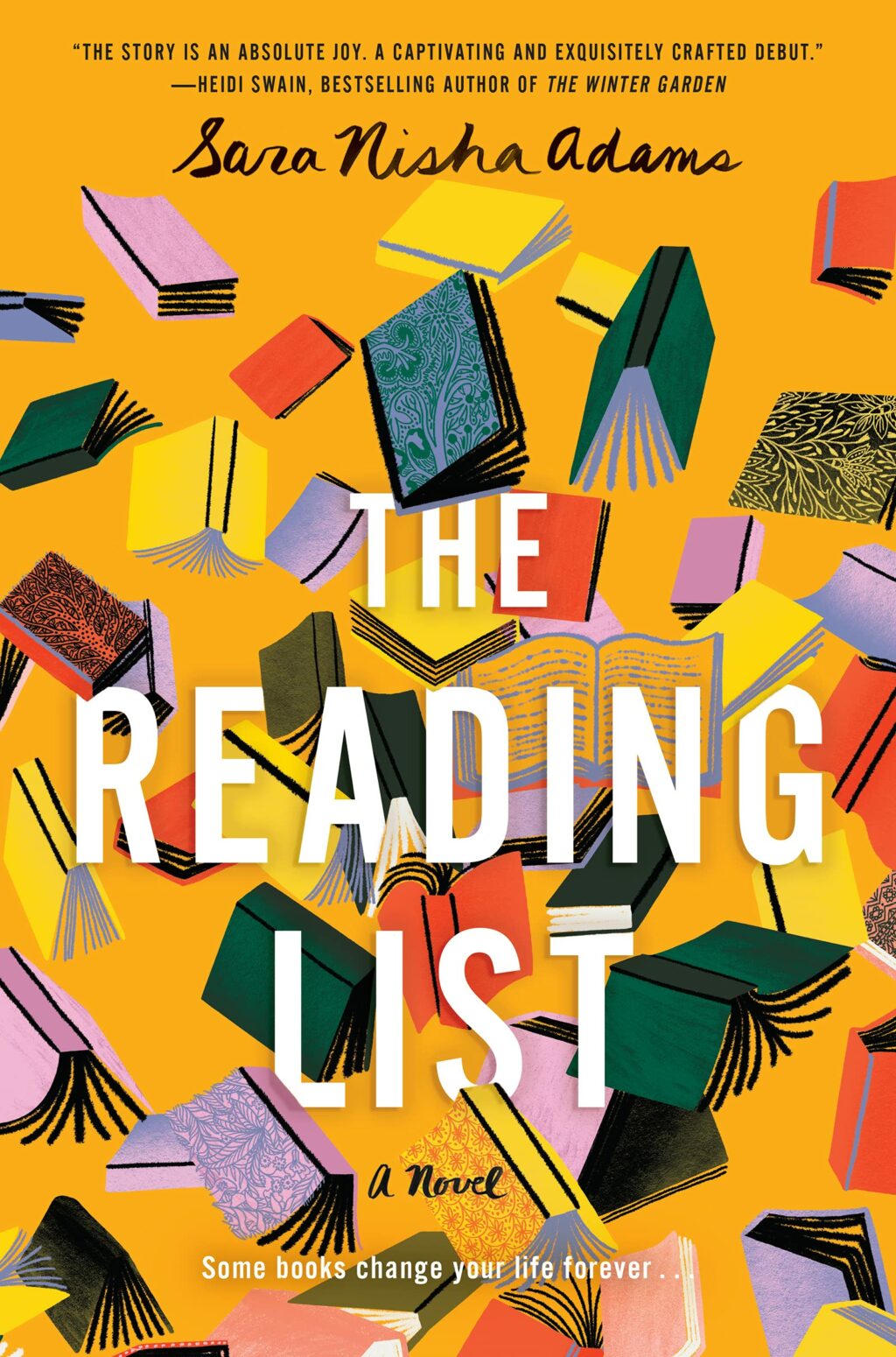 The Reading List. Sara Nisha Adams
"Aleisha is a bright but anxious teenager working at the local library for the summer when she discovers a crumpled-up piece of paper in the back of To Kill a Mockingbird. It's a list of novels that she's never heard of before. Intrigued, and a little bored with her slow job at the checkout desk, she impulsively decides to read every book on the list, one after the other. As each story gives up its magic, the books transport Aleisha from the painful realities she's facing at home."

The Littlest Library. Poppy Alexander
"When her beloved grandmother passes away and she loses her job at the local library, Jess' life is turned upside down. Determined to pick up the pieces, Jess decides it's time for a new beginning. Unable to part with her grandmother's cherished books, she packs them all up and moves to a tiny cottage in the English countryside. To her surprise, Jess discovers that she's now the owner of an old red phone box that was left on the property. Missing her job at the local library, Jess decides to give back to her new community–using her grandmother's collection to turn the ordinary phone box into the littlest library in England."
Book Boyfriend. Kris Ripper
"A secret crush leads to not-so-secret romance in this delightful romantic comedy from Kris Ripper. When Art moves in with PK following a bad breakup, PK hopes this will be the moment when Art finally sees him as more than a friend. But Art seems to laugh off the very idea of them in a relationship, so PK returns to his writing roots—in fiction, he can say all the things he can't say out loud."
Nonfiction
The Curious Reader: a Literary Miscellany of Novels & Novelists.
"Readers rejoice! Learn amazing facts about authors and their books, from Jane Austen to JRR Tolkien. From Mental Floss, an online destination for more than a billion curious minds since its founding in 2001, comes the ultimate book for lovers of literature. From Americanah to War and Peace, from Chinua Achebe and Jane Austen to Jesmyn Ward and George R.R. Martin, learn surprising facts about the world's most famous novels and novelists."

The Library: a Fragile History. Andrew Pettegree & Arthur der Weduwen
"Famed across the known world, jealously guarded by private collectors, built up over centuries, destroyed in a single day, ornamented with gold leaf and frescoes or filled with bean bags and children's drawings – the history of the library is rich, varied and stuffed full of incident. In this, the first major history of its kind, Andrew Pettegree and Arthur der Weduwen explore the contested and dramatic history of the library, from the famous collections of the ancient world to the embattled public resources we cherish today."

Read Dangerously: the Subversive Power of Literature in Troubled Times. Azar Nafisi
"What is the role of literature in an era when the president wages war on writers and the press? What is the connection between political strife in our daily lives, and the way we meet our enemies on the page in fiction? How can literature, through its free exchange, affect politics? In this galvanizing guide to resistance literature, Nafisi seeks to answer these questions. Drawing on her experiences as a woman and voracious reader living in the Islamic Republic of Iran, her life as an immigrant in the United States, and her role as literature professor in both countries, she crafts an argument for why, in a genuine democracy, we must engage with the enemy, and how literature can be a vehicle for doing so."
Movies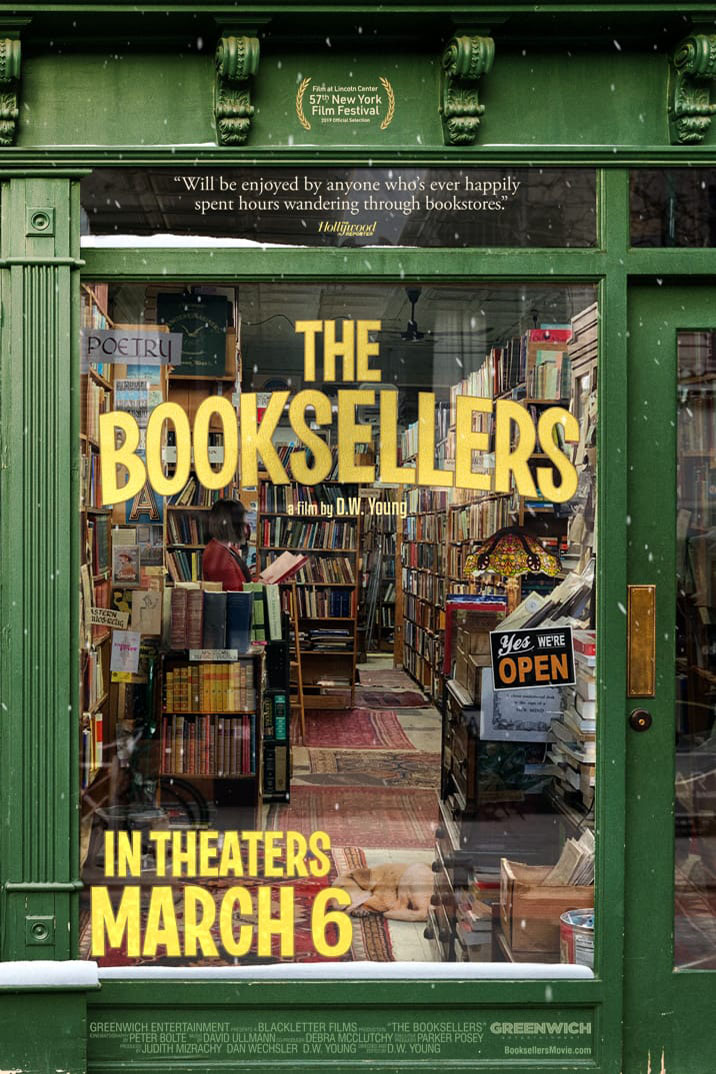 The Booksellers.
"Director D. W. Young's wistful documentary features interviews with Fran Lebowitz, Susan Orlean, Gay Talese, and Parker Posey. It explores the relatively insular, cozy and bibliophilic world of New York City's antiquarian booksellers. As the vintage book trade struggles to keep pace with the advent of the internet, e-commerce and diminished attention spans, the book acquires a mysterious halo in the eyes of a select few."

The Bookshop.
"In England in 1959, free spirited widow Florence Green follows her lifelong dream by opening a bookshop in a conservative coastal town."

The Pack Horse Librarians of Appalachia.
"This documentary tells the story of pack horse librarians — women hired by Franklin Roosevelt's Works Progress Administration (WPA) during the Great Depression to travel on horseback to deliver library books and magazines to people in Eastern Kentucky braving creeks, mountains and inclement weather along the way."
Pride Month Reads for All Ages
A good library will have books that reflect the entire spectrum of its community. There's enough space on our shelves for everyone to find reflections of themselves in a book.
For this Pride month, and all year long, celebrate lives too often relegated to the margins of our community. Below are recommendations for all age groups. Find yourself, or someone you know and/or love, in these pages.
Adult fiction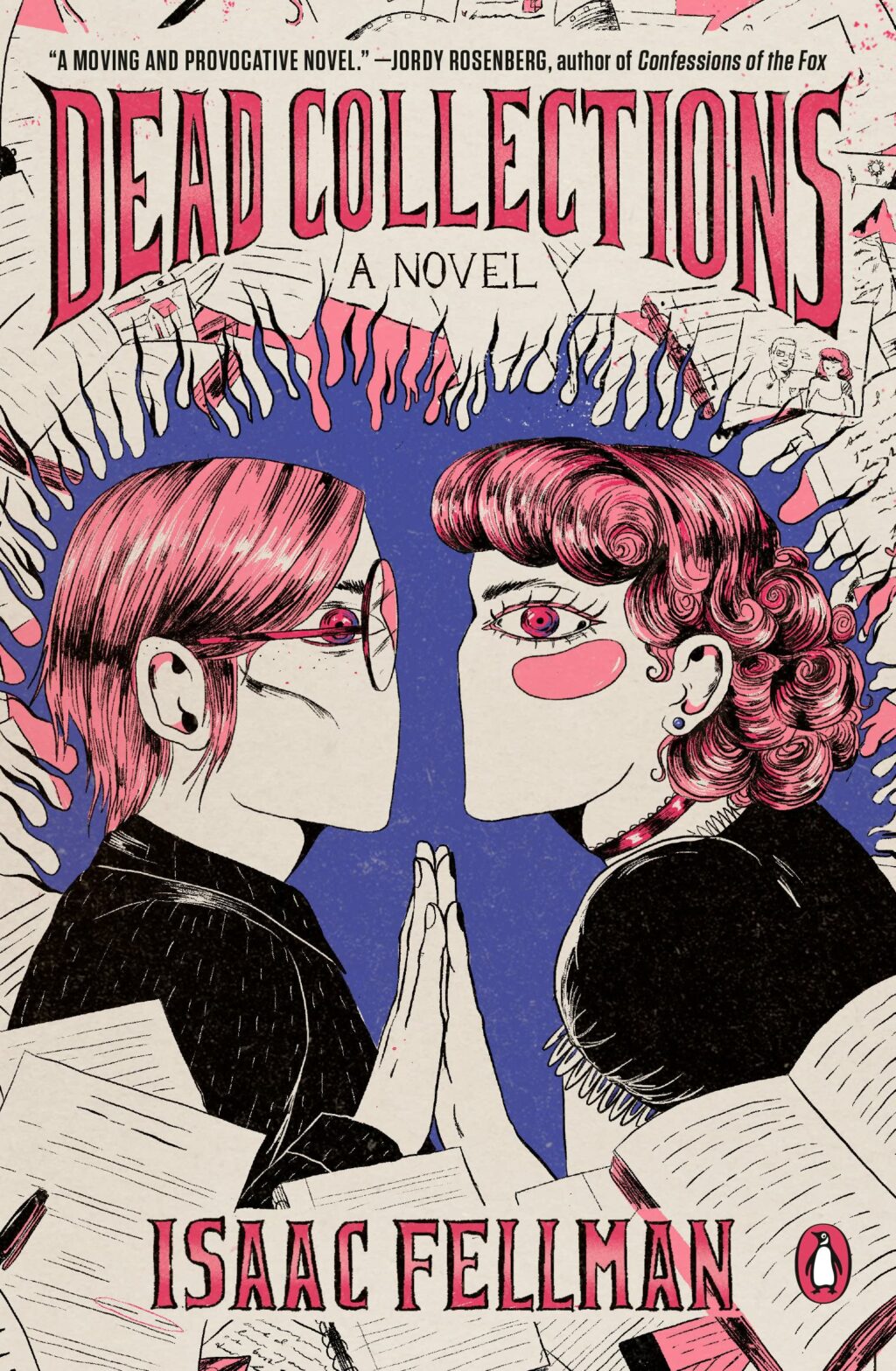 Dead Collections. Isaac Fellman.
This offbeat, moving fantasy features Sol Kats, a trans vampire archivist, who lives in his underground office at the Historical Society of Northern California. Elsie, a widow dropping off her famous husband's memorabilia for the archive, falls in love with Sol as they work together, piecing together the collection. Heartfelt and humorous, the book follows the couple as they grapple with identity, attraction, and unfinished business.
To Paradise. Hanya Yanagihara.
Yanigihara's heartbreaking 2015 novel A Little Life cemented her place as a writer of haunting, complex fiction. To Paradise features an intricate dystopian plot, entwined with alternate histories—beginning in 1893 during a lingering Civil War, to 1993 in the terror of the AIDS crisis, and finally to a totalitarian 2094, where homosexuality is forbidden, the press is outlawed, and pandemics sweep the world wave after wave.
Young Mungo. Douglas Stuart.
Following the success of his Booker Prize winning novel Shuggie Bain, Stuart returns with a powerful story of working-class adolescent love in 1980s Scotland—with all the anxiety and passion of a star-crossed pairing. Violence is a constant threat for fifteen-year-old Mungo, who lives in the slums where his brother leads a Protestant gang. Mungo falls in love with James, a Catholic, who offers dreams of peace and refuge, but with the ever-present threat of disclosure and religious violence.
Teen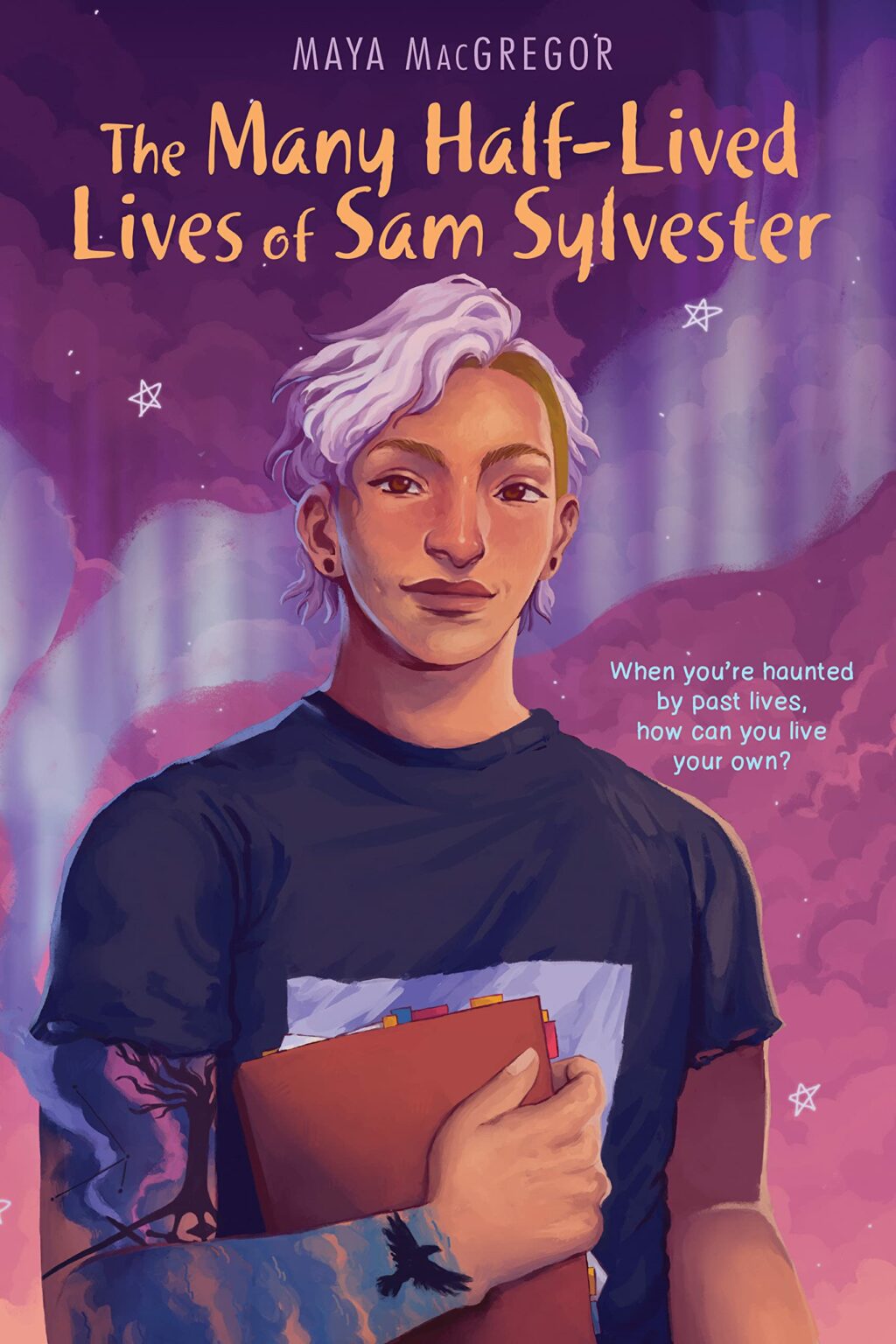 The Many Half-Lived Lives of Sam Sylvester. Maya MacGregor.
Sam, a nonbinary autistic teen, adjusts to life in Oregon following a hate crime in their Montana hometown. But Oregon offers its own chilling reality, when Sam's family begins wondering whether their new house is haunted by spirits of an unsolved murder, some 30 years ago.
Only on the Weekends. Dean Atta.
Presented in free verse, this novel follows Mack, an openly gay teen of Nigerian descent, as he struggles with teenage insecurities and a love triangle between himself and two other others: Karim, a closeted basketball player, and Fin, a trans activist and social media star.
Pride: An Inspirational History of the LGBTQ+ Movement. Stella Caldwell.
Aimed at young adult readers, this important book describes the challenges and triumphs of LGBTQ+ movements and history, from the ancient world to modern events and icons, like Harvey Milk and Marsha P. Johnson.
Children's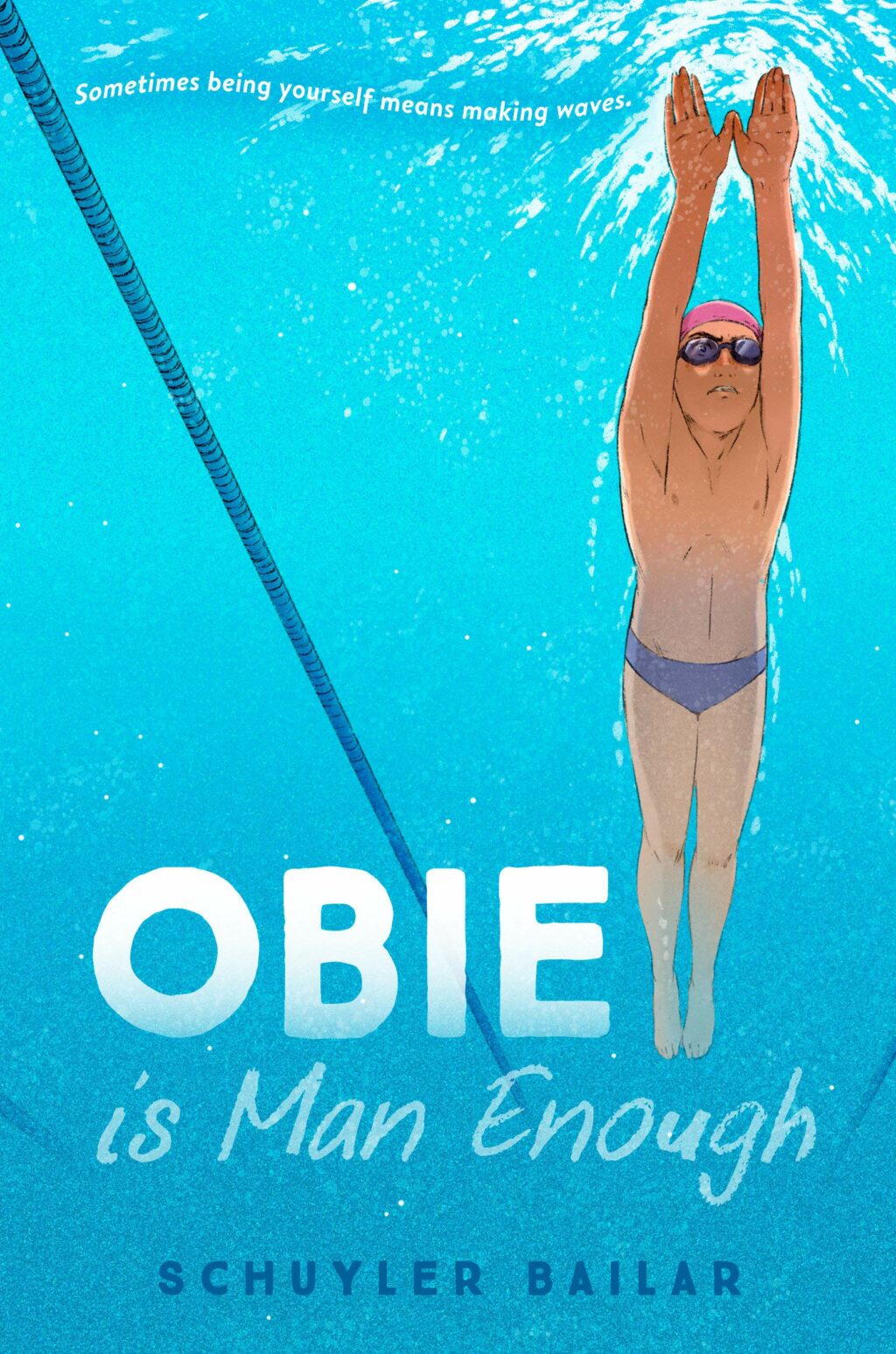 Obie Is Man Enough. Schuyler Bailar.
Obie, a transgender Korean American, faces discrimination when kicked off the middle school boys' swimming team. When he joins another swim team, and finds a support network through a therapist and new group of friends, Obie comes into his own and his confidence strengthens.
What Are Your Words? A Book About Pronouns. Katherine Locke, Anne Passchier.
This picture book follows Ari, a child who isn't sure which pronouns feel right to describe themselves. Ari and their favorite person, Uncle Lior, consider the different pronouns people in their neighborhood use. This colorful, affirming book serves as a good introduction for kids to gender diversity.
Two Grooms on a Cake. Rob Sanders, Robbie Cathro.
For young readers, this book tells the story of the first legally married same-sex couple in United States history. The figurines on their wedding cake recount the story of their relationship: how they met, how they fell in love, and how their 1971 marriage was later vindicated by Obergefell v. Hodges (2015).
Looking for more?
Further books can be found at this list, or by asking a librarian for more recommendations!
Asian Pacific American Heritage Month
Since 1978, May has marked the celebration of Asian American and Pacific Islander heritage. Lawmakers chose the month of May to commemorate two significant events: the first Japanese immigrant arrived to America on May 7, 1843, and the First Transcontinental Railroad (largely built by Chinese immigrants) opened May 10, 1869.
To honor those with Asian/Pacific Islander ancestry, we have compiled some books and movies for all ages below. These works recognize the stories and experiences of Asian/Pacific Americans and their contributions to American history and culture.
Adult Fiction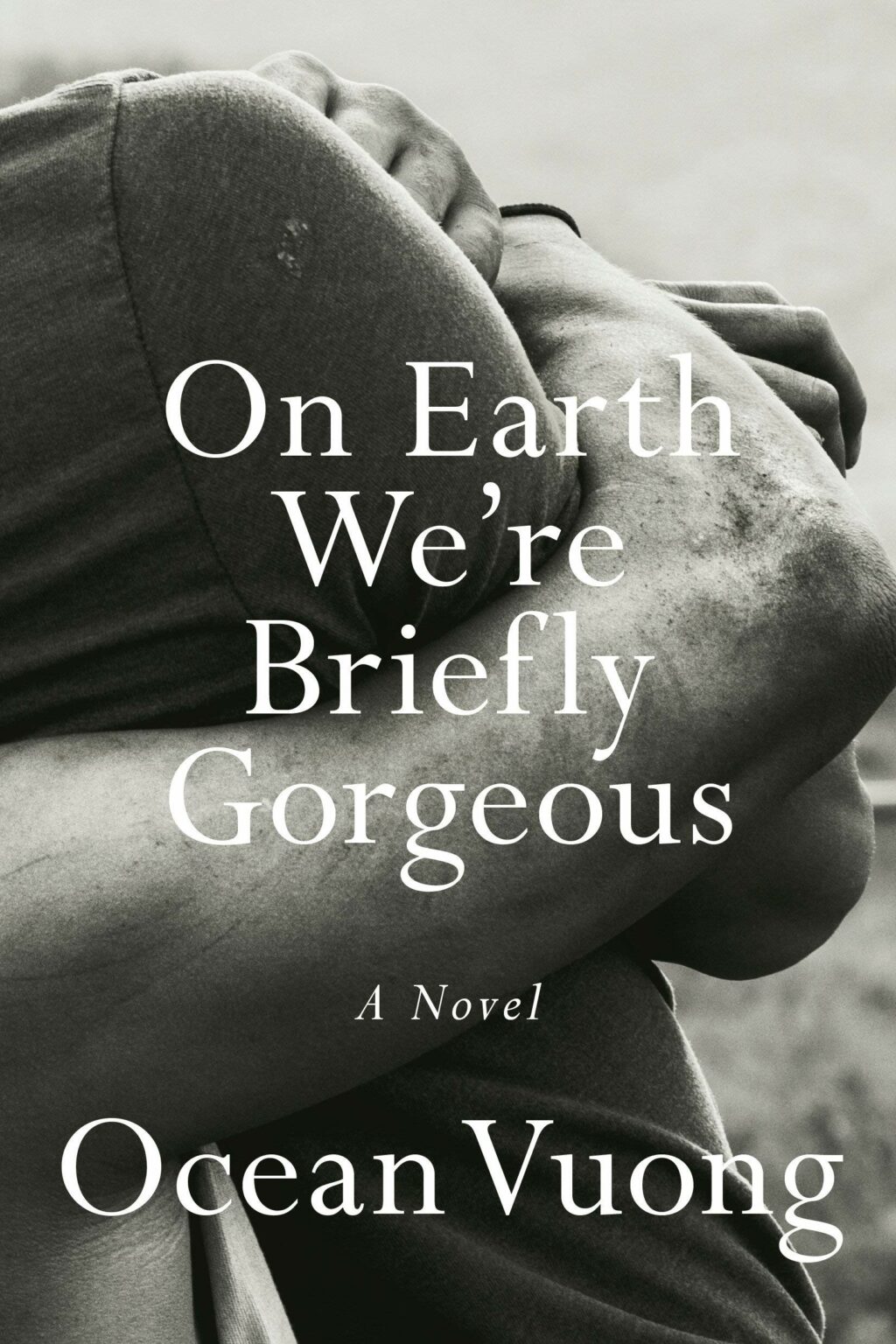 On Earth We're Briefly Gorgeous. Ocean Vuong.
Little Dog, a young Vietnamese immigrant, writes this book-length letter to his illiterate mother, examining intersecting issues of race, class, and sexuality—what it means to be a poor, gay immigrant living in the traumatic shadow of the Vietnam War. Vuong, an accomplished poet, uses equally poetic prose, Offers a haunting meditation on family, loss, and love.
Pachinko. Min Jin Lee.
Written by a Korean American author, Pachinko follows a Korean family who immigrate to Japan, following the annexation of their homeland in 1910. Set across the 20th century, this moving historical saga immerses readers in one family's struggle to outlast the complex forces of history and discrimination.
Interior Chinatown. Charles Yu.
An unconventional family saga, this nonlinear book follows an Asian actor, dreaming of becoming a Hollywood star. Bittersweet. Unconventional. An Asian actor dreams of becoming a star, but is stuck in demeaning roles, like "Generic Asian." A bittersweet examination on Asian Americans, and how they're often still seen as foreigners.
Adult Nonfiction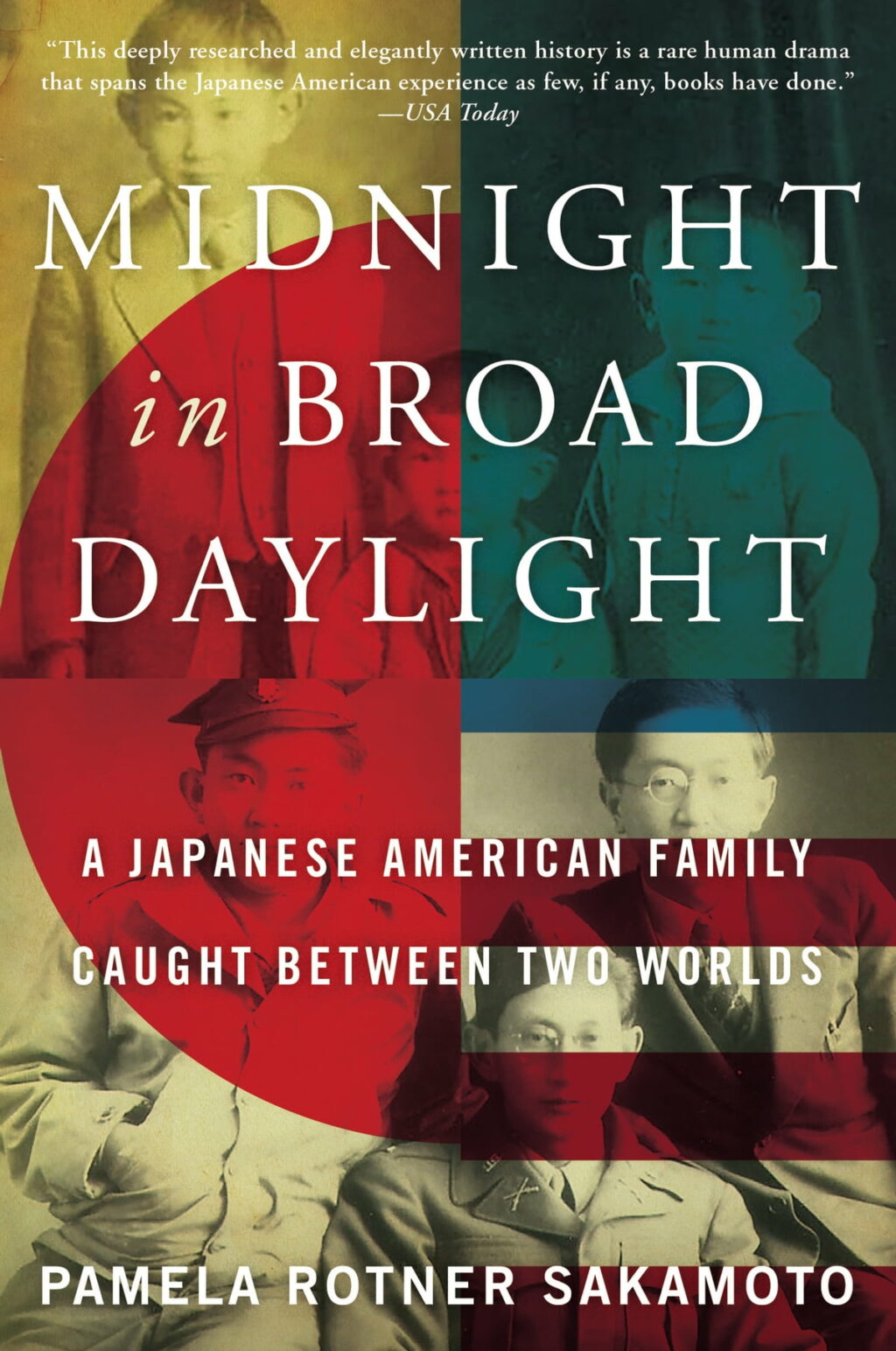 Midnight in Broad Daylight. Pamela Rotner Sakamoto.
During World War II, the Fukuharas found themselves on both sides of the conflict. Sakamoto examines the experiences of this Japanese American family that was torn in two, and shines a light on the Asian American contributions to the war effort, as well as the racism they endured.
The Souls of Yellow Folk: Essays. Wesley Yang.
Already an accomplished essayist, here Yang looks at race and sex in Asian American culture, particularly from the point of view of Asian men. Topics run the gamut from Amy Chua (the self-proclaimed Tiger Mom) to Virginia Tech shooter Seung-Hui Cho.
Movies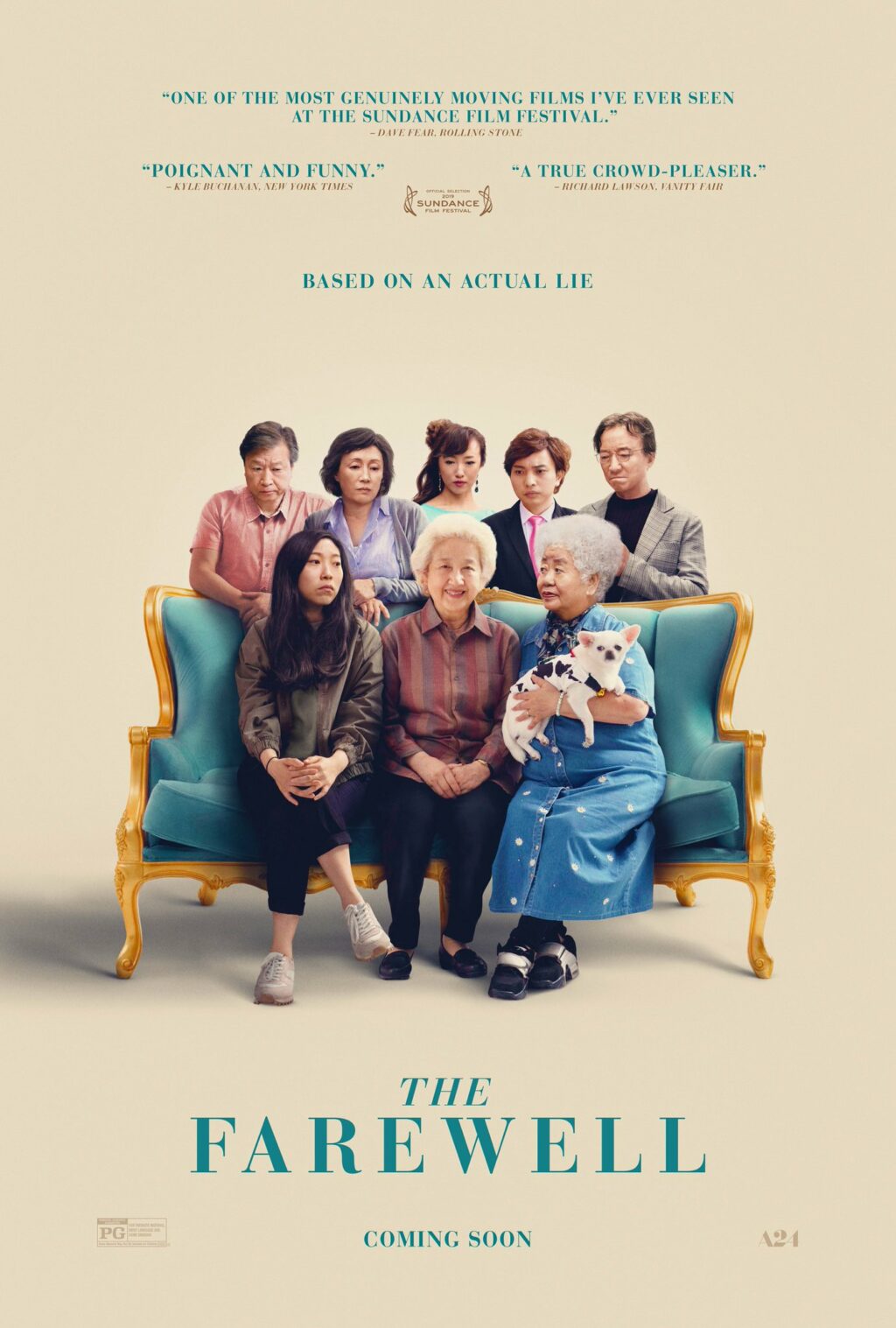 The Farewell
When her grandmother is diagnosed with cancer, Billi (played by actress-rapper Awkwafina) is troubled by her family's plan to keep the diagnosis a secret from the family matriarch. An interesting look at the conflict between traditional Chinese values, and the Westernization of young Chinese-Americans.
Everything Everywhere All at Once
Trapped by financial woes and the boredom of everyday life, Evelyn Wang awakens to her role in an interdimensional conflict, experiencing a multiverse of unexplored lifepaths while fighting to preserve the love of her family. With callbacks to Asian film classics (kung fu and Wong Kar-Wai, in particular), this is a movie-lover's delight.
Minari
A Korean-American family moves to Arkansas in the 1980s, pursuing their version of the American dream, struggling with the elements to establish a prosperous farm. When the cheeky, cantankerous, but loving grandmother moves in, everything changes, and the family's resilience is tested. Starring The Walking Dead's Steven Yeun.
Teen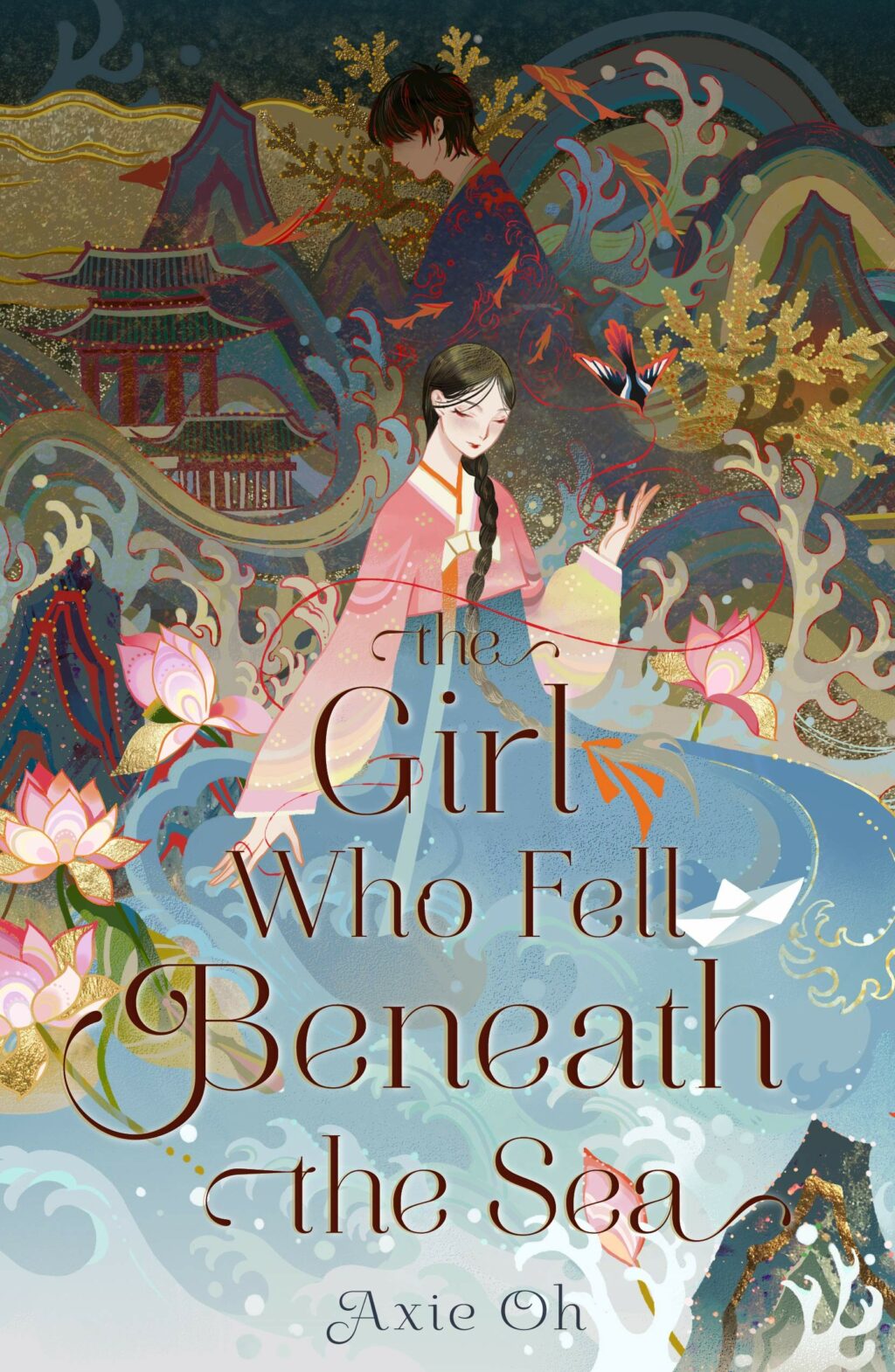 The Girl Who Fell Beneath the Sea. Axie Oh.
A fantasy inspired by Korean folklore, this story follows Mina in her pursuit to stop the Sea God's endless assault on her homeland. Equal parts romance and fantasy adventure, Oh's fast-paced, richly-detailed fable is perfect for fans of Shadow and Bone series and the Empirium trilogy.
Not Here To Be Liked. Michelle Quach.
After accidentally starting a feminist movement while campaigning for the editor-in-chief position of her school paper, Eliza Quan ends up working side-by-side with her former competitor, handsome ex-jock Len. Soon, Eliza catches herself falling for her former rival in this thought-provoking Gen Z rom-com.
The Tiger at Midnight. Swati Teerdhala.
Another fantasy, this one inspired by South Indian culture, Teerdhala presents an atmospheric world of intrigue and assassinations. Kunal and Esha, caught on either side of warring countries, struggle with their forbidden love while performing their duty to king and family. Fast-paced and action-packed.
Children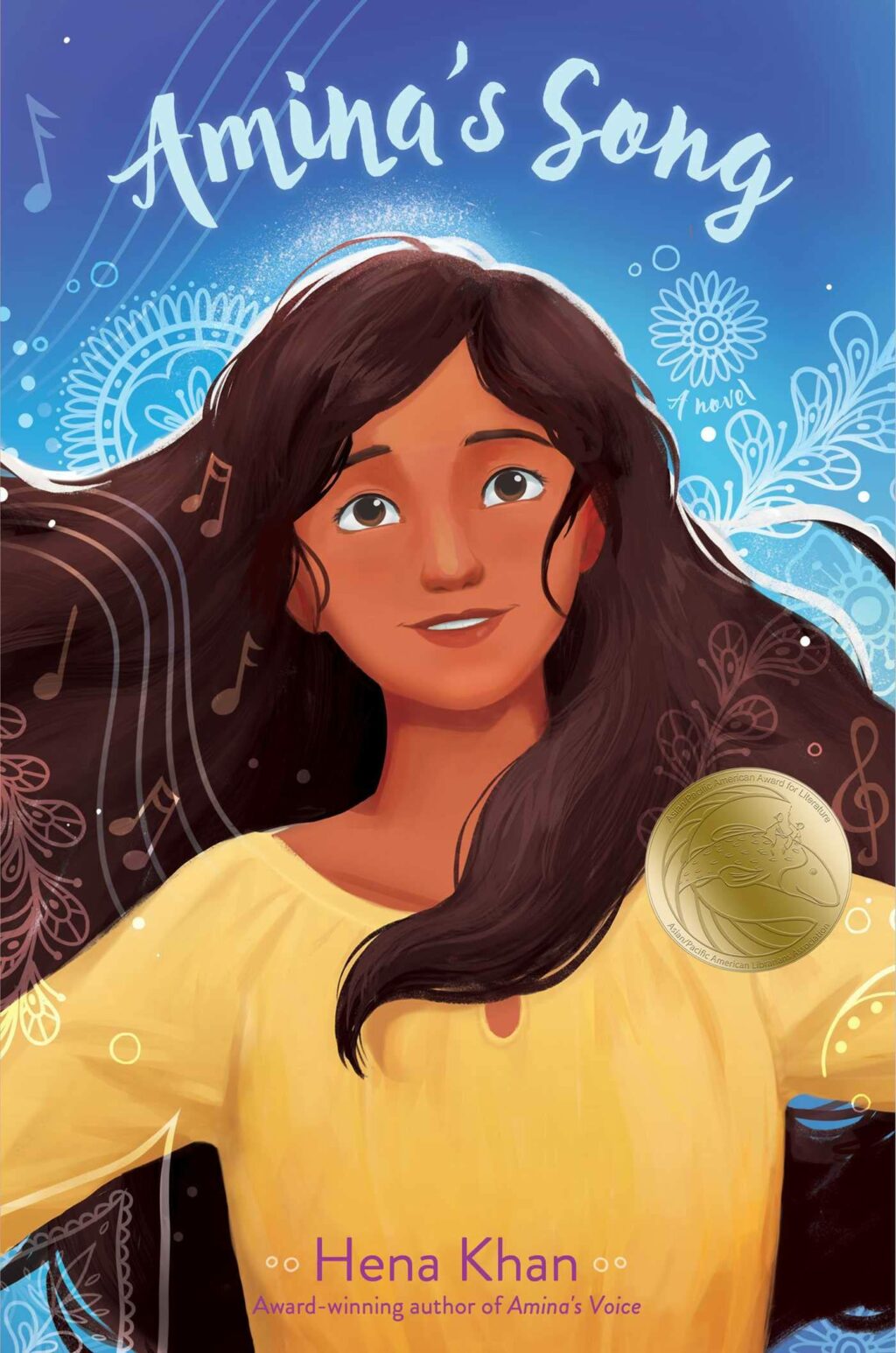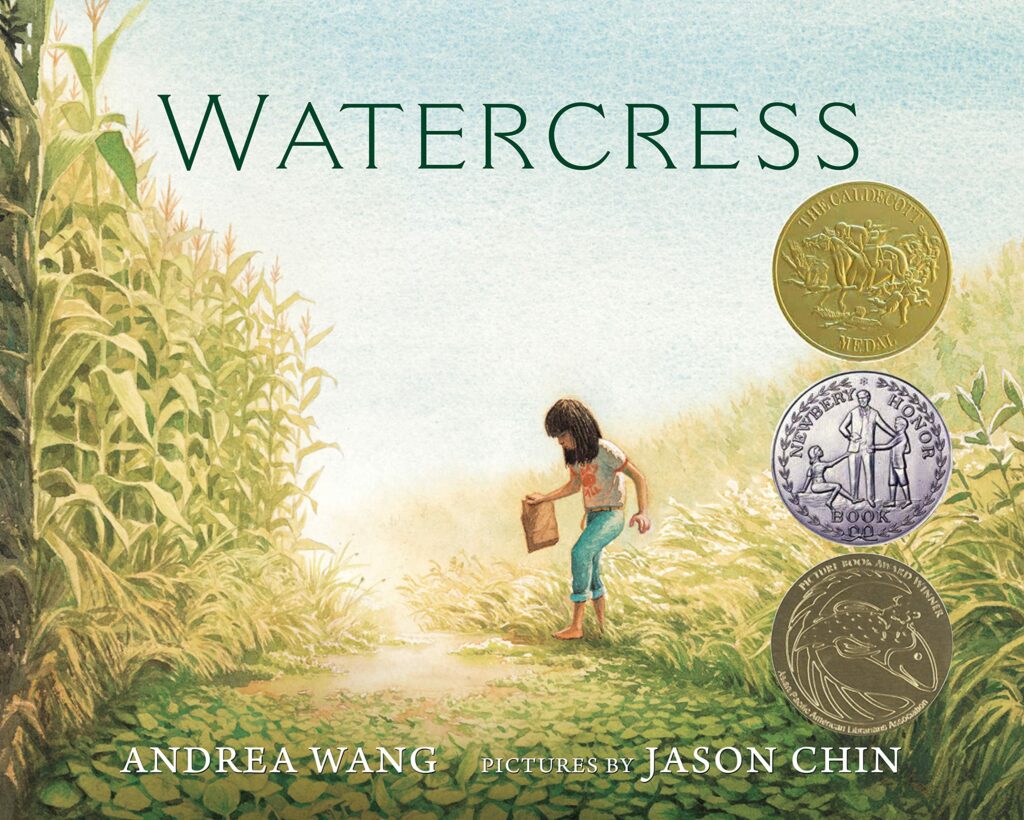 Amina's Song. Hena Khan.
A moving look at the Pakistani American experience, Khan's Amina returns to Wisconsin after visiting family in Pakistan. When performing a songwriting project, Amina must balance her love of Pakistani culture with her classmates' assumptions. An interesting look at what it means to be caught between worlds.
Prairie Lotus. Linda Sue Park.
Facing both blatant and insidious racism, half-Chinese Hanna and her White father struggle in 1880s Dakota Territory, as her family tries to establish a successful dry goods store. An absorbing, richly detailed historical fiction that has been lauded an instant classic.
Watercress. Andrea Wang, Jason Chin.
A simple but beautiful story about a Chinese-American child, embarrassed by her parents picking roadside watercress during a car ride through Ohio. When her parents talk about the cultural meaning of watercress, the girl realizes the importance of the plant and her heritage. Winner of the Picture Book Asian/Pacific American Award for Literature, the Caldecott Medal, and Newberry Honor.
Looking for more? Check out these lists below!
Southern Stories, With a Twist
Love Southern Fiction? You're not alone. Here at DCPL, it's one of the top genres for checkouts, and every year new titles arrive with buzz and excitement (and a long list of holds). With super-popular titles like Where the Crawdad's Sing, The Book Woman of Troublesome Creek, and The Giver of Stars, Southern Fiction has proved it's here to stay.
But in the past few years, authors have been branching out from the typical Southern genre. With primordial entities lurking in Appalachia, to vampires stalking the suburban streets of Charleston, these stories detour into the darker, stranger parts of the South.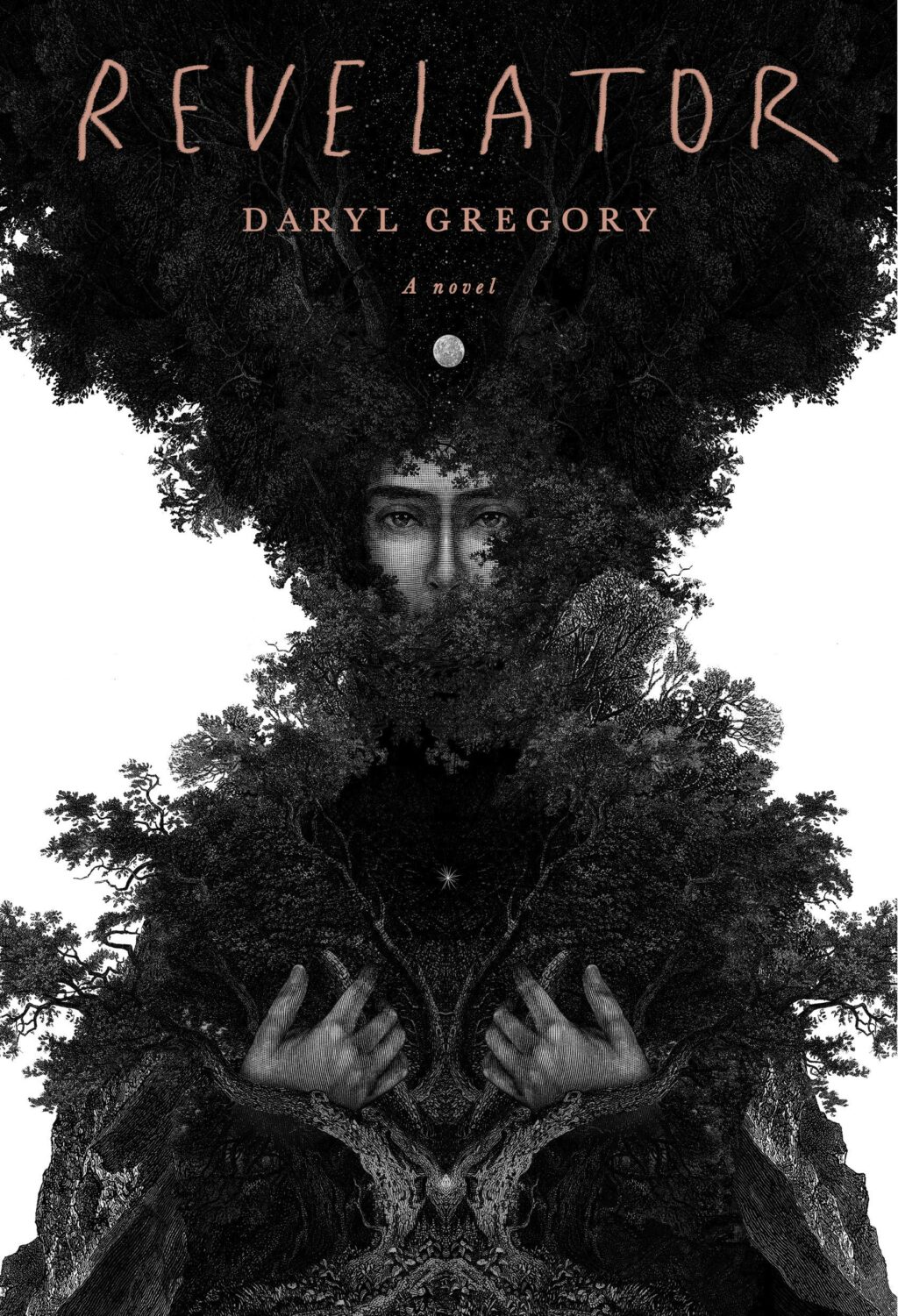 Set in the backwoods of Tennessee, Revelator follows the Birch family, whose women have a dark secret: they worship and commune with Ghostdaddy, a god living in the hills of the Smoky Mountains. Stella, the daughter of the Birch family, trained as a child to become one of the family's revelators, interpreters of Ghostdaddy's will, but turned away from the god and from her family. Now an adult, she must come to terms with Ghostdaddy's true intentions, as the next girl chosen as revelator appears.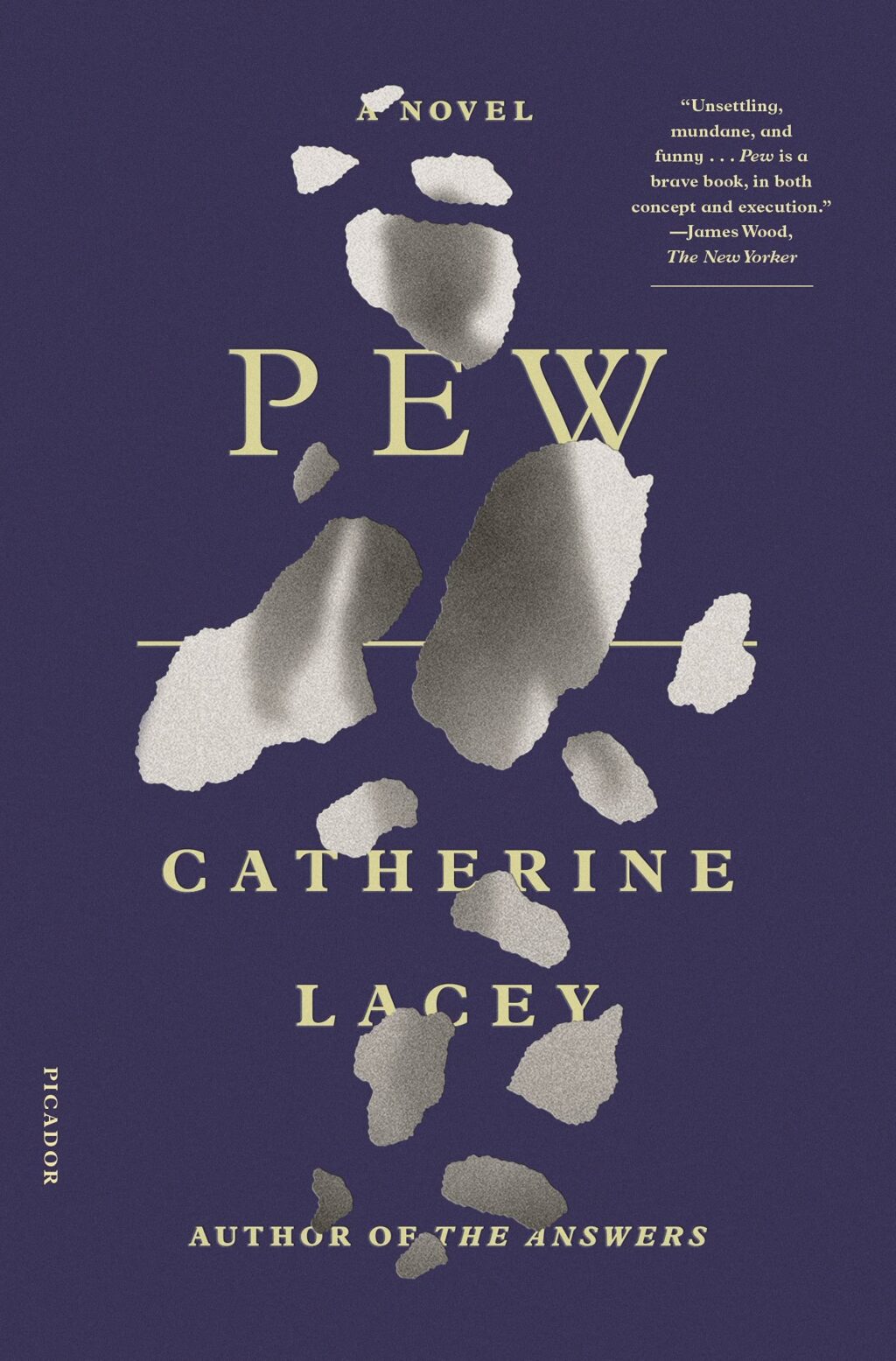 In a small Southern town, a family finds a being sleeping in a church. This being has only vague descriptors—no name, no history, ambiguous in gender, age, and race. The family name it Pew—after what it used for a bed. What follows is a week of interaction with the townsfolk, leading up to a Shirley Jackson-esque Forgiveness Festival. Some see Pew as a "new Jesus," confessing their shortcomings and worries—more often projecting their own prejudices and desires onto the being. The town's hospitality gradually sours, as Pew faces the alienation and intolerance common in Southern Gothic tales.
Housewives in Charleston form a true crime book club to break up the boredom of day-to-day suburban life. When James Harris moves to town, the handsome stranger upends the quiet suburban neighborhood, and soon the book club has a mystery to solve, right next door. See, James avoids the sun, stays up all hours of the night, and has a glib charm like the serial killers in the book club's reading list. Once children start disappearing, and the menacing truth comes to light, the book club ladies get more excitement than they could possibly bargain for, and must band together to protect the suburbs.
Check out these and more at DCPL!