Subscribe to Books, Movies & Music
Checking Out of 2021: the Year's Most-Popular Adult Fiction, Movies/TV, and Video Games
With 2021 winding down, now's the time to look back on the year's most-popular hits at DCPL. Checkouts are up across the board from the beginning of the pandemic. Given the challenges of the past year, it's not surprising that most of the top titles offer some form of escapism to other times, far-off places—or even fantastic, imaginary worlds.
Fiction
The Four Winds by Kristin Hannah takes the crown for fiction, with almost 200 checkouts. Set in the Great Depression and the Dust Bowl, this historical novel follows a desperate mother determined to survive and keep her children safe.
Somewhat surprising, Where the Crawdads Sing by Delia Owens returned with a strong showing for third place. The debut novel, following a wild girl abandoned in the marshes of North Carolina, appears for the 4th year running in our top ten fiction checkouts.
CJ Box's Dark Sky proved the most popular mystery. Fans can't get enough of Box's Joe Pickett, a Wyoming game warden, who here struggles to survive the vengeance of three mountain men—and nature itself.
In our science fiction and fantasy ranking, Sarah J. Maas took four out of ten spots, A Court of Thorns and Roses, taking first place. Known for her young adult fantasy books, here Maas explores more adult themes, in a world filled with political intrigue, magic, and faeries.
One of the most-anticipated movies of the year, the Dune movie adaptation boosted its book circulation, bringing the classic work of sci-fi by Frank Herbert back onto the leaderboards. We're sure the movie will be super popular next year—so place your holds here now!
And last in adult fiction, our graphic novel results look a bit different this year. Publisher DC takes two slots (both are Batman volumes), but Marvel makes no appearance at all. Tastes seem to be skewing toward manga (Berserk, Junji Ito's Remina and Tomie), and non-superhero comics (The Boy, The Mole, the Fox and the Horse; Fangs). Oh, and a comic Dune adaptation makes an appearance in this category, too.
Movies/TV
Westerns dominated the movie and TV leaderboards this year. News of the World was the most-popular movie, and stars Tom Hanks escorting a young girl to the last of her relatives, after losing her adoptive Kiowa family. Following the dysfunctional Dutton family's defense of their Montana ranch from land developers and politicians, the hit show Yellowstone swept the podium, its first three seasons taking the top three positions. And another surprise hit: the second-most popular documentary was Becoming Evil: Serial Killers of the Old West, a look into the darker, ruthless side of the Wild West.
Meanwhile, the most-popular documentary was The Truffle Hunters, following a handful of elderly men and their dogs who search the forests of Italy for the white Alba truffle—a fungus so rare, just a pound of it sells between $5,000 and $10,000! (Side note: Nicolas Cage just starred in a movie about a loner truffle hunter, searching for his beloved kidnapped pig in, well, Pig—if you'd like a weirder fictional treatment of the subject.)
Biographic documentaries also proved popular this year, with films about Ernest Hemingway, Frank Zappa, Billie Holiday, and Billy Graham all making the top ten for nonfiction movies.
Video Games
The most popular video game was the PlayStation exclusive Ghost of Tsushima. Set in an open-world medieval Japan, it features an unforgettable story of family and betrayal, with plenty of samurai action during a Mongol invasion. We've also got the game's critically acclaimed soundtrack on CD, composed of traditional Japanese instruments and arrangements.
Cyberpunk 2077 comes in at number two, which is a bit of a surprise. After nearly a decade of hype and promises, its late 2020 release was met with mockery and derision, becoming one of the biggest fails in gaming history. The game barely worked on most systems, and when it did work, tons of promised content was completely missing. Eventually the rocky debut led to accusations and even lawsuits for fraud and misrepresentation, leaving gamers with a bitter taste in their mouth.
On a sweeter note, the rest of the top video games were all family-friendly Switch exclusives—including two Pokémon titles (Let's Go Pikachu! and Pokémon Shield), several Mario-related entries (Luigi's Mansion 3, Yoshi's Crafted World, and Paper Mario: the Origami King).
Looking Ahead at 2022
So what great titles are we looking forward to in 2022? Sarah J. Maas returns with House of Sky and Breath, sure to be another hit in her Crescent City series. The Paris Apartment is sure to be another thrilling novel from Lucy Foley, fresh from the success with The Guest List. And always-popular Colleen Hoover strikes again with a romantic redemption story in Reminders of Him.
For movies, Spencer is sure to be a new favorite, covering Princess Diana's fateful few days during Christmas with the royal family. And later in the year, Robert Pattinson makes his debut in The Batman, and we return to Downton Abbey once more, in Downton Abbey: A New Era.
And as for video games, 2022 promises to be a year full of new hits. Early in the year, Pokémon Legends: Arceus will premiere, and later, without set release dates, are several highly-anticipated titles, such as The Legend of Zelda: Breath of the Wild 2, and The Lord of the Rings: Gollum, among many others.
So as 2021 reaches a close, mark your calendars for these great releases of the next 12 months.
Stephen Sondheim: In Memoriam
Stephen Sondheim died on November 26, 2021. As a composer and lyricist, Sondheim's 70-year career changed the course of musical theater, helping to create classics like West Side Story, Into the Woods, and Sweeney Todd. He modernized the American musical, presenting audiences with fresh, complex themes, all while fearlessly examining the darker side of life.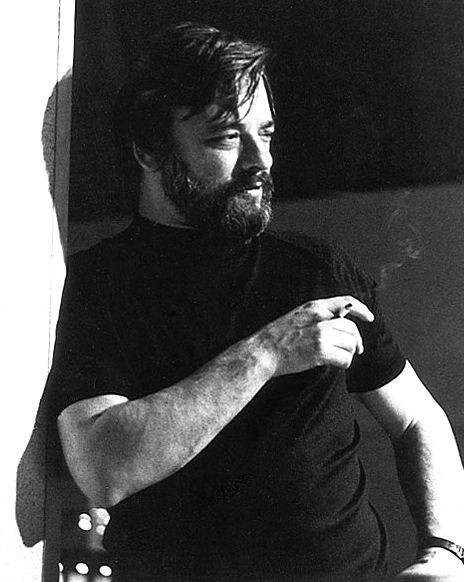 Born in 1930 to wealthy Jewish parents in New York City, Sondheim's childhood began in a state of psychological neglect. His parents divorced when he was ten. His father was barely present, and Sondheim's mother abused him emotionally, transferring the anger of her failing marriage onto her son. Their mutual hatred lasted until her death in 1992.
After his parents' divorce, Sondheim's childhood isolation was broken by the mentorship of Oscar Hammerstein II, who eventually became a sort of surrogate father to the boy. Part of the famed Rodgers and Hammerstein partnership—of Oklahoma!, South Pacific, and The Sound of Music fame—Hammerstein instilled in Sondheim an admiration for musical theater, training him to think critically about the artform—the technical aspects, why some musicals were hits, why others were flops. This analytical eye remained focused for the entirety of Sondheim's career.
Over the next decades, Sondheim received 8 Tonys, 8 Grammys, an Academy Award, and a Pulitzer Prize for Drama. In 2015, he was awarded the Presidential Medal of Freedom. But to list all his accomplishments would take too long for this entry.
Despite his success, Sondheim lived a relatively private life. An introverted man, he saw himself as an outsider—an examiner of the neuroses and anxieties of modern life. But also a celebrant of its delights, and its romance. That celebration of life's complexity is why his work will endure.
Sondheim was 91 and left behind a husband, whom he married in 2017.
Here is a list of the items DCPL has featuring Sondheim's work.
Sometimes people leave you
Halfway through the wood
Others may deceive you
You decide what's good
You decide alone
But no one is alone."

―Into the Woods
Specters in the Stacks
Ghosts haunt houses and hotels, asylums and graveyards. But did you know libraries are another favorite un-resting place for the dead? There are dozens of supposedly-haunted libraries around the world. Here are a few, not too far from us, where books aren't the only occupants of the stacks.
---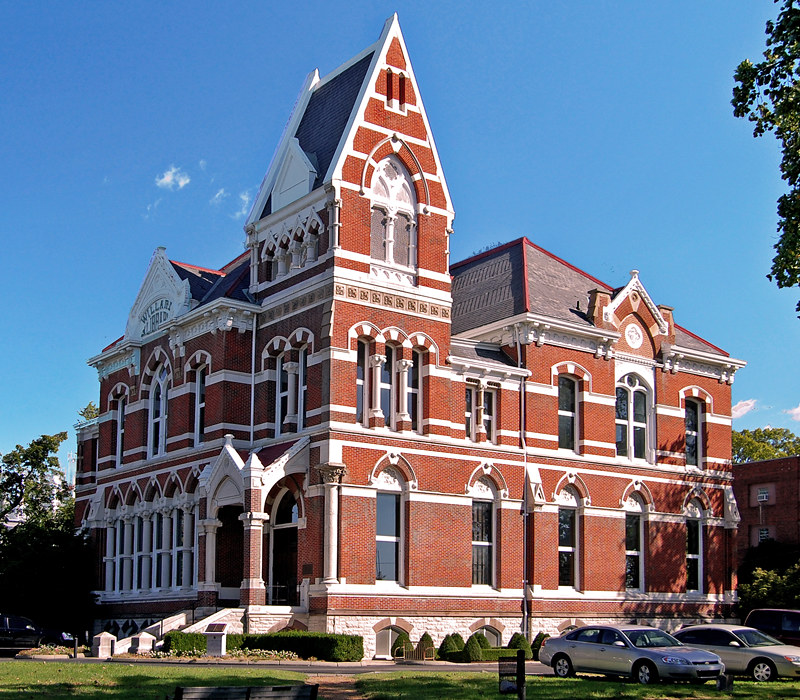 One of the most famous haunted libraries, the Willard Library in Evansville has a long history of unexplained paranormal activity. Just across the river, it's worth a quick day trip to check out yourself.
Most well-known of the spirits: the infamous Grey Lady, a prankster who wanders the stacks and basement, announcing her mischievous presence by the clicking of a typewriter, or the stale scent of cheap perfume. Patrons and staff report the feeling of being watched—that they aren't entirely alone. Books and furniture move on their own, faucets turn off and on, and the air takes a sudden chill—all signs of her presence.
The last sighting of the Grey Lady was in 2015, when her image was caught on security cameras. Staff tried to save the footage, but the spectral figure was replaced by a strange, distorted blur.
If you're brave enough for some virtual ghost-hunting yourself, Willard features "ghostcams" on their website, overlooking paranormal hotspots in the library. But beware: there's always a chance someone—or something—might be looking back.
---
Hutchinson Public Library, Kansas
The public library of Hutchinson, Kansas houses yet another otherworldly guest who can't seem to move on.
Ida Day Holzapfel worked at the town's public library off and on, for a span of 40 years, beginning in 1916. A determined, dedicated librarian, Ida Day organized many of the library's modern standards: a catalog and classification system, homebound and outreach service, and extended hours. But she was also considered difficult to work with. Eventually she resigned in 1953, taking a position in California, but promising to return one day to Kansas. The first day of her new job, though, she died—a freak car crash claiming her life.
Since then, staff and patrons claim to see Ida Day's figure, usually standing at the foot of the basement stairs. Ghostly footsteps and voices echo there, beneath the earth. Ida Day always intended to return to Kansas one day. Maybe she came back to watch over her library. Maybe she doesn't approve of the changes over the years. Maybe she left some work unfinished.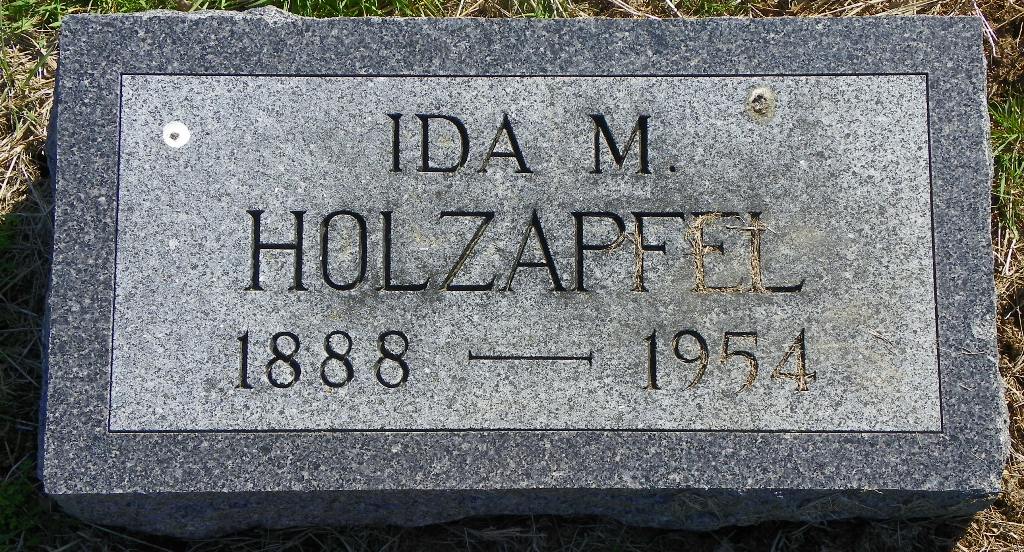 ---
Peoria Public Library, Illinois
Last on our list of haunted libraries: Peoria Public Library in Peoria, Illinois. Here, dark figures wander the halls, books fly from the shelves, and restless spirits seem unable to move on. But the library's spooky reputation was decided long before it was conceived.
The city of Peoria built its public library in 1894. But little did they know the foundation was laid atop a cursed plot. According to local lore, some 60 years prior, a woman cursed the grounds following a mortgage and debt dispute. The curse tainted the land, trapping the restless dead within its boundaries—and dooming all future occupants to tragedy.
Not long after being built, the library witnessed the effects of the curse. The first three directors suffered tragic, untimely deaths. In 1915, the first perished in a streetcar accident. Six years later, a heart attack claimed the second, in the middle of a library board meeting. And the third died only three years later, by suicide.
These former directors still haunt the libraries halls. But they aren't alone: apparently a dozen different spirits wander the stacks. Staff and patrons alike report seeing ghostly faces and figures in doorways, hearing voices whisper their names, and feeling sudden chills in the air.
Peoria Public Library will likely disappear one day, the land reused for some other purpose, as it has been for centuries. But the plot will remain. Working its malevolence, the curse will continue to bind the dead to the land, denying the suffering souls their eternal rest.
---
Recommendations
Too scared to visit one of these haunted libraries in person? Explore from the comfort of your own reading chair with these supernatural recommendations—all set in libraries!
The Library of the Dead, T.L. Huchu
A Perfect Bind, Dorothy St. James
The Library at Mount Char, Scott Hawkins
Buried in the Stacks, Allison Brook
Darkling Bride, Laura Andersen
Invisible Library, Genevieve Cogman
Midnight Library, Matt Haig
DCPL Staff Recommended Reads: True Crime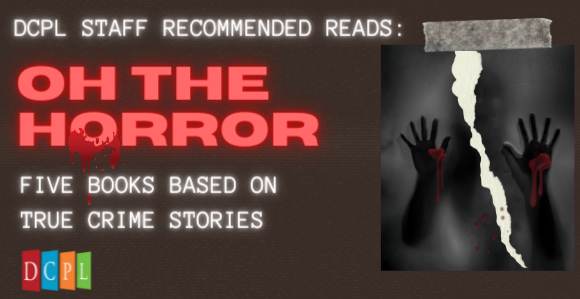 October is back! With Halloween approaching, it is the best time of the year to dive into a creepy book. If you are looking for something outside of the usual Stephen King novel or the classic H.P. Lovecraft tale, we have selected five non-fiction reads that will surely shock, scare, and educate you.

Dead Mountain: The Untold True Story of the Dyatlov Pass Incident by Donnie Eichar
In Dead Mountain, documentary filmmaker Donnie Eichar dives into one of Russia's most famous mysteries: the Dyatlov Pass incident. In 1959, nine experienced Russian hikers all perished in the Ural Mountains under bizarre circumstances. Using rare government records, Eichar retraces the hiker's journey to unravel the mystery of the nine hikers' fateful journey.

The Devil in the White City: Murder, Magic, and Madness at the Fair That Changed America by Erik Larson
A finalist for the National Book Award, The Devil in the White City recounts the events leading up to the Chicago World's Fair and the crimes of H.H. Holmes, one of America's most notorious serial killers. Told by Erik Larson, one of America's most celebrated historians, The Devil in the White City is sure to please both true crime readers and history buffs alike.

Ghostland: An American History in Haunted Places by Colin Dickey
In Ghostland, Colin Dickey tackles the history behind some of America's most haunted locations. From the Winchester Mystery in San Jose to the West Virginia Penitentiary in Moundsville, Dickey weaves a narrative of America's unspoken history through haunted houses, prisons, bars, restaurants, hotels, and cemeteries. Ghostland is for readers looking for a book that is both scary and insightful.

I'll Be Gone in the Dark: One Woman's Obsessive Search for the Golden State Killer by Michelle McNamara
In I'll Be Gone in the Dark, true crime blogger Michelle McNamara sets out to identify California's notorious Golden State Killer. McNamara was writing I'll Be Gone in the Dark just before her tragic and untimely death in 2016. While left incomplete at the time of her death, McNamara's book stands as a representation of the Golden State Killer's impact on northern California and the lasting damage he left behind.

The Indifferent Stars Above: The Harrowing Saga of the Donner Party by Daniel James Brown
The Donner Party departed the Midwest for California in 1846. Throughout their journey, a series of mishaps led to the group experiencing illness, starvation, and cannibalism. In The Indifferent Stars Above, Daniel James Brown, author of bestsellers The Boys in the Boat and Facing the Mountain, tells the story of Sarah Graves, a young pioneer looking for a better future, and the hardships and horrors she experienced while traveling west with the Donner Party.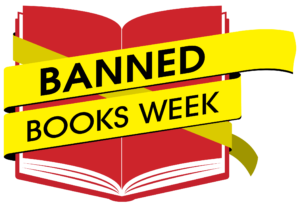 Banned Books Week: Books Unite Us, Censorship Divides Us
"If librarianship is the connecting of people to ideas—and I believe that is the truest definition of what we do—it is crucial to remember that we must keep and make available, not just good ideas and noble ideas, but bad ideas, silly ideas, and yes, even dangerous or wicked ideas."

GraceAnne A. DeCandido, librarian, publisher

Banned Books Week…what is it?
Every year, libraries face challenges to their material. Despite the world of information available at the tap of a key or a swipe of the touchscreen, there are still attempts to censor or limit access to books, movies, programs, and more.
To bring attention to ongoing censorship attempts, a coalition of librarians, publishers, and booksellers have recognized Banned Books Week every year since 1982. This year, it runs September 26 – October 2, and the chosen slogan is Books Unite Us, Censorship Divides Us. During this week, we celebrate our freedom to access information and entertainment, while also recognizing this freedom is continually under attack from multiple angles.
Why is it important?
Most documented challenges occur in public libraries, with concerned parents initiating most of the challenges. In just the past few years, we've seen uproar over racially insensitive Dr. Seuss books, as well as protests and death threats targeting drag queen storytimes in Nebraska and West Virginia.
But censorship isn't always so obvious, and sometimes even staff and administrations play the role of censor. Little everyday actions can limit people's access: removing controversial items from displays, failure to host events from fear of pushback, placing age restrictions on certain material, and so on. These attempts sometimes try to frame libraries as apolitical or neutral. But by taking such actions, we are choosing a side, making a political choice, breaking that pretense of neutrality.

Librarians as a profession continue to uphold the freedom to read, to watch, and to listen. By raising awareness of censorship, we help make sure challenges don't become outright bans.

"The real heroes are the librarians and teachers who at no small risk to themselves refuse to lie down and play dead for censors."

Bruce Coville, author of young adult fiction
Top 10 most-challenged books of 2020
George by Alex Gino
A 4th-grade transgender girl struggles with her identity. George, also titled Melissa's Story, has been one of the most-frequently challenged and banned books in recent years, appearing on this list every year since 2016.
Reason for ban/challenge: LGBT content, religious conflict

Stamped: Racism, Antiracism, and You by Ibram X. Kendi and Jason Reynolds
This edition of Kendi's award-winning book Stamped from the Beginning is designed to be more accessible for younger readers—12 and up. It discusses the development of racism in America and its effects today.
Reason for ban/challenge: author's public statements, limited viewpoint

All American Boys by Jason Reynolds and Brendan Kiely
A young adult fiction book that examines racial injustice from both black and white viewpoints.
Reason for ban/challenge: profanity, drugs/alcohol, antipolice, divisive themes

Speak by Laurie Halse Anderson
A young adult fiction book that looks at the challenges of high school, mental health, and abuse.
Reason for ban/challenge: political bias, anti-male bias, features rape and profanity

The Absolutely True Diary of a Part-Time Indian by Sherman Alexie
This young adult fiction book looks at a young aspiring cartoonist growing up on a Native American reservation and the challenges of attending a mostly-white high school.
Reason for ban/challenge: profanity, sex, sexual misconduct allegations against author

Something Happened in Our Town: A Child's Story about Racial Injustice by Marianne Celano, Marietta Collins, and Ann Hazzard, illustrated by Jennifer Zivoin
This children's picture book observes how a police shooting of a black man affects white and black families differently.
Reason for ban/challenge: Antipolice messages, divisive themes

To Kill a Mockingbird by Harper Lee
This classic novel from 1960 is no stranger to ban lists. It tells the story of a young girl in Alabama and her observations of racism and inequality in the Deep South.
Reason for ban/challenge: racial slurs, "white savior" character

Of Mice and Men by John Steinbeck
Published in 1937, this novella follows migrant workers during the Great Depression, trying to find employment. It has been challenged over 50 times since its publication.
Reason for ban/challenge: racial slurs/stereotypes, profanity, vulgarity

The Bluest Eye by Toni Morrison
Morrison's first novel follows a black girl's childhood during the Great Depression, feelings of inferiority related to her blackness, and lasting trauma of these experiences.
Reason for ban/challenge: child sexual abuse, racism, incest

The Hate U Give by Angie Thomas
This young adult novel follows a black high school girl and her struggle for accountability after her best friend is shot and killed by police.
Reason for ban/challenge: profanity, vulgarity, antipolice messages
Most of the preceding are available for checkout at Daviess County Public Library!