Subscribe to Downloads
My Freegal Five Playlist
By Brian Lashbrook
Did you know that you can now download 5 songs from Freegal each week? Not only that, you can stream any music on Freegal for up to 3 hours a day.  These services are all Free with your Daviess County Public Library card.
To celebrate, I and my fellow music lovers here at the Library will share our list of 5 Freegal downloads each week.
Since it's spring monsoon season here in the Ohio Valley — swollen clouds, blustery winds, and sudden downpours — my first playlist consists of rainy day mood music and muddy puddle stompers.
"Walk on the Wild Side" — Lou Reed, Transformer
First up is this career-defining gem by the recently deceased Lou Reed. Inspired by Nelson Algren's 1956 novel of the same name, this David Bowie -produced street-wise groove reads more like Holden Caufield's diary after Catcher in the Rye, journaling a fringe culture of subversive misfits and perverts. Despite some poetically "colorful" lyrics, this 40+ year old song still sounds fresh today.
 "I'm on Fire" — Bruce Springsteen, Born in the U.S.A.
Speaking of perverts, don't let the creepy "To Catch a Predator" vibe of  lyrics like "Hey little girl is your daddy home?" fool you.  The Boss is using hippie-speak to ask "Is your boyfriend/husband at home?"  Yes, even when the Boss was riding high on the broken American dream anthems of "Born in the U.S.A.", he still had time to make a booty call.   Like "Walk on the Wild Side", the sparse production of plodding bass and guitar make it hard pin a date on this slow burner from the 1980′s.  Where Lou keeps his cool, however, the Boss loses his mind in a lonesome howl of desire.
"Don't Wanna Cry" — Pete Yorn, Back & Forth
Another son of the Garden State, Pete Yorn left Jersey for Hollywood to embark on a career in scoring films.  He got his first break writing and performing songs for the film Me, Myself & Irene by gross-out comedy kings Bobby and Peter Farrelly.  His contributions to the soundtrack made me fall in love with his music, and probably not coincidentally led to a recording contract for Yorn.  On this earnest, country-tinged ballad, the passoniate fire has smoldered and Yorn's left to deal with his emotions for a love lost.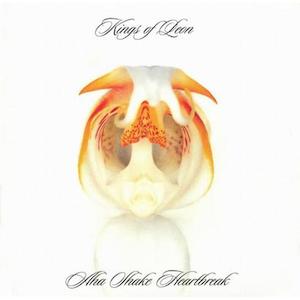 "The Bucket" — Kings of Leon, Aha Shake Heartbreak
Kings of Leon is another band to which the fabulous Farrelly Brothers introduced me, via "California Waiting" in the conjoined twin romp Stuck on You.  Before the wild-eyed southern boys blew up with "Need Somebody", they crafted rowdy roadhouse rhythms around a fragile heart.  "The Bucket" is a catchy stomper about a suicide pact between two young friends afraid of becoming washed-up adults.  Sounds fun, right?  But with lyrics like "18, balding, stoned", you realize it's a tongue-in-check jab at the insecurities of the young in a culture that values youth above all.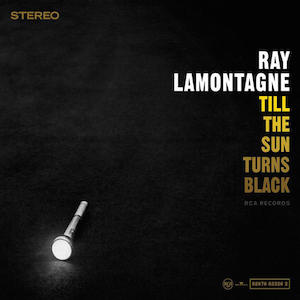 "Be Here Now" — Ray LaMontagne, Til the Sun Turns Black
I'll round out this week's playlist with the opening track from the gorgeous pinnacle of bummer rock Til the Sun Turns Black.  LaMontagne is best known for the Otis Redding-style song "Trouble" from his debut album of the same name.  Unfortunately, the excellent "Trouble" was overexposed by this commercial.  On his sophomore effort Black, LaMontange channeled the Beatles circa Sgt. Pepper's, using lush production with strings and tympani.   "Be Here Now" is a Zen-inspired meditation on being present in a world constantly "on" and disassociated from reality.  Personally, I think it's a good day to listen to the entire Til the Sun Turns Black album.
That's it for my Freegal Five Playlist.  Be sure to check out Freegal, especially the Apple or Android apps.  Enjoy!
 Brian Lashbrook is the Technology Manager for the Daviess County Public Library.  His favorite band is U2, although he enjoys many kinds of music.  He especially enjoys bummer rock, or as his friends would lovingly call it, "Sad Bastard" music.
Social Networks Have Gone to the Books Part 2
Kim Mattingly
In the last installment, I discussed the popularity of social networking, and featured two popular reading/book social networks: GoodReads and Shelfari. Riffle and Fictfact are two other book networking sites that are less popular.
Riffle (Rifflebooks.com)
Riffle, an alternative to GoodReads, launched in May 2013. I became aware of the site about a month ago, when a co-worker mentioned it to me. She described it as "Pinterest for books." Of course, I had to check it out! I promptly created an account. I was directed to insert my three favorite books, and asked for my favorite genres of books so the site could create a list of people for me to "follow." Riffle shows you lists and books recommended by the people you follow, giving you the opportunity to mark the books as something you would like to read.
I'll be honest and say that I'm not a fan of Riffle. I just don't get it. I don't like the set-up, and it took me way too long to figure out what I was supposed to be doing on the site. I like the concept of the site, but I do not like the execution. Despite my dislike of the site, there are a few things I like about it. I like that you can become an "expert" in a category, and fans of that category can see your book recommendations. I also like that you can create lists of books to share on Facebook and Twitter.
Riffle is a free site, and you may sign up through Facebook or Twitter, or create an account using an email address. I have not been on the site long, and have not added very much content, but you may follow me at: https://read.rifflebooks.com/profiles/139304.
FictFact (Fictfact.com)
I registered for, and previewed, Fictfact shortly before writing this review and I am already a fan. The site was founded in 2009 by Christine Kirsten, a series lover frustrated with trying to keep up with everything that she wanted to read. Fictfact is an easy way of tracking all of your favorite series in one location. When you find the series you are reading, you can mark all of the books that you have read as "read" and it will tell you the next book in the series. If you have read all of the books in the series, Fictfact will inform you will the next book in the series is due to be released. It is a handy tool for someone who reads a lot of series.
Fictfact is not without flaws. I'm not sure about the "social" aspect of the site. I guess it could be used as a tool to find new series by "following" others that like the same series. Fictfact will be moving to a new site soon. The new site, which I previewed, will add a discussion feature which will allow users to talk about books and series, and will add another social layer to the mix.  If you sign up now, you may enter for a chance to win a free Kindle from the site.
Fictfact is a free site, and you may sign up using your email address.  You may follow my profile at: http://www.fictfact.com/user/evergleam2
New DVDs!
New DVDs are continuously becoming available at Daviess County Public Library!  Films such as Iron Man 3, Oblivion, and Pain & Gain are all set for DVD release within the next few weeks. Get a jump start and reserve these titles, plus many more upcoming DVD releases using the library's catalog!
Big Changes in Store for Public Libraries
by Kara Schroader
                In recent years, more people have begun turning on their Kindles rather than turning the pages of print books. This is both a threat and an opportunity for public libraries.  According to a Pew report released in December 2012, in the past year, a quarter of the American population read an e-book, and as of November 2012, about one-third reported owning an e-reader or tablet (Pew 2012). This e-reader phenomenon has led some to believe public libraries are no longer necessary. However, public libraries are continuing to validate their relevance through some experimental techniques.
             Among these unconventional facilities is the "BiblioTech", the nation's first public library system without paper books. This nearly 5,000-square foot, $1.5 million compound, located in Bexar County, Texas, is set to open Fall 2013. The BiblioTech is reported to have 50 computer terminals and a stock of laptops and tablets on-site. The library will also offer an array of preloaded e-readers available for the card-carrying customer to take home. This ambitious plan by Bexar County is being closely monitored by skeptical librarians. Some fear digital versions of most popular titles aren't available for libraries usage, and are often more expensive than paper versions of the book. Others suggest similar experiments have ended with a push from the public to preserve printed books. However, if the facility proves successful, there is a chance the model could be cloned across the country.
           Although the Daviess County Public Library has no plans of eliminating all physical media in the near future, preliminary steps are being taken to maintain the facility's relevance and to ensure services offered are proficient in fulfilling the ever-changing needs of patrons.  The Daviess County Public Library currently has both e-books and e-audios available for checkout to patrons with a valid library card. In addition to digital books, Freegal, a music downloading service, has also been purchased for public library users in Daviess County. Perhaps even more contemporary, the library recently added video games to the collection. Patrons with an adult library card can now check out games for PlayStation 3, Xbox 360, and Nintendo Wii.
         Exciting changes, such as those evident at Daviess County Public Library, are taking place in public libraries across the country. Despite the cynical views of some, public libraries will continue to prove their relevance through the addition of new services.
http://libraries.pewinternet.org/2012/12/27/e-book-reading-jumps-print-book-reading-declines/
Make Reading a Priority
Most parents of young children have at some point read a story to their child before bedtime. In fact, a national online study funded by Macy's and the literacy non-profit group Reading is Fundamental (conducted by Harris Interactive using a sample group of 1,003 U.S. parents of children ages 8 or younger) found that 87% of U.S. parents read bedtime stories to their kids. Only one third (33%) of those parents said they read bedtime stories to their kids daily.
Reading to your child regularly is very important. Parental reading provides a positive bonding experience between parent and child and promotes a love of reading that will stay with the child through his or her life. It is crucial in early literacy development, helping children gain early literacy skills such as letter knowledge, vocabulary development, and phonological awareness.
An easy way to make parental reading a priority is to incorporate it into your daily routine. Bedtime is a great time to read with your child because it will help them relax and prepare to go to sleep. If bedtime reading isn't an option, you can always try "breakfast story time" and read with your child while they are eating breakfast. Even if you are just reading the cereal box, you are introducing your child to the early literacy skill Print Awareness, which involves noticing that print is everywhere.
The Daviess County Public Library (DCPL) offers digital resources and children's programming to help you prioritize reading to your child. Digital resources available include Tumblebooks and Kentucky Libraries Unbound. Tumblebooks is an online collection of animated, talking picture books which teach young children the joys of reading in a format they'll love. Kentucky Libraries Unbound is the library's collection of downloadable eBooks and eAudiobooks. The DCPL uses children's programming to promote the early literacy skill Print Motivation, which includes being interested in and enjoying books. The library offers Wee Read (0-2) and Circle Time (3-5) story times at 10 a.m. on Mondays and Thursdays every week where children can hear stories, sing songs, and do other fun activities to introduce them to joy of reading. Every Saturday morning from 10-12, the library hosts Saturday Morning Live, a self-guided program where children can play with items that develop early literacy skills.
Of course, the Daviess County Public Library has a large variety of entertaining and educational material you may check out and read to a child of any age including board books, picture books, chapter books, audiobooks, and even magazines. Library staff will be happy to assist you in choosing good books to get you started. Good luck and good reading.