Subscribe to Downloads
Colonel Sanders, Talking Cats, and an Oedipus Complex: a review of Kafka on the Shore
by John Beemer
"If you remember me, then I don't care if everyone else forgets."
"Beautiful" and "strange"—two words I use to describe Kafka on the Shore, by Haruki Murakami. Published in 2002 and translated from Japanese to English in 2005, it's the most memorable thing I've read in years. Few books have haunted me like this.
It's a weird, surreal book. An old man talks with cats. Eternal soldiers, who decided to step outside of time to avoid WWII, guard a forest passage to a secret, timeless village. A mysterious, other-worldly being adopts the form of Colonel Sanders, and, operating in this world as a pimp, decides to guide the main characters. Not too far into the book, we also encounter the sinister Johnnie Walker (yes, of Scotch whiskey fame), who rounds up neighborhood cats and eats their hearts to harness their souls so he can construct a magic flute capable of stealing larger human souls. It gets stranger, but none of these oddities seem hokey or forced. They are woven seamlessly into the very fabric of the tale. This is a world where weird stuff happens, where something can be both true and false simultaneously, where the consequences of actions echo a hundred miles away. Yet the characters deal with all this the best they can.
Murakami reveals his plot gradually, focusing on the two main characters in alternating chapters. First we have Kafka, a resourceful 15-year-old who hunkers down in a library, fleeing not only his hometown but also an Oedipal prophecy. He meets some interesting characters: Oshima, a transgender librarian who becomes Kafka's closest friend, and Miss Saeki, an ethereal, one-hit wonder pop singer resigned to spending the rest of her days lamenting lost love and managing the library. Kafka may—or may not—have killed his father. He may—or may not—have slept with his sister and his mother. We don't know, and I'm not sure if Kafka knows, either.
Nakata is our other main character. He's an older man, left mentally impaired by some sort of flashing-light-in-the-sky during his childhood in the midst of WWII. This strange occurrence also gave him the ability to communicate with cats around his neighborhood. He lives a peaceful existence as a professional finder of lost cats, eventually leading him far from home. Nakata is fascinating. His humility hides great inner strength. Supremely kind and gentle, he is also capable of supernatural powers he doesn't seem to understand (e.g., he has a habit of making fish fall from the sky like rain). Trusting some sort of intuitive force, he leaves home to fulfill a mission, along the way befriending a rough young truck driver and forming an unlikely but endearing friendship.
At first, I wondered how on earth these characters and their story arcs would converge. Honestly, even on the last page, I wasn't sure how everything managed to come together, but I certainly enjoyed the ride. Kafka on the Shore isn't a hard read. It's a love story. It's a bildungsroman. But it is also an enigma; complete understanding of the novel seems to drift just out of reach. Most questions here don't have answers—most mysteries remain unsolved. No two readers will have the same interpretations. It can be confusing, even mind-bending. Yet Murakami's style is so effortless and simple that it belies his underlying riddles. If you want someone to spell it out, plain and logical—if you're uncomfortable with drawing your own conclusions, making sense of untied plot threads, or accepting magical realism, this probably won't be an enjoyable book for you. But if you enjoy that sort of thing, I'm sure this story and these characters will stick with you for a long, long time.
My Freegal Five
One of my favorite television shows is the British comedy series The IT Crowd.  A friend of mine introduced me to it a few years back, and I was immediately hooked.    It follows an IT department team in a large company, and the wacky situations in which they become entangled.  Perhaps the highlight of the show for me was the CEO character played by actor Matt Berry.  He was arrogant, clueless and absolutely hysterical.  This set me on a path of trying to locate other shows featuring Berry.  Since then I've discovered the joys of Garth Marenghi's Darkplace, The Mighty Boosh, and Snuff Box.  Unlike the more straightforward IT Crowd, these are all surreal and unconventional.  As such, they take a little time getting used to, but once you catch the drift they're addictive.
In watching these and looking into Berry's filmography, I also came across the factoid that he performs music.  He does some light (and hilarious) musical numbers in Darkplace and Snuff Box, so I was pretty excited to check out his musical stylings.  I wasted no time in flying through the two albums he had released at that point, Opium and Witchazel, which were described as "progressive/psychedelic folk."  To be honest, that genre is not one in which I typically travel, but it was Matt Berry so I gave it a chance.  Long story short I was pleasantly surprised by some catchy tunes and amusing lyrics (my favorite being "Accident at a Harvest Festival" on Witchazel).
I'm happy to report that both of these albums are on Freegal if you're curious and want to check them out!  This is the Freegal 5 though, and I'm here to expound on my downloads for this week.
First up, it turns out that Berry has released another album called Kill the Wolf, which takes British horror movies as its inspiration.  In particular it appears to recall the 70's classic The Wicker Man.  As we speak, Freegal is offering a two fantastic singles from the album!  These are "Medicine" and "Gather Up," and both carry on the vibe from the previous albums.  "Medicine" is my favorite of the two.  It's an upbeat tune which one could easily imagine being intended as the album's breakout hit single.  The slow and ethereal "Gather Up" clearly reveals The Wicker Man influence, as it talks about gathering items for the harvest.  The track would definitely fit on a Wicker Man soundtrack album.
In addition to these two gems, I also picked up a few other Berry singles that I hadn't run across before.  "An Electronic Hero" and "Ukenwhistle" are both instrumental pieces featured on the Medicine single release.  I enjoyed both, as they reminded me of the excellent soundtrack music from Snuff Box.  Speaking of which, my 5th and final download is an alternate take of the "Theme From Snuff Box" featuring soul singer and Evansville, Indiana native Geno Washington.  I love the "Theme From Snuff Box," which is endlessly riffed on throughout the show.  Once it gets stuck in your head it will never leave!  Washington does a great job with his rendition, adding yet another version for fans to enjoy.  Oddly, the cover of the Snuff Box single release hypes the fact that the song is featured in the movie Dredd.  I guess the folks who made Dredd must be big Matt Berry fans – go figure!
Jim Blanton, Library Director
My Freegal Five Playlist
by Kara Schroader

1. "Perfect World"
2. "After the Disco"
3. "Holding on for Life"
4. "Leave it Alone"
5. "The Changing Lights"
At first, I thought about selecting a variety of music for my Freegal Five collection. Instead, I decided to go with songs I've been listening to repeatedly over the past few weeks—all five of which come from the same album, Broken Bells' After the Disco. Broken Bells is composed of Brian Burton (better known as Danger Mouse) and James Mercer, the lead vocalist and guitarist for The Shins. Having been a fan of their 2010 self-titled album, I looked forward to the release of After the Disco this past February. Be sure to log onto Freegalmusic.com and download songs from this album as well as their debut, Broken Bells.
My Freegal Five Playlist
By Brian Lashbrook
Did you know that you can now download 5 songs from Freegal each week? Not only that, you can stream any music on Freegal for up to 3 hours a day.  These services are all Free with your Daviess County Public Library card.
To celebrate, I and my fellow music lovers here at the Library will share our list of 5 Freegal downloads each week.
Since it's spring monsoon season here in the Ohio Valley — swollen clouds, blustery winds, and sudden downpours — my first playlist consists of rainy day mood music and muddy puddle stompers.
"Walk on the Wild Side" — Lou Reed, Transformer
First up is this career-defining gem by the recently deceased Lou Reed. Inspired by Nelson Algren's 1956 novel of the same name, this David Bowie -produced street-wise groove reads more like Holden Caufield's diary after Catcher in the Rye, journaling a fringe culture of subversive misfits and perverts. Despite some poetically "colorful" lyrics, this 40+ year old song still sounds fresh today.
 "I'm on Fire" — Bruce Springsteen, Born in the U.S.A.
Speaking of perverts, don't let the creepy "To Catch a Predator" vibe of  lyrics like "Hey little girl is your daddy home?" fool you.  The Boss is using hippie-speak to ask "Is your boyfriend/husband at home?"  Yes, even when the Boss was riding high on the broken American dream anthems of "Born in the U.S.A.", he still had time to make a booty call.   Like "Walk on the Wild Side", the sparse production of plodding bass and guitar make it hard pin a date on this slow burner from the 1980's.  Where Lou keeps his cool, however, the Boss loses his mind in a lonesome howl of desire.
"Don't Wanna Cry" — Pete Yorn, Back & Forth
Another son of the Garden State, Pete Yorn left Jersey for Hollywood to embark on a career in scoring films.  He got his first break writing and performing songs for the film Me, Myself & Irene by gross-out comedy kings Bobby and Peter Farrelly.  His contributions to the soundtrack made me fall in love with his music, and probably not coincidentally led to a recording contract for Yorn.  On this earnest, country-tinged ballad, the passoniate fire has smoldered and Yorn's left to deal with his emotions for a love lost.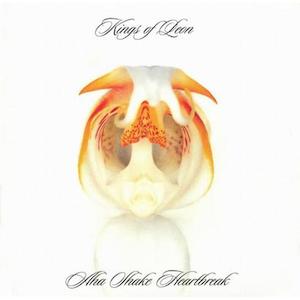 "The Bucket" — Kings of Leon, Aha Shake Heartbreak
Kings of Leon is another band to which the fabulous Farrelly Brothers introduced me, via "California Waiting" in the conjoined twin romp Stuck on You.  Before the wild-eyed southern boys blew up with "Need Somebody", they crafted rowdy roadhouse rhythms around a fragile heart.  "The Bucket" is a catchy stomper about a suicide pact between two young friends afraid of becoming washed-up adults.  Sounds fun, right?  But with lyrics like "18, balding, stoned", you realize it's a tongue-in-check jab at the insecurities of the young in a culture that values youth above all.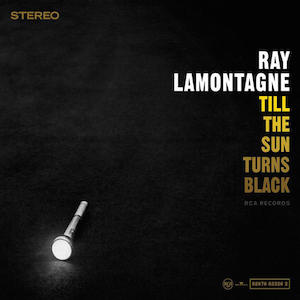 "Be Here Now" — Ray LaMontagne, Til the Sun Turns Black
I'll round out this week's playlist with the opening track from the gorgeous pinnacle of bummer rock Til the Sun Turns Black.  LaMontagne is best known for the Otis Redding-style song "Trouble" from his debut album of the same name.  Unfortunately, the excellent "Trouble" was overexposed by this commercial.  On his sophomore effort Black, LaMontange channeled the Beatles circa Sgt. Pepper's, using lush production with strings and tympani.   "Be Here Now" is a Zen-inspired meditation on being present in a world constantly "on" and disassociated from reality.  Personally, I think it's a good day to listen to the entire Til the Sun Turns Black album.
That's it for my Freegal Five Playlist.  Be sure to check out Freegal, especially the Apple or Android apps.  Enjoy!
 Brian Lashbrook is the Technology Manager for the Daviess County Public Library.  His favorite band is U2, although he enjoys many kinds of music.  He especially enjoys bummer rock, or as his friends would lovingly call it, "Sad Bastard" music.
Social Networks Have Gone to the Books Part 2
Kim Mattingly
In the last installment, I discussed the popularity of social networking, and featured two popular reading/book social networks: GoodReads and Shelfari. Riffle and Fictfact are two other book networking sites that are less popular.
Riffle (Rifflebooks.com)
Riffle, an alternative to GoodReads, launched in May 2013. I became aware of the site about a month ago, when a co-worker mentioned it to me. She described it as "Pinterest for books." Of course, I had to check it out! I promptly created an account. I was directed to insert my three favorite books, and asked for my favorite genres of books so the site could create a list of people for me to "follow." Riffle shows you lists and books recommended by the people you follow, giving you the opportunity to mark the books as something you would like to read.
I'll be honest and say that I'm not a fan of Riffle. I just don't get it. I don't like the set-up, and it took me way too long to figure out what I was supposed to be doing on the site. I like the concept of the site, but I do not like the execution. Despite my dislike of the site, there are a few things I like about it. I like that you can become an "expert" in a category, and fans of that category can see your book recommendations. I also like that you can create lists of books to share on Facebook and Twitter.
Riffle is a free site, and you may sign up through Facebook or Twitter, or create an account using an email address. I have not been on the site long, and have not added very much content, but you may follow me at: https://read.rifflebooks.com/profiles/139304.
FictFact (Fictfact.com)
I registered for, and previewed, Fictfact shortly before writing this review and I am already a fan. The site was founded in 2009 by Christine Kirsten, a series lover frustrated with trying to keep up with everything that she wanted to read. Fictfact is an easy way of tracking all of your favorite series in one location. When you find the series you are reading, you can mark all of the books that you have read as "read" and it will tell you the next book in the series. If you have read all of the books in the series, Fictfact will inform you will the next book in the series is due to be released. It is a handy tool for someone who reads a lot of series.
Fictfact is not without flaws. I'm not sure about the "social" aspect of the site. I guess it could be used as a tool to find new series by "following" others that like the same series. Fictfact will be moving to a new site soon. The new site, which I previewed, will add a discussion feature which will allow users to talk about books and series, and will add another social layer to the mix.  If you sign up now, you may enter for a chance to win a free Kindle from the site.
Fictfact is a free site, and you may sign up using your email address.  You may follow my profile at: http://www.fictfact.com/user/evergleam2