August 2022 (1), June 2022 (2), May 2022 (2), April 2022 (1), March 2022 (2), February 2022 (1), January 2022 (2), December 2021 (3), November 2021 (1), October 2021 (2), September 2021 (2), August 2021 (1), April 2020 (2), March 2020 (2), August 2018 (2), July 2018 (2), June 2018 (1), May 2018 (2), April 2018 (2), March 2018 (1)
Oct 9, 2021 —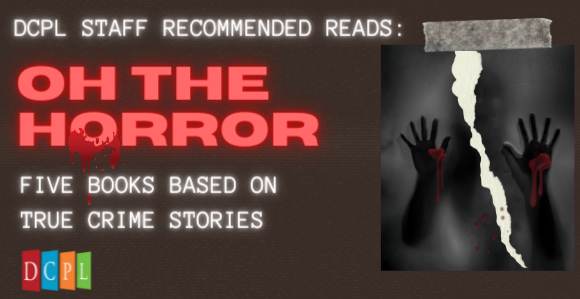 October is back! With Halloween approaching, it is the best time of the year to dive into a creepy book. If you are looking for something outside of the usual Stephen King novel or the classic H.P. Lovecraft tale, we have selected five non-fiction reads that will surely shock, scare, and educate you.

Dead Mountain: The Untold True Story of the Dyatlov Pass Incident by Donnie Eichar
In Dead Mountain, documentary filmmaker Donnie Eichar dives into one of Russia's most famous mysteries: the Dyatlov Pass incident. In 1959, nine experienced Russian hikers all perished in the Ural Mountains under bizarre circumstances. Using rare government records, Eichar retraces the hiker's journey to unravel the mystery of the nine hikers' fateful journey.

The Devil in the White City: Murder, Magic, and Madness at the Fair That Changed America by Erik Larson
A finalist for the National Book Award, The Devil in the White City recounts the events leading up to the Chicago World's Fair and the crimes of H.H. Holmes, one of America's most notorious serial killers. Told by Erik Larson, one of America's most celebrated historians, The Devil in the White City is sure to please both true crime readers and history buffs alike.

Ghostland: An American History in Haunted Places by Colin Dickey
In Ghostland, Colin Dickey tackles the history behind some of America's most haunted locations. From the Winchester Mystery in San Jose to the West Virginia Penitentiary in Moundsville, Dickey weaves a narrative of America's unspoken history through haunted houses, prisons, bars, restaurants, hotels, and cemeteries. Ghostland is for readers looking for a book that is both scary and insightful.

I'll Be Gone in the Dark: One Woman's Obsessive Search for the Golden State Killer by Michelle McNamara
In I'll Be Gone in the Dark, true crime blogger Michelle McNamara sets out to identify California's notorious Golden State Killer. McNamara was writing I'll Be Gone in the Dark just before her tragic and untimely death in 2016. While left incomplete at the time of her death, McNamara's book stands as a representation of the Golden State Killer's impact on northern California and the lasting damage he left behind.

The Indifferent Stars Above: The Harrowing Saga of the Donner Party by Daniel James Brown
The Donner Party departed the Midwest for California in 1846. Throughout their journey, a series of mishaps led to the group experiencing illness, starvation, and cannibalism. In The Indifferent Stars Above, Daniel James Brown, author of bestsellers The Boys in the Boat and Facing the Mountain, tells the story of Sarah Graves, a young pioneer looking for a better future, and the hardships and horrors she experienced while traveling west with the Donner Party.
« Banned Books Week: Books Unite Us, Censorship Divides Us — Specters in the Stacks »